For the first time ever in India, audience was bestowed upon with a chance of watching the first episode of a television serial along with its cast and crew. This happened when the makers of the Marathi serial Eka Lagnachi Dusri Goshta organized a special screening of the first episode of the series for the public which was attended by its actors Swapnil Joshi, Mukta Barve, Rekha Kamat, Asavari Joshi, Ila Bhate, Spruha Joshi, along with director Satish Rajawade and producer Shrirang Godbole.
A large number of spectators had gathered at Amar Hind Mandal at Dadar (West), Mumbai to witness the first-of-its-kind event. Efforts were put in to create a marriage-like atmosphere; right from the sets and decorations to the ladies presenting flowers and til gul to guests.
The unusual event amazed not just the audience but also the actors. Said Swapnil, "To watch my serial with the audience is a memorable experience for me." But Mukta's excitement knew no bounds. "I feel as if I have come for the premiere of my movie," said the actress.
The pair of Swapnil and Mukta was hugely appreciated in the movie Mumbai Pune Mumbai. The actors revealed they were excited to share the screen with each other once more. The fact that she is also a close friend of Swapnil helped Mukta a lot, she said.
(Article continued after picture.)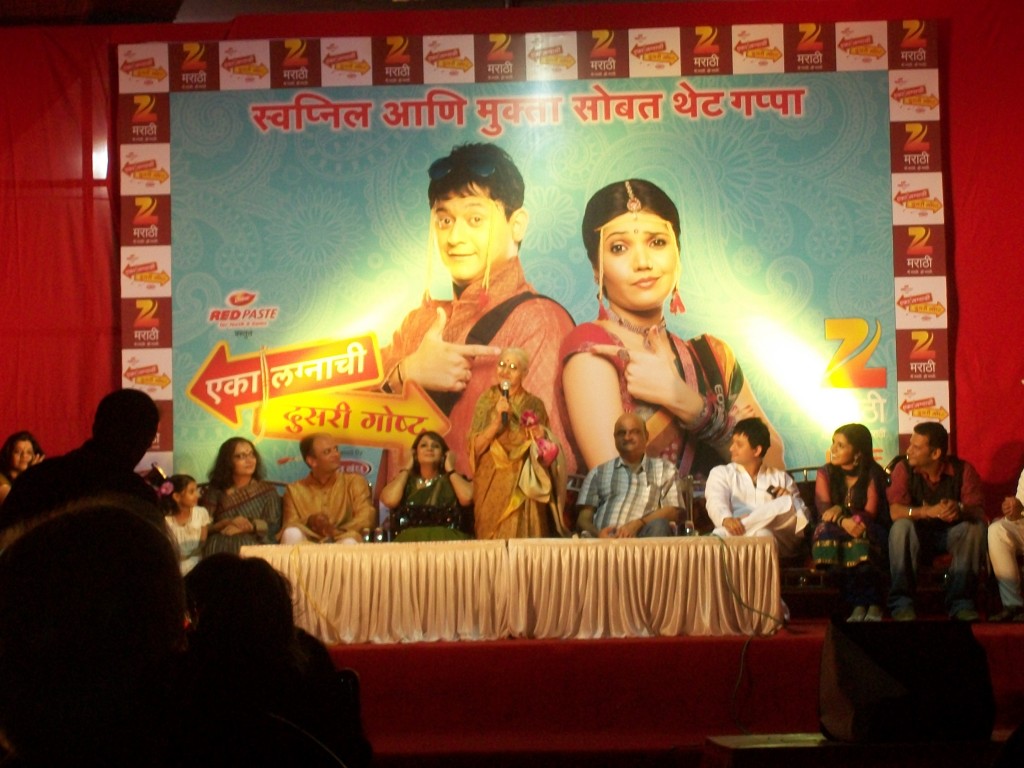 Veteran actress Rekha Kamat gets candid about her character in the serial.
Producer Godbole, who had earlier made a play named Eka Lagnachi Goshta, said, "Earlier, I wanted to make a play on this story. Later on, we thought of making a movie. We also fixed a release date for it. However, after going through the story again, we thought it will be best if a serial is made on this movie."
Since Eka Lagnachi Dusri Goshta is sprinkled with laughter, there was plenty of humour during the launch. Some unintentional hilarity took place as well when the coconut flew backwards from Swapnil's hand while he was trying to break it.
But what got the audience in splits for a long time was the question by an aged uncle from the crowd. He asked Swapnil, "Is there a lady character in your serial who likes to poison other people's tea?" This also took the actor by surprise but he kindly answered in the negative.
During the screening, both Swapnil and Mukta's entry was followed by loud applause and whistles. Judging by audience's response, the first episode of Eka Lagnachi Dusri Goshta provided good entertainment. If the same is continued in the forthcoming episodes, the serial should enjoy very good TRPs. (Timings: Monday to Friday at 8:30pm)
More pictures from the event: