India's performance in Australia in the ongoing Agneepath series has indeed been hugely disappointing. However, I am pained to see the way Indian cricket fans and so-called cricket experts are reacting.
Just over nine months back on the night of April 2, the whole of India literally worshipped Team India after they lifted the World Cup 2011. Just two bad series (in England and Australia) and the same people are reacting as if Team India is worse than minnows. What right do you have to call yourself an Indian supporter if you can't support your team when it requires the most? After all, support is needed the most when a person or a thing is struggling. The difference between an Indian supporter and an Indian fan (who just likes to see the team winning) is proved once again!
It is even more disheartening to see the way the most experienced players – Sachin Tendulkar, Rahul Dravid and VVS Laxman – are been forced to retire! How right is it to humiliate them in this manner for their age old services for the team? The fact that some of the ex-players are involved in these forceful tactics is even more shocking considering their knowledge and experience.
Tendulkar's contribution to Indian cricket is known far and wide. He has been consistently scoring runs. His fitness level is clearly visible. So, if he wants to continue playing, what is wrong in it? For your kind information, he is India's leading run scorer even in the current series!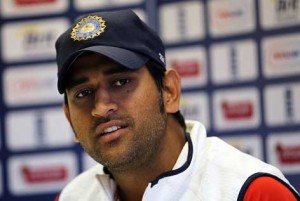 There is no doubt even Dravid has been one of the greatest Indian batsmen ever and even he is scoring runs, although not much in this series. He was also the only one who showed some resistance in the England tour. So again, how can we force him to retire if he is scoring runs and wants to play? In Laxman's case, I agree he has not been scoring runs but that doesn't mean one should forget his talent and record and compel him to hang his boots!
In my personal opinion, it is Virendra Sehwag and Gautam Gambhir who are more responsible as they have failed to build a platform as openers. Especially in the case of Sehwag, he has been in terrible form but we are just busy pointing fingers at the 'big three'.
Before this series, all types of cool adjectives were used for Mahendra Singh Dhoni and his captaincy, especially after winning the World Cup. There have also been debates going on whether he is the best Indian captain ever. It is a mixture of shame and amnesia that after just two bad series, even he has been indirectly forced to step down as captain!
Apart from their performance, team India has also been demoralized by the reactions and forceful tactics of the public and ex-players before the start of the fourth test match at Adelaide.
P.S: – People laughed at me when I continued to support India despite their shameful exit from the 2007 World Cup. I laughed back at them in the same year when we won the T20 World Cup and other series which followed after that. I am quite sure I will get a chance to laugh once again!