During the stage of my late childhood when I was trying to learn and understand that game of cricket, successful Indian players like Sachin Tendulkar, Rahul Dravid, Anil Kumble, Sourav Ganguly, VVS Laxman, Javagal Srinath and Mohammad Azaharuddin were at the peak of their careers. Due to this, no matter how many great or greater players emerged after them, players in the above mentioned elite list will always hold a special place in my memory.
So whenever a player from that list announces retirement, it certainly comes as a blow. The same happened when VVS Laxman announced his retirement yesterday, although this was on the cards after India's tour to England and Australia. But those two unsuccessful tours can in no way be considered a dark spot over his career due to the huge number of glorious moments he has given to team India.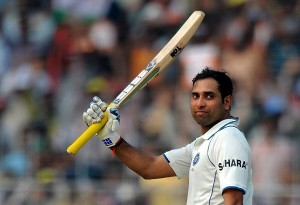 Having said this, many would be surprised that my very first memory of Laxman wasn't a pleasant one. This was in 1996 in the first test match against South Africa in Ahmedabad, which was Laxman's debut. After his failure in the first innings, I thought it wasn't a good idea to have him in the playing eleven as I wasn't sure about his technique. However, he made me swallow my opinion in the second innings when he scored a half century and led India's fightback with Anil Kumble. How delighted I was to have been proved wrong!
This was just the first step of Laxman's remarkable career. His brilliant timing along with his wristy flicks impressed cricket fans world over. Thinking about his career, the first innings that comes to mind is his earth-shattering 281 against Australia in the second test at Eden Gardens in 2001. Laxman, along with Rahul Dravid, shook the cricketing world with an unthinkable fight back. India's victory was just the second instance in the history of test cricket where a team managed to win a match after being asked to follow on. Laxman wasn't considered a one-day match specialist but his brilliant form in this test series forced the selectors to include him in the ODIs that followed.
From the Eden Garden innings onwards, he came to be known as India's ideal man for crisis. He lived up to the title in the years to come by bailing India out of trouble time and again. With his retirement, team India will miss the bailing out ability of one of India's greatest batsmen.
Here's a big thank you to VVS with the hope that his career becomes an inspiration for the generations to come.
Have a look at the highlights of Laxman's memorable innings of 281 against Australia: –