Writer: Madhusudan Kalelkar
Direction: Pradeep Pawar
Production: Rupali R Lakhan, Sanjay Nevrejar
Cast: Shashikant Bhobekar, Pradeep Pawar, Sandeepa Gujjar, Manjusha Morgaonkar, Sujata Tulsankar, Sachin Kadam, Tushar Namaye, Rajeshri Kale
Rating: * * *
Plot: Prabhakar (Shashikant Bhobekar) pretends to be loyal to his wife (Sandeepa Gujjar). His wife is unaware that he is having an affair with a number of girls. Sharmila (Manjusha Morgaonkar) and Mona (Sujata Tulsankar) are two such girls. Prabhakar's uncle, who is no more, has left Rs 50 lakh for him in his will. However, according to the condition put forth by his uncle, Prabhakar can lay his hands on the money only if he is loyal to his wife and living a happily married life.
All hell breaks loose for Prabhakar when one fine day both Sharmila and Mona land up at his house. Now, Prabhakar is in a fix as he has to hide his affairs from both his wife and the advocate. Will Prabhakar succeed or will he be forced to say good bye to his wife as well as the money?
Review: Themes on infidelity, where a husband tries hard to hide his affair, have become common over the years. So, when a comic play is based on such a story it is vital for the writing to be top-notch so as to deliver huge number of rib-tickling moments. Writer Madhusudan Kalelkar and director Pradeep Pawar's Darling Darling provides that for the majority of the duration which surely makes it a one-time watch.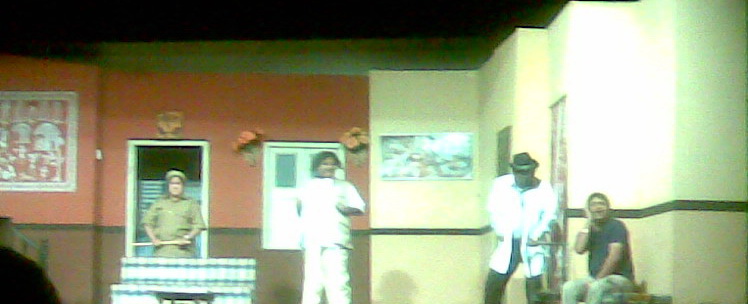 One of the good things about the writing is that the main plot is revealed soon. A large number of comic twists that follow manage to keep your interest alive. Both situational as well as crazy humour is used in abundance; almost in every line. A bunch of crazy characters and their weird traits are one of the major plus points.
Talking of flipsides, the duration should have been shorter, especially in the second half where the proceedings do appear tedious at few portions. Also, some of the lines and acts appear too over-the-top at certain post-interval portions. But since it's a keep-your-brain-aside kind of an entertainer, such points shouldn't be considered as crime.
The play scores high on performances. Shashikant Bhobekar perfectly carries the proceedings on his shoulders with a commendable act. His comic timing is up to the mark. He is aptly supported by Pradeep Pawar who also displays good comic skills. Sandeepa Gujjar as his wife shows maturity. Manjusha Morgaonkar gives a confident performance as Prabhakar's love affair.
Sujata Tulsankar does well too and so does Rajeshri Kale in the role of an overweight cop. But it is Sachin Kadam who turns out to be a surprise package. His crazy antics will have you in splits. Tushar Namaye and actors playing doctor and constable aren't bad either.
Overall, Darling Darling will be liked by those who prefer mindless, over-the-top comedies. It deserves more publicity and promotion.