After playing a wide range of characters in last three years or so, Santosh Juvekar has become one of the most sought after names in Marathi cinema currently. It is his quest of exploring different shades of his talent that has helped him reach this level.
The actor has continued this exploration in his upcoming flick Jana Gana Mana. In an exclusive chat, the Morya lads speaks about his movie and shares his views on Marathi cinema.
(For more news on Marathi cinema, click HERE) (To join us on Facebook, click HERE)
What is your movie Jana Gana Mana about? What is the context of the title with the movie?
As we all know, Jana Gana Mana is our national anthem which is sung proudly on Independence and Republic Days. In the film, my son wants to sing the national anthem in his school on Independence Day. However, only those with clean and white clothes get a chance to sing it. And we being tribals can't afford such clothes. So, my character vows to get such clothes for his son so that he can sing the National Anthem in his school.
Tell us about your character in the movie.
I play a carefree and lazy character who doesn't even shy away from stealing. But he goes through a transformation and sets a goal to fulfill his son's dream.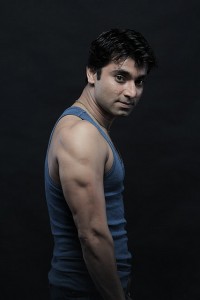 It is visible from the promos and posters that the actors were made to wear a very dark make-up. Was this really necessary?
Yes it was. We play tribals in the movie who live in dirty and unclean surroundings. So, one can't expect us to be clean and tidy. And my character in the movie is such that he doesn't take a bath for even 2-3 days (smiles).
What are your expectations from the movie?
We are surely expecting the film to succeed. It's a movie for the whole family and we all have worked hard for it. The story is moving. So, we want people to go to the theatres to watch it.
Nowadays, there are too many Marathi films releasing simultaneously. We can even see three films clashing on the same day. Don't you think this is a disadvantage?
This is definitely a disadvantage. This shouldn't happen. It is up to the producers to sit and decide and make sure there is a gap between each release. Till now, Marathi films were competing only against Bollywood. There shouldn't be a time when Marathi films start competing against each other.
Jana Gana Mana is directed by debutant Amit Abhyankar and produced by Sandeep Kadam and Sachin KAdam. Apart from Juvekar, it also stars Madhura Velankar Satam, Nandu Madhav, Chinmay Sant and Asmita Joglekar. The film is slated to release this Republic Day i.e January 26.
– Keyur Seta