Director: Syed Ahmad Afzal
Producers: Pooja Entertainment and MSM Motion Pictures
Writers: Syed Ahmad Afzal, Ramiz Ilham Khan and Maitrey Bajpai
Cast: Jackky Bhagnani, Neha Sharma, Farooq Sheikh, Prakash Belawadi, Deepankar De, Triveni Sangam Bahuguna
Music: Jeet Ganguly, Shreya Khanwalkar, Shiraz Uppal and Shree-Ishq
Genre: Political Drama
Rating: * * * 1/2
By: Keyur Seta
Story Outline: Twenty-eight year old Abhimanyu Kaul (Jackky Bhagnani) is the son of India's Prime Minister Dashrath Kaul (Boman Irani). Working as a gaming specialist in Japan, he is living a dream life with his girlfriend Anvita (Neha Sharma) and a close friend (Kayoze Irani). But his life takes a major twist when he has to return to India after his father succumbs to cancer. Circumstances force Abhimanyu to become the interim PM much to the opposition of Anvita. But will an utterly inexperienced Abhimanyu be able to run the world's biggest democracy?
Review: Can you digest the fact that a completely inexperienced 28-year-old can become India's Prime Minister? If you can, you would be impressed by debutant Syed Ahmal Afzal's Youngistaan for its intentions and the message it puts forth in a positive way. Despite its flaws and other issues, the film manages to provide a heartwarming effect since it has its heart at the right place.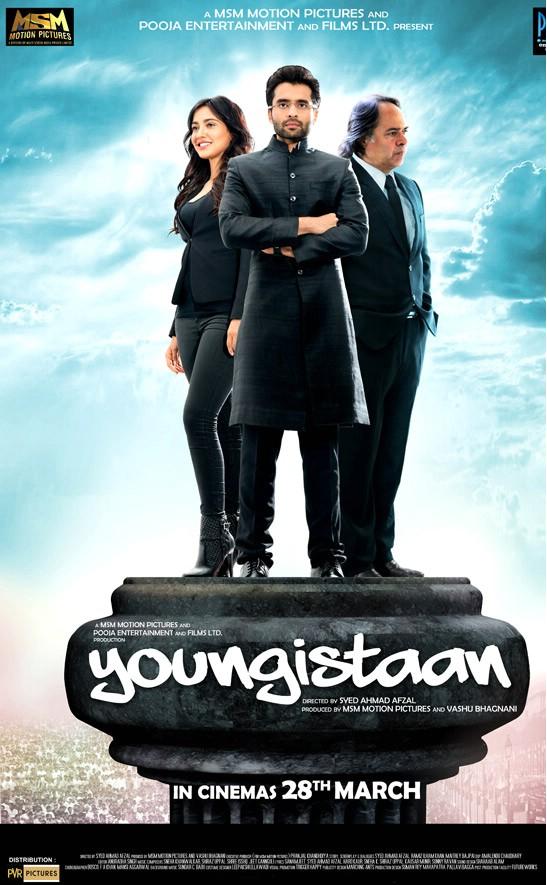 From being a wild party film, the proceedings suddenly shift gears after the death of the PM. But this transformation should have been smoother and natural rather than sudden. Nevertheless, the crucial phase of Abhimanyu becoming the PM is handled with care and a sense of believability. Unlike other political dramas, the love track over here is a concrete part of the story, realistic and not thrown in just for the heck of it. Therefore, there is no question of the narration shifting to the love track since it is always moving ahead with the basic plot.
The most impressive aspect of Youngistaan is surely the motivational message it gives after Abhimanyu gains control of the situation. His speech at the United Nations and various rallies, his method of connecting with the masses and the climax are the winning moments that will leave you delighted. Without being preachy, the film also highlights that politicians are bad, politics isn't. But despite giving such a serious message, the film never shies away from the light-hearted mode, which adds more mass appeal to it.
As hinted before, there are obvious flaws. Considering the basic storyline, it doesn't come as a surprise either. I can't list them to avoid spoilers. At the most, they could have lessened them. One point that can be mentioned is that Abhimanyu and Anvita could have easily got married. Plus, after a point in the second half, the narrative does suffer from some complications that could have been avoided. But due to various other plusses, you tend to make peace with the fallacies.
From the music, the title track and 'Sangemarmar' are impressive. 'Tanki Monkey' is weird! The technical aspects (cinematography, background score and editing) are as per the requirement.
The film wouldn't have created this much effect without Jackky Bhagnani's mature performance. In fact, the actor dishes out a major surprise with an act that is powerful and moving. He has now proved he is not just a star son. Despite his act, you can't help but be amazed by Farooq Sheikh. He yet again shows he is a storehouse of talent that cannot be replaced.
Neha Sharma too plays her part very well. Like Jackky, even she will be recognized as a serious actor after this act. Prakash Belawadi is excellent as Murli. Deepankar De and Triveni Sangam Bahuguna too aren't far behind. Boman Irani, Kayoze Irani and Meeta Vashisht are likable too although their roles are limited. The film has decent performances from a series of supporting actors.
Overall: Youngistaan deserves a watch for the message it gives. With elections just around the corner, the film has the capacity to encourage the youth to vote, especially the first-time voters.