Director Debjani Bandopadhyay's short film Terra (which translates to 'Land') takes place in the mountainous regions of Purulia in West Bengal. It tells the story of an officer (Anindyo Banerjee) who works for a company that is slowly snatching away the land and natural resources of the region for monetary gains. He has a troubled relationship with his wife Bibha (Tanushree Sarkar), who is of the opposite ideology.
The narrative takes its own pace but this works well as it slowly sucks you into this intense world where the greed of few people has made life hell for many others. The peaceful location being the opposite of the conditions of the victims is established creatively. Two parallel tracks about main issue and the personal conflict of Bibha are smartly woven.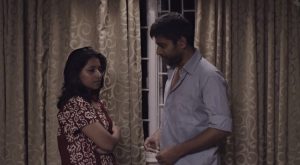 Terra tilts towards the victims but it doesn't preach anything. It just presents the whole scenario as it is. But at the same time it steers clear from being a docu drama.
Despite the writing and direction departments being impressive, the technical department doesn't cease to impress you throughout. The camerawork (Subal KR), background score and editing (Golam Mustafa Prokash) are applaud worthy.
But it's the sound designing (Siba Sankar Das) that stands out and how. The minutest sounds of nature appear realistic even when seen on a mobile phone.
The only minus point is an incident which brings some amount of confusion. It, thankfully, doesn't affect you much.
Acotr Tanushree Sarkar, Surojit Sen, Anindyo Banerjee and child actor Sourav Mura have come up with natural performances that play a large role in adding reality.
Overall: Terra is a finely crafted short film. It won't be an overstatement that the director is ready to take a plunge in feature films.
Rating: 4 out of 5
Review by: Keyur Seta