The very first scene of Andhadhun is about a rabbit trying to save his life from a hunter. The film then moves onto the main story while you wonder about the relevance of the first shot. It is brought in later during a crucial moment. This scene and several others are enough to guess that this is a Sriram Raghavan movie.
Andhadhun takes place in Pune where Akash (Ayushmann Khurrana) lives a simple life as a blind piano player. He 'accidentally' meets a bubbly young girl Sophie (Radhika Apte). They become close and she gets him employed at a bar as a musician-cum-singer. The place is owned by retired actor Pramod Sinha (Anil Dhawan), who was a star during his heydays.
Sinha requests Akash to do a private concert at his residence for him and his wife Simi (Tabu). Akash's single visit at Sinha's residence changes his life forever.
Mainstream Hindi cinema is guilty of using loud background sounds to provide thrill. This largely happens when the script lacks thrill. But like most of his films, Raghavan just lets the subtle unfolding of the story provide natural thrill. The background score, which is smart over here, is only a by-product.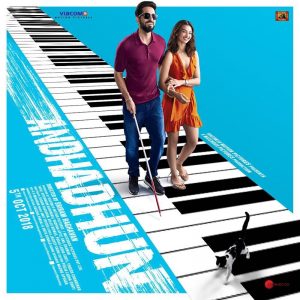 The first half of Andhadhun is full of mysterious moments. The twists and turns stun as well as provide laughter. Although the humour is dark, it never gets into the depressing zone. It is not often that the proceedings bring out different emotions at the same time. For example, the situation of Akash is helpless but it provides thrill as well as humour at the same time.
Andhadhun is also one rare film which could be understood even by those who don't know Hindi. Very few Hindi films let the visuals narrate the story in such an effective manner.
After such an exciting first half, one would, naturally, expect the same experience later. However, the thriller quotient reduces a bit post-interval and a couple of events appear questionable. Thankfully, the climax makes up for it. The very last shot is a masterstroke.
I personally feel all of Raghavan's films fall in the James Hadley Chase zone, excluding Agent Vinod (2012), in terms of the story, narrative and characters. Andhadhun also lies right there.
The technical aspects are top notch. K U Mohanan's edgy camerawork adds to the thrill. A lot of the background music is piano sounds as it goes with the subject. The scene where a serious crime is taking place while soft piano sounds are played in the background brings back memories of how the romantic song 'Kuchh Toh Hai Tujhse Raabta' is played out during a shootout scene in Agent Vinod.
The songs are decent you don't really care about the music in such films. The promotional title song is impressive and catchy but it isn't used in the film and rightly so. It wouldn't have suited the end credits.
The actors have lived up to what was expected of them. Ayushmann Khurrana is thoroughly believable as a mysterious artist. This wasn't an easy performance by any means but he is up to the task. Radhika Apte is effective as a fiery young girl.
Tabu has a much bigger role, which required her expertise. Her act will be talked about for long. Anil Dhawan, who makes a comeback, leaves behind a terrific impact despite the short length of his role. He provides unintentional laughter too, which was intentional. Manav Vij lives his evil character and speaks through expressions.
Other supporting actors like Zakir Hussain and Chhaya Kadam also chip in with mature performances.
Overall: Andhadhun is an exciting thriller that has a stamp of Sriram Raghavan's genius all over. The film hasn't opened to a good number at the box office. But its collections should rise in the days to come.
Rating: 4 out of 5
Review by: Keyur Seta
Director: Sriram Raghavan
Producers: Viacom 18 Motion Pictures and Matchbox Pictures
Writers: Sriram Raghavan, Arijit Biswas, Pooja Ladha Surti, Yogesh Chandekar and Hemant Rao
Cast: Ayushmann Khurrana, Radhika Apte, Tabu, Anil Dhawan, Manav Vij
Music: Amit Trivedi, Raftaar and Girish Nakod
Genre: Thriller
Runtime: 138 minutes