Hrishikesh Joshi's Marathi movie Home Sweet Home portrays a conflict between an aged couple Shyamal (Reema Lagoo) and Vidyadhar Mahajan (Mohan Joshi). They stay in Dadar, the central hub of Mumbai, where real estate prices have surged higher than the city's iconic Rajabai Tower.
Shyamal is eager to sell off their house for a colossal amount of over Rs 3 crore and migrate to a place further. The price of the new flat is much lesser than Rs 3 crore, which meant that they would also get to lay their hands on a big sum. Vidyadhar, however, is against the idea. He is emotionally attached to not only the house but also the locality.
The two characters appeared like many others I have witnessed all my life while staying in the same area. There are a lot of Shyamals religiously visiting the famous Swami Samartha math. At the same time, you can spot innumerable Vidyadhars doing early morning Yoga unconvincingly. Their everyday sarcastic conflicts are replicas of what was shown between the couple.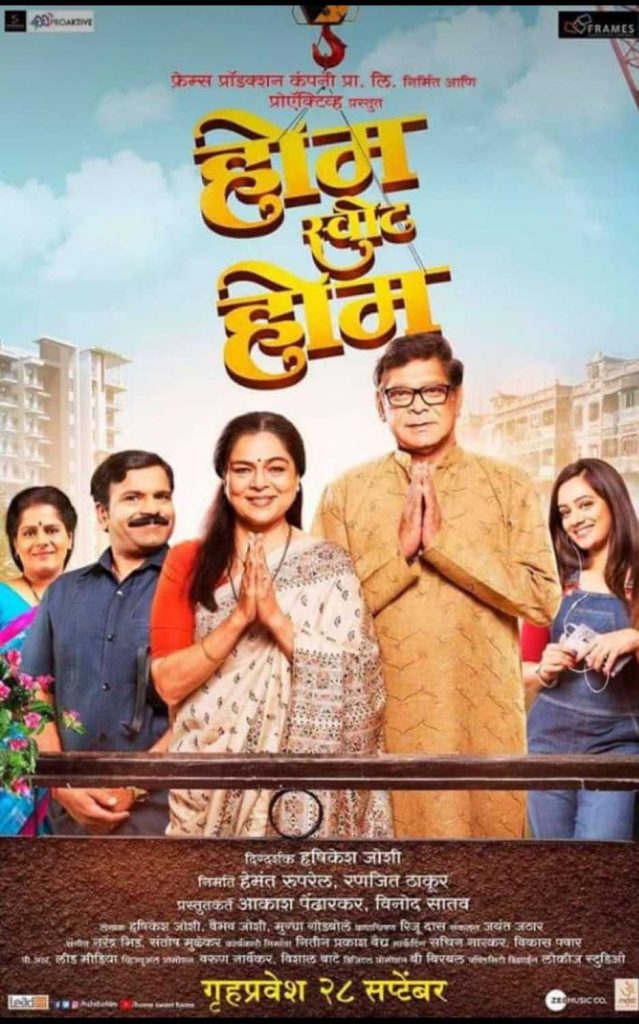 The character of the estate agent, which is played by Joshi himself, reminded me of my grandmother's conversations with her fellow estate agent friends. I have grown up witnessing the practice of a 'party' inspecting a prospective flat and the nervous undertones of the situation.
Home Sweet Home, obviously, seems like a personal story between two individuals. But it goes much deeper. The film actually portrays the current state of Mumbai where people residing in prime areas like Dadar are compelled to move to suburbs for 'better' standards of living.
Shyamal and Vidyadhar symbolize the two sides of the city right now. While some areas have rapidly built skyscrapers where every service available at your fingertips, there are still others that have retained the old Bombay charm.
The thought process of the two individuals represents two types of Mumbaikars currently. One wanting to be practical and move on with development, while the other clinging onto traditions and roots. In other words, it's a conflict between Mumbai and Bombay. The proverb, 'Mumbai is a name, Bombay is an emotion,' which is viral on social media, is felt here throughout.
Before Home Sweet Home, Mahesh Bhatt's Saaransh (1984) provided such local appeal on celluloid. In fact, the characters of Home Sweet Home remind you of characters of the Anupam Kher and Rohini Hattangadi starrer.
Also read: Manto released in the week when freedom of expression succumbed to a new low
Saaransh was about an aged couple staying alone and both having conflicting views. They had a female paying guest whose modern ways bothered them. The story also took place in the same locality. [Not implying that both films are similar in any way]
Coming back to the dilemma, I have seen a lot of families either choosing the mind or heart when faced with such a situation. My family was faced with the same dilemma for years. The choice was finally made this year. We did some adjustments in the house and went with the heart.
By: Keyur Seta