Rating: * * * ½
By: Keyur Seta
The prerequisites of a good independent film are not limited to a low or shoestring budget and lack of known actors. It needs a powerful content that can entertain on its unknown without depending on anything else. Director Sandeep Mohan's Hola Venky is one such independent film in real sense. It is a bold and entertaining take on cultural differences and dilemmas.
The film revolves around Vyenkatesh aka Venky (Roger Narayan), who is a typical south Indian techie living in the south Indian dominated area of Mumbai, Matunga east. He is a divorcee in his 30s who is all set to marry again with an emotionally cold Damini. Venky is forced to postpone his marriage as he is sent to the US for a leadership program. During a crazy night out with his friends, Venky lands in the weirdest trouble possible. The incident also brings the beautiful Inez (Sonia Balcazar) in his life.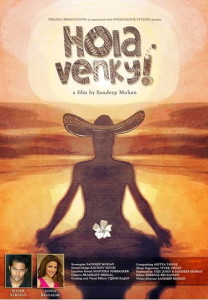 Hola Venky works largely because of its witty, quirky and sometimes adult humor, which is presented in a gently subtle manner. Such new-age aspects are also seen in the manner in which scenes are connected and the tale is taken forward. The length of just 88 minutes adds to the goodness. The climax too plays a big role in providing delight.
But the biggest test for the director was to present few important twists that are very bold in nature. The end result turns out to be so favorable since he manages to pass this hurdle in a mature manner. This was very vital because had the presentation deviated even a little bit, the proceedings would have appeared cheap or vulgar.
The film does have its share of minor negative points, which include a couple of situational flaws during the climax. At least one of the two could have been avoided.
People of India would be enlightened with Mexican Mariachi music after watching this film. The tracks are enjoyable and they go with the situations. Despite a tiny budget, some good editing is visible, especially during the meditation scenes. The camerawork too falls on the positive side.
Coming to the performances, Roger Narayan is a perfect find for the role of Venky. He impresses by being thoroughly realistic. Sonia Balcazar enters the scene late but leaves a solid impact by getting the nuances of her character right. The girl playing Damini and the actors playing Venky's friends (including Mohan himself) are believable.
Overall: Hola Venky is a realistically entertaining saga that deserves to be seen by those always craving to watch something different.
(Hola Venky has released online today. The film can be seen on Vimeo by clicking HERE. The director has been organizing screenings of the film in India and abroad since a year through his Travelling Cinema initiative.)
Director: Sandeep Mohan
Producer: Sanjay Gulati
Writer: Sandeep Mohan
Cast: Roger Narayan, Sonia Balcazar