By: Keyur Seta
People normally shudder at the mention of struggle. But actor Padmanabh Bind firmly considers struggle as something positive which should even be enjoyed. It is this enjoyment that has helped him taste success as a theatre actor and later gain accolades for his act in his Marathi film debut Shree Partner, based on Va Pu Kale's classic novel Partner. Apart from elaborating the phenomenon of struggle, the actor, in a friendly chat with Halti Chitre, speaks about the publicity scenario in Marathi film industry and the difference he experiences while acting in theatre and films.
(Interview taken from the website Halti Chitre.) (To join us on Facebook, click HERE.)
Tell us about your background and your journey towards your first movie Shree Partner.
Right from my childhood, I have been doing theatre with my father. So I knew I would enter this field. After passing HSC from my hometown Yavatmal, I joined Lalit Kala Kendra in Pune and did my graduation and post-graduation in theatre. Well-known personalities from Marathi theatre were our faculty with the famous playwright Satish Alekar being our HOD. Similarly, we also got guidance from the likes of Vijay Kenkre, Waman Kendra, Jabbar Patel, etc. Aniruddha Khutwad also taught us direction and acting, mostly method acting. He largely molded me as an actor. I have worked in few of his plays including Mahapur, Ek Rikami Baju and Mr Behram.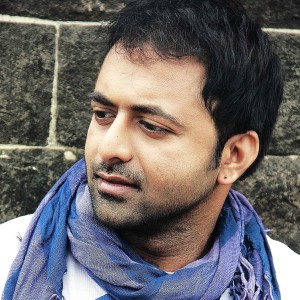 After passing out from LKA and doing an experimental play Enigma with Vibhavari Deshpande, I came to Mumbai and did plays with Manaswini Lata Ravindra. Talking about Shree Partner, the makers had kept auditions but I couldn't attend as I was having a theatre performance simultaneously. But I had mailed my photos and Sameer (Surve) sir knew about me being a theatre artist so he called me for an audition later. After few rounds, I was told I will be playing the character of Shree. What I found positive is that the main hero of a good Marathi movie is chosen through auditions. For that matter, even Shweta (Pagar) was chosen likewise.
How different is working in both mediums – theatre and films?
Apart from the basic difference that people have pointed out, I personally feel working in films is more difficult because you have to continuously be aware about your character's continuity. For example, after shooting the 42nd scene, you directly jump to the 53rd. Likewise; all scenes that need to be shot inside a house are shot together. Whereas, in theatre, you play your entire character at one go. In Shree Partner, we have shown a span of at least 5 years. In these years, a person's outlook and other things definitely change. So an actor needs to calculate this in cinema.
There is a general belief that people with no film background or godfather have to struggle a lot. What is your opinion on this?
I feel everybody has to struggle. You can't avoid it. I just can't understand why people consider struggle as negative. I believe there should be joy in making an effort to prove yourself as that is what struggle is. You have entered this profession because you like it. And if I have to take pains to achieve my goal, I can't consider it negative. That is the real joy! It can only be negative for those who have entered a field without interest. One friend wanted to become a guitarist but due to his father's wish, he did MBA and is now working in a company. For him, it is struggle. Frankly, everyone has to struggle with or without a godfather because it doesn't end at getting your first break. You have to prove yourself. Even Ranbir Kapoor has to. Only the level of struggle is different. Ranbir might get 10 opportunities to prove himself while Padmanabh Bind might get only one. Even Amitabh Bachchan faces struggle to sustain the level he has reached.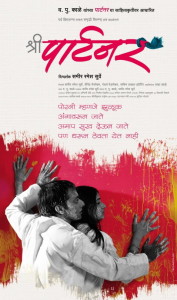 In recent years, a lot of Marathi films are receiving great critical acclaim but are not making it very big at the box office regularly. What according to you is the reason for this?
I personally feel we lag behind in publicity. I am not talking about innovative publicity and not the normal publicity. What is important is that if people are not reaching out to us, we should reach out to them in a different, creative manner. During Shree Partner, we created bookmarks and distributed them in libraries in various cities and asked them to hand it over to the members. Even the makers of Masala started their publicity campaign in Nagpur in an innovative way and it worked. So if you publicize your film innovatively, people will surely watch.
Another important thing is that people in a city like Mumbai are more interested in Hindi films. Even my friends in Yavatmal will compulsorily watch Salman Khan's films. But what is surprising is that good Marathi films don't even release in Yavatmal! Apart from Kaksparsh, no other good Marathi film has released there since last year despite it being a city. Even own film wasn't released there! In such scenario, how will people develop interest in Marathi films?
What is your dream role?
Whichever character I will play next will be my dream role. Acting in films and theatre gives me immense pleasure and I feel charged up. So every character I play, no matter big or small, is a dream role.
What next after Shree Partner?
I am in talks with few makers and I have read few scripts but nothing is decided officially. So I can't speak anything now. Even during Shree Partner, I didn't reveal anything while I was shooting for it. Until and unless a movie is dubbed and released you can't say anything about Marathi films. It can be scrapped at any moment, not necessarily due to financial reasons. Recently I read a survey that out of all films made in India, only 20% see a release! But I would like to say I am doing a Marathi play based on The Lover by the late Herold Pinter. I will act as well as direct it.