Director: Neeraj Pandey
Producers: Wide Frame Films, Viacom 18 Motion Pictures and A Friday Filmworks
Writer: Neeraj Pandey
Cast: Akshay Kumar, Anupam Kher, Manoj Bajpayee, Jimmy Shergill, Kishore Kadam, Rajesh Singh, Divya Dutta, Kajal Agarwal
Music: M M Kreem and Himesh Reshammiya
Genre: Thriller
Rating: * * * ½
Plot: The film is set in 1987 when conmen Ajju (Akshay Kumar), Sharmaji (Anupam Kher), Iqbal (Kishore Kadam) and Joginder (Rajesh Sharma) are raking in plenty of moolah by posing as fake Central Bureau of Investigation (CBI) officers and raiding politicians and businessmen. So when Waseem Khan (Manoj Bajpayee), the real CBI officer, gets to know about this, he is hell bent in nailing them.
But to make matters worse for Waseem, none of the victims are ready to lodge a complaint since the money involved in the heist was black. Despite this, an enraged Waseem comes up with a secret plan against the fake CBI officers.
Review: Heist films are been made in Hindi cinema even before Akshay Kumar was born. So what is so special about Special 26? It is Neeaj Pandey's out-of-the-box narration and presentation that makes the film stand out despite hundreds of films dealing with the same issue. But this could be said mostly because of the second half and a terrific climax.
Unlike most masala Hindi films, the heist shown here is straight out of reality. To watch a con film made in a realistic genre is what gives a different experience to the audience. But despite the realism, Pandey has managed to keep the entertainment quotient alive with some regular doses of humor. Also unlike most commercial con films, the characters over here are simple middle class Indians which works well in getting the audience sympathize for them.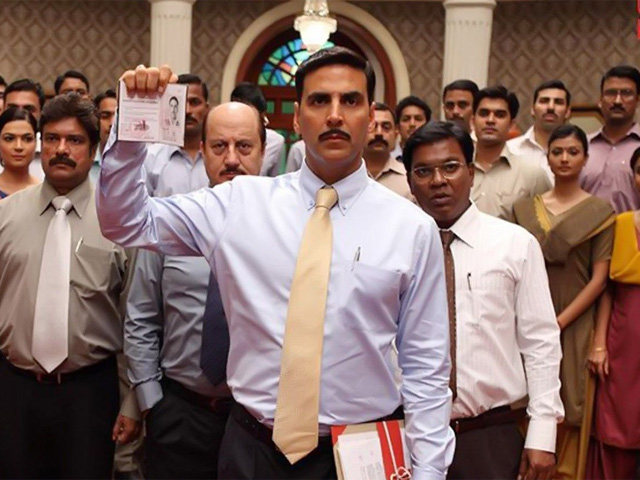 Another applaud-worthy aspect is the perfect creation of the 1987 era which looks like a result of hard work in presentation as well as writing. Playing of on old papad advertisement was especially very impressive.
But the film has its share of limitations. The pace of the first half isn't as fast as it should be. For this, Akshay and Kajal Agarwal's utterly forced and unwanted love track is the culprit. When would we come out of the hangover of a compulsory love story? This also gives rise to two songs and that too in a span of just ten minutes! This is followed by another song at the start of the second half. Huh?
Thankfully, the consequences in the latter part of the second half and an unpredictable twist in the climax not only make you forget the negative points but also leaves you super impressed with Pandey's storytelling. He proves he isn't a one-film wonder with the epic A Wednesday.
Technical departments like cinematography (Bobby Singh) and background score (Sanjoy Chowdhury) help in adding thrill and giving a feel of the yesteryears. Although the editing (Shree Narayan Singh) also helps in adding sleekness, a number of scenes of characters blandly walking and travelling should have been shortened. 'Dhar Pakad', the theme song, is the only track that suits the film. The rest of the songs are neither required nor impressive.
Although Akshay Kumar has played a conman before, he is remarkable here due to a different dimension he brings to the character. He is brilliant during raid scenes and the moments where he is training youngsters. Talented veteran like Anupam Kher shows his super talent in the role of an anxious conman. Manoj Bajpayee is outstanding as a determined CBI officer. His act in the climax deserves special mention.
Despite the presence of a number of professional actors, Jimmy Shergill shines. He deserves more movies! Kajal Agarwal has basically nothing to do! Even performance-wise, she is strictly average. The rest of the supporting cast including Kishore Kadam (well-known Marathi cinema actor), Divya Dutta, Rajesh Sharma, Deepraj Rana and Mukesh Bhatt chip in with good acts.
Overall, Special 26 deserves to be seen due to a fresh take on con films. The film should slowly climb up the box office ladder due to a positive word-of-mouth.