Director: Abhishek Kapoor
Producers: UTV Spot Boy
Writers: Chetan Bhagat, Abhishek Kapoor, Pubali Chaudhuri and Supratik Sen
Cast: Sushant Singh Rajput, Amit Sadh, Raj Kumar Yadav, Amrita Puri
Music: Amit Trivedi
Genre: Drama
Rating: * * ½
Plot: In their early twenties, Ishaan (Sushant Singh Rajput), Govind (Raj Kumar Yadav) and Omi (Amit Sadh) are the best of friends living in Ahmedabad in the early 2000s. After a lot of struggle, they succeed in starting a sports equipment shop and a cricket academy. The film tells the story of their dreams and how their friendship is affected by the Gujarat earthquake and riots.
Review: There have been numerous successful Hindi films about male bonding between three friends. Films like Dil Chahta Hai, Rock On! and 3 Idiots are the names that come to our minds instantly when we think of the subject. But despite these many films made on the same genre, Abhishek Kapoor's Kai Po Che has a unique freshness born out of the simplicity of the characters and the narrative style. But unfortunately, a not-so-perfect second half and disappointing climax makes sure the film falls into just an average category.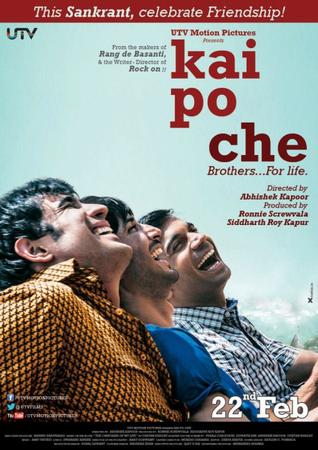 The first few minutes of the film are enough to make you realize that any common man from India would be able to relate with the characters and the story. The life of three friends and their dreams might be ordinary but it is this ordinariness that is captured and written so beautifully that it makes you root for them instantly when they desperately try to start a business or when they try to improve an adolescent's. Kapoor has proved that even normal, everyday scenes can be amusing. This is only the analysis of the first half though.
The events and incidents in the second half do keep you engrossed but there is no proper focus in the story. But what provides a big disappointment is the final culmination which is unacceptable and, in pure terms, just laughable (not revealing anything to avoid spoilers). This could have worked in a book but not quite in a movie. Even the title appears questionable after the climax. Kai Po Che is generally a triumphant expression but looking at the final outcome, it just turns out to be a joke!
Composer Amit Trivedi has once again complemented the subject well. His tracks 'Shubharamh' and 'Manja' are impressive. Anay Goswami has wonderfully managed to capture simple, everyday scenes artistically. The background music (Hitesh Sonik) and editing (Deepa Bhatia) also suit the simple subject.
Sushant Singh makes a remarkable debut. He displays perfect acting skills with confidence. Surely an actor to look out for! This performance will add infuse plenty of new life into Amit Sadh's career. He had the difficult task of playing two different characters but he manages both with perfection. After doing very well in Ragini MMS, Shaitan and Gangs Of Wasseypur, Raj Kumar Yadav pulls off a brilliant act this time.
The kid playing the role of Ali deserves plenty of appreciation too. He doesn't get to mouth a lot of lines and hence he does the challenging task of speaking through expressions. Amrita Puri is not bad while the rest of the supporting actors play their parts very well.
Overall, Kai Po Che is a decent effort which falls short of being superlative, mostly due to the final moments. It has had a good opening which, coupled with the hype, will fetch good numbers for the producers.