Ashrunchi Zali Phule is an iconic Marathi play written by the late Vasant Kanetkar in 1966. It was performed for the first time by Chittaranjan Kolhatkar, Prabhakar Panshikar and, Marathi theatre's first superstar, Kashinath Ghanekar.
The play has been staged by various teams of actors over the decades. Currently, it is been performed by Shailesh Datar, Seema Deshmukh, Umesh Jagtap and Subodh Bhave, who plays the character of Lalya originally essayed by Ghanekar. Bhave had performed Lalya in few scenes in Ghanekar's biopic Ani… Dr Kashinath Ghanekar last year.
Produced by Colours Marathi, Anamika Kanha's Magic and Saisakshi, the play is directed by Pratima Kulkarni.
Ashrunchi Zali Phule is the story of an honest and upright college principal Vidyanand [Datar]. He comes across Lalya [Bhave], a ruffian student from his college. After initial conflict, Vidyanand manages to reform Lalya. The young man then goes on a journey to fulfil his dream of becoming a police officer.
Meanwhile, Vidyanand's relation with his wicked college trustee Dharmappa worsens. He gets framed in a financial crime he didn't commit and is forced to undergo jail sentence. After he returns from prison, he decides to take revenge from Dharmappa but in the process becomes a gangster himself.
I have neither seen any of the previous versions of the play nor read the original. This review only focuses on this particular performance.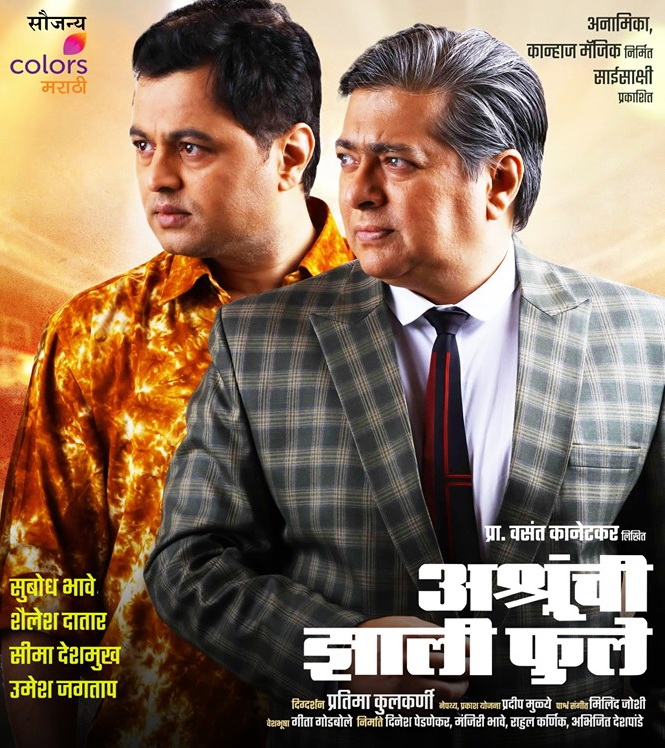 For the uninitiated, Ashrunchi Zali Phule initially might appear like a story of how a spoilt youngster gets reformed. But the story goes much further and gets on an interesting mode on what happens after the tables are turned for Vidyanand and Lalya. The high octane confrontational scene between both of them in the end is the high point of the play.
The makers have fairly succeeded in recreating the bygone era. The play boasts of some convincing set designing. To use some simple lighting to give the feeling of an airport in one scene was remarkable.
Ashrunchi Zali Phule has its share of minuses as well. The transformation of Vidyanand isn't well established. It happens all of a sudden, which makes it difficult to believe. There are two of three sequences featuring Vidyanand which are dragged on even after their purpose is fulfilled. [Maybe this was fine for the era in which it was initially staged]
A major plus point here is, obviously, Subodh Bhave's act as Lalya. Initially, it is difficult to accept him as a college student but his performance makes up for it to a good extent. His transformation as a cop and his act in the last scene makes you somewhat forget the aforementioned minuses.
Shailesh Datar also goes about his transformation successfully. The play is also well supported by Umesh Jagtap, Seema Deshmukh and others.
Overall, it is a treat to experience the applause and whistles for people of today's era. It gives some idea of the olden days of Marathi theatre.
Rating: 3.5 out of 5
By: Keyur Seta