When Alankrita Shrivastava's Lipstick Under My Burkha was refused certification by the Central Board of Film Certification (CBFC) (or popularly known as the censor board) for being 'lady oriented,' I felt this film might have frightened those who give a damn about various desires of women. Now, after watching the film, I am fully convinced about it.
Lipstick Under My Burkha is about the struggle of survival of four women in a highly patriarchal environment in Bhopal. Leela (Aahana Kumra) is in a relationship with a photographer (Vikrant Massey) but her mother has forced her to marry an 'ideal' guy (Vaibbhav Tatwawadi). Rehana (Plabita Borthakur) is from a highly conservative family and has to follow the tradition of burkha. But she is itching to break free from the traditions.
Shirin's (Konkona Sen Sharma) husband (Sushant Singh) works in Saudi Arabia. Whenever he returns home for a short break, he uses her as a sex toy. She has hidden from him the fact that she works as a saleswoman. Usha aka Buaji (Ratna Pathak Shah) is a widow and a landlady of an old building. Her sexual desire has resurfaced as she has started reading an erotic novel, Lipstick Wale Sapne.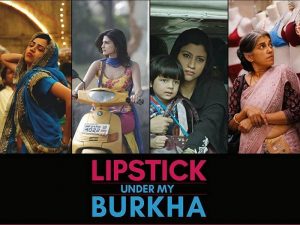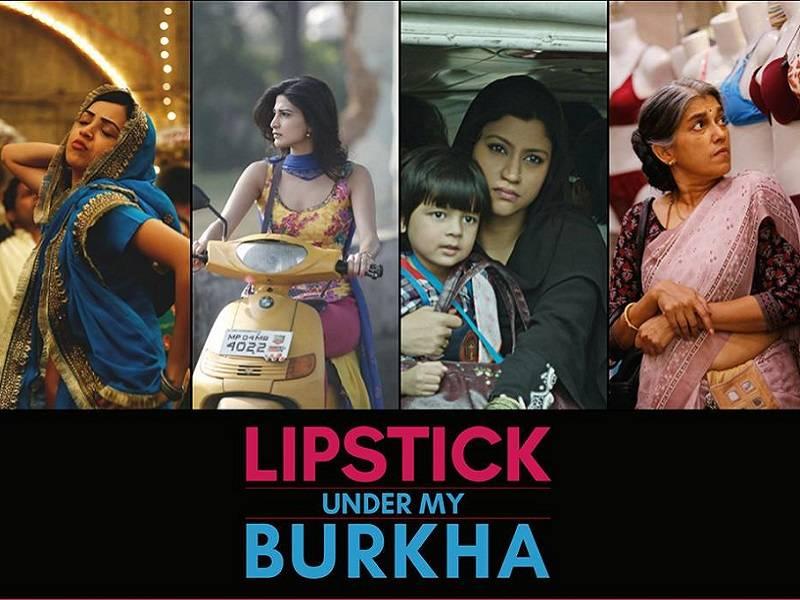 Here's a scene from the film. An engagement ceremony is going on and suddenly the electricity goes off. The girl, who is getting engaged, is found having a quickie with the photographer. This is how the frankness of LUMB can be summed up. Many of you might label her act blasphemous. But there is a deep meaning about not only what she but all the four main characters do in the film.
In other words, the bold sexual content is added not just to stand apart or get noticed. It is a natural part of the script. So, in a way, the film is more real than bold. The manner in which the sexual desire of a 50 plus year old widow is dealt with deserves special mention.
But LUMB is not just about its daring sexual content. It's also an example of an intelligent piece of cinema. The film achieves high standards in writing and presentation. This can be said for the way you get involved in the lives of the four characters. Moreover, their issues about lack of respect and dignity are presented convincingly with minimal use of dialogue and some witty humour.
The film, however, comes with a few hiccups. The criminal act of one character doesn't go with her nature. Although the open-ended climax suits here, it should have produced a bigger bang considering the hard-hitting nature of the film. There are some minor logical errors too.
The performances are a treat. Aahana Kumra packs a punch as someone who doesn't shy away flaunting her desires; be it any. It seems Plabita Borthakur was born to play this role. She is excellent and is a lookout for the future. Ratna Pathak Shah excels in a terribly difficult role. Her portrayal of an old woman feeling sexual hunger isn't cheap or vulgar whatsoever and this is a big achievement.
Konkona Sen Sharma is once again reliable. Vaibbhav Tatwawadi is completely believable as a shy and traditional fiancé. The film also has fine supporting acts from Vikrant Massey, Sonal Jha, Sushant Singh and Shashank Arora.
Overall: Lipstick Under My Burkha is a daring attack on patriarchy and regressive traditions. This is the reason why Pahlaj Nihalani and his friends didn't want you to see this film and this is exactly the reason why it should be seen.
Rating: 3.5/5
Review by: Keyur Seta
Director: Alankrita Shrivastava
Producer: Prakash Jha
Writers: Alankrita Shrivastava, Ghazal Dhaliwal and Suhani Kanwar
Actors: Aahana Kumra, Plabita Borthakur, Konkona Sen Sharma, Ratna Pathak Shah
Genre: Drama
Runtime: 117 minutes