There have been some comic, non-romantic male pairs in Hindi cinema since the 1990s. Govinda-Kader Khan, Kader Khan-Shakti Kapoor, Akshay Kumar-Paresh Rawal, etc, are the ones that come to our mind instantly. But a pair that I consider as impressive as these ones is that of Shah Rukh Khan and Ashok Saraf in Aziz Mirza's Yes Boss (1997).
It's an unusual pair for sure. Both the actors have different personalities, mannerisms, acting skills and temperaments. Plus, one was an emerging Bollywood star while the other had already acquired the status of a legend in Marathi cinema.
Sometimes, the more unusual the pair, the more are its chances of standing out, especially while doing comedy, and that is exactly what happened with SRK and Saraf in this movie.
Yes Boss saw Khan play Rahul, an ambitious youngster eager to be rich and own a dream office. To achieve his mission, he doesn't mind bootlicking his boss Siddharth (Aditya Pancholi), which also involves hiding his extra-marital affairs. Siddharth falls for the beautiful Seema (Juhi Chawla), who starts modelling for his firm. He takes Rahul's help to woo her as usual. However, Rahul also falls for her.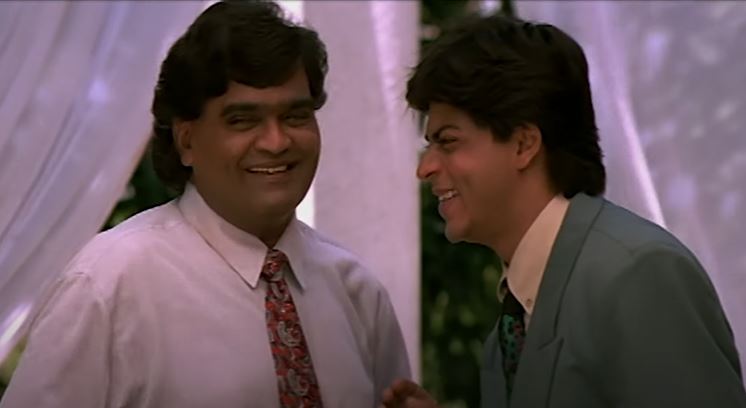 Saraf played Rahul's colleague and close friend Johnny. The two share a close bond in the film and are seen hanging out and confiding in each other regularly.
Khan and Saraf were cast together in Rakesh Roshan's Karan Arjun (1995) but their characters weren't related to each other. They hardly interacted.
Yes Boss was the first time that the two actors played a pair of characters involved with each other. However, it didn't look like that. Their chemistry and tuning appeared so natural that it seemed as if they have been playing each other's co-stars since a long time.
As soon as they appear together on-screen, you are either laughing or smiling, all thanks to their chemistry, acting skills and antics. The scene where Rahul tries to shoo off Johnny so that he can share a private chat with Seema is one such amusing scene.
But what takes the cake is the moment when Khan and Saraf are seen bathing together in the same tub while singing 'Muqabla Muqabla, O Laila.' This is followed by their embarrassing moment in the corridor of the hotel because they are only wearing a towel as a cloth.
Now, who would have thought of such a tub scene with Khan and Saraf? (See in the video above). In today's times, this would instantly make us question if they are homosexuals. But when I saw the film for the first time in my childhood, obviously I didn't even think of such a thing. I am sure same is the case with others as well then.
The outcome of SRK and Saraf's pair appears appealing even today. That's why these days the more I think of the film, the more I wonder why nothing is spoken or written about this hilarious pairing in the numerous movie related articles and discussions on the internet and social media.
It's still not too late.
Needless to say, I feel the SRK-Saraf pair should have been explored more in the last 20 years or so.
Maybe, it's still not too late for this as well…
Also read:
Fact check: Was Deepika Padukone paid Rs 5 crore to attend JNU protests?
JusticeForSSR now has NO place on news channels. Who gained, who lost?