Rann (2010) was one of the better films created by Ram Gopal Varma. It came at a time when the filmmaker was being written off, especially after the debacle of Ram Gopal Varma Ki Aag (2007), the remake of Ramesh Sippy's classic Sholay (1975).
Starring Amitabh Bachchan, Riteish Deshmukh, Paresh Rawal, Sudeep, Mohnish Bahl, Suchitra Krishnamoorthi and Gul Panaag, Rann gave more than a glimpse of the RGV of his prime.
Unfortunately, the film just didn't work at the box office and couldn't reach a large number of the audience.
But since the last few years, Rann has been appearing more relevant than it did more than a decade ago when it had released. In fact, it continues to get more relevant with each passing year and that isn't a good sign.
Rann was basically about Vijay Harshwardhan Malik (Bachchan), the righteous and honest owner of a news channel called India 24/7. His channel is struggling with TV ratings since he is not willing to carry out any unethical and dishonest means to up the ratings, like other rival channels, including the one headed by the corrupt Amrish Kakkar (Bahl).
Vijay's son Jai (Sudeep) has the opposite ideology but is unable to do anything since it is his father who controls the channel, much to his frustration. Meanwhile, Purab Shastri (Deshmukh), a die-hard fan of Vijay and a budding journalist, is delighted to have got the opportunity to work for India 24/7.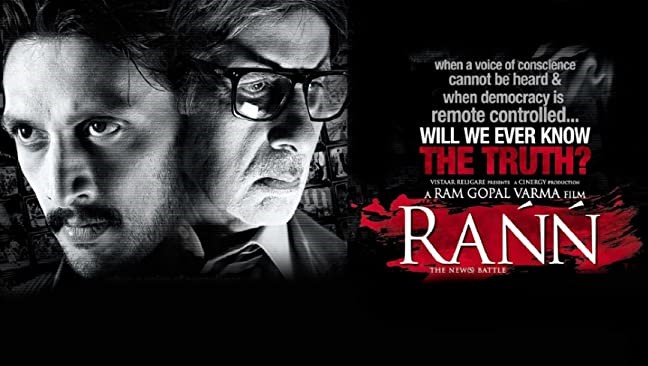 Apart from being a film on the media, Rann was also a political drama. Mohan Pandey (Rawal) from the opposition is desperate to become the Prime Minister. He forms a deal with Jai to frame the existing PM Digvijay Hooda (KK Raina) in a terror plot. Jai convinces Vijay about Hooda's involvement in the scandal and the latter airs the 'news' on his channel.
This results in an uproar in the nation and Hooda is forced to step down as the PM. The general elections are held mid-term in which Pandey triumphs and is all set to become the next PM. However, Purab gets to know about Jai's evil plan to frame the innocent Hooda. But is it too late?
Although the term 'fake news' isn't spelt out in Rann, that is the crux of the film's basic plot. However, fake news as a concept was hardly there in 2010, so, obviously, it wasn't known by the masses. Hence, the seriousness of the subject wasn't felt by the audience back then.
But today, we are living in an era where fake news is not just a reality but a regularity. Political parties use it on a daily basis to score brownie points over their rivals. Their leaders are painted as saints while the opposing party leaders are made to look like evil through posts and memes that appear like real news.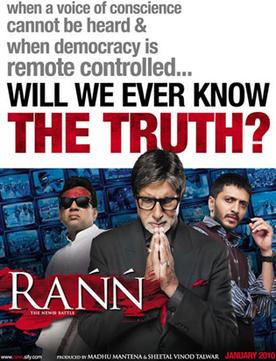 And our gullible citizens believe them without bothering to do any kind of verification. The controversy of the death of Sushant Singh Rajput received more fuel because of fake news. It went to such an extent that 'news' like how some top Hindi film stars saw the live telecast of Rajput's 'murder' were spread and they were believed even by well-educated individuals.
Rann also went way ahead of its time and showed a news channel airing fake news. This might have appeared difficult to believe 10 years back but today this is also a reality. There have been instances where channels have aired 'news' that can be sourced only to What's App forwards.
Rann ends in a powerful way when Vijay addresses the nation and begs forgiveness for airing fake news about Hooda. The dialogues and Bachchan's performance provides goose bumps as we are told the responsibility of the media from scratch.
A line spoken by Vijay's character sums up the relevance of the film today – Jab sarkar aur media satta ki duad mein aapsi sauda kar leti hain, toh khabarein banti nahin, banai jaati hain [When the government and the media make a deal in the race to power, news doesn't happen; it is created]
Also read:
Superstar's Silence: Why Halla Bol is more relevant today
SRK & Ashok SARAF's pair in Yes Boss deserves more appreciation