In his Marathi feature film debut Court (2015), Chaitanya Tamhane threw light on the sad scene of the functioning of our legal system. With The Disciple [Marathi movie], he has chosen to highlight the dwindling scenario of Hindustani classical music through the eyes of the young protagonist Sharad Nerulkar (Aditya Modak).
The filmmaker dwelled steeply into the subject of his first film. So, it doesn't come as a surprise to see him do exactly the same here, despite the subject being as different from Court as chalk and cheese.
Tamhane has continued his unhurried approach in narrating the protagonist's journey and the world around him. Hailing from strictly a middle-class household, Sharad religiously learns Hindustani classical singing from his expert guru Pandit Vinayak Pradhan (Dr Arun Dravid). Sharad is eager to become the master of this art.
To achieve this, he decides not opt for any job, so that he can concentrate merely on singing. Even if this means going against the wishes of his mother [who we never see or hear except in the flashback]. However, the circumstances around him stop Sharad from achieving mastery in the art, as per the expectations of his guru. But he is not ready to give up.
Just like in Court, the unhurried approach works wonders for it not only helps you gain sympathy for Sharad but it also makes you a part of his world. The slow-motions scenes of him riding his bike in the dead of night while listening to his idol Maai summarize his world and life beautifully.
Maai was the guru of Sharad's own guru. Her thoughts of music and ideals make Sharad his indirect disciple. The voice of the late filmmaker Sumitra Bhave as Maai is perfect to the T.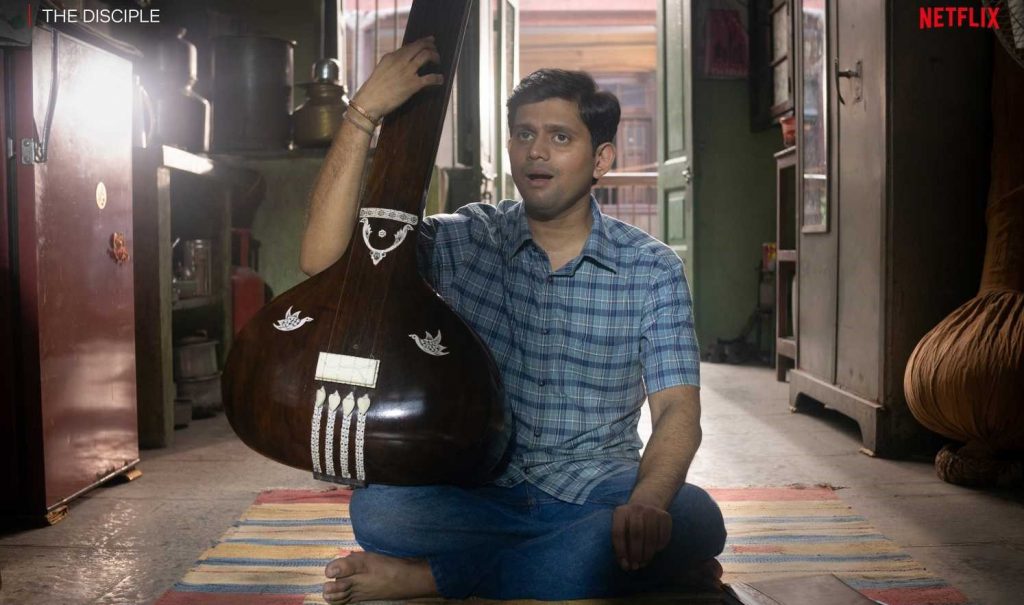 The Disciple also makes a statement against the commercialization of music and singing reality shows in a hard-hitting but subtle manner. We are shown one female contestant in a show designed straight out of those reality shows. She is in love with classical music when she enters the show but by the second season, the show changes her. Sharad, of course, hates this but we are told this only through his expressions, as one can expect from Tamhane.
The film, overall, is a journey of an artist of true nature and what all he goes through in a world where art isn't appreciated in its true form. But this is still not enough for him to forget his ideals.
Over here, Sharad, after growing up, continues to be a purist and makes a living through his art. This side of his has come out very well in the scene where he expresses his displeasure over a boy wanting to pursue fusion music while learning classical. This aspect will make the film relatable even for artistes from other field of arts.   
It's a no brainer that a film based on classical music must contain top-notch music from the genre. Else this would have easily affected the film. Composers Aneesh Pradhan and Naren Chadavarkar don't let this happen even a bit. The classical songs are a treat even if you are not into classical music.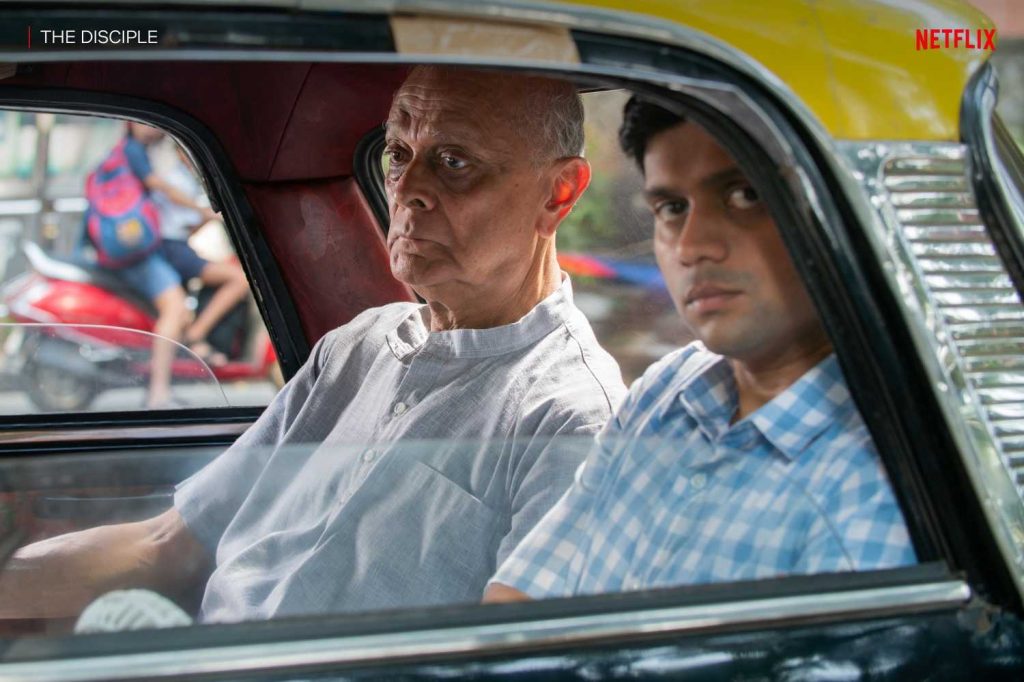 The film can boast of high level technical aspects in terms of the cinematography (Michal Sobocinski) and the background score. Both aspects don't overdo and stay firm with the simple theme of the narrative. The production design by Pooja Talreja and Ravin D Karde brings out even the minutest of details, especially while showing the interiors of Sharad and his guru's humble residences.
Tamhane has cast people from different fields as actors. They never make you feel as if they are not professional actors. Aditya Modak's act is as praiseworthy as the content of the film. It's no surprise that he is utterly realistic in scenes where he is singing. But he brings out the confusion, frustration and despair of the protagonist without trying hard. There is an absolute absence of any sort of cliché while conveying his state of mind at any given point.
Dr Arun Dravid, another thespian in the field of classical music, is also completely believable as an old and fragile artist who is struggling to live. The same is the case with writer and filmmaker Kiran Yadnyopavit as Sharad's late father.
Overall, Chaitanya Tamhane once again succeeds in showing the mirror artistically to a world poles apart from Court.
Rating: 4 out of 5
The Disciple is streaming on Netflix
Also read:
Rann keeps getting more relevant and that's not a good sign