1998 belonged to Sachin Tendulkar. He was unstoppable in that year, especially against Australia, be it in tests or ODIs.
His two heroic centuries in Sharjah, mountain of runs in the test series at home, 5-wicket haul in the ODI series and some quality innings in the same series, a century and 4-wicket haul in the first ICC Champions Trophy match; all came in the same year against the Aussies. Along with this, Tendulkar also scored an unbeaten 100 against Zimbabwe in the Sharjah Cup Final later that year.
But one of the major achievements of his career also happened in 1998 that people seem to have forgotten. I have never heard this being mentioned in any of the cricket discussions I have heard or read over the decades.
It came in the practice match between Mumbai and Australia at the Brabourne Stadium in Mumbai in February 1998. Here's revisiting that match as the Master Blaster celebrates his 48th birthday.
Apart from Tendulkar's greatness on the field, another reason I can't forget this match is because it was the first time that I set foot inside a cricket stadium.
I was in eighth standard and had started following cricket keenly a couple of years before during the 1996 World Cup. When I came to know that the practice match will be played in Mumbai in which Tendulkar will be playing for his home Ranji team, I got all excited. It didn't take much to convince my father, which was a pleasant surprise since he wasn't so interested in cricket.
We went on the second day of the 3-day match. Australia had declared their first innings on 305 for 8 on the previous day.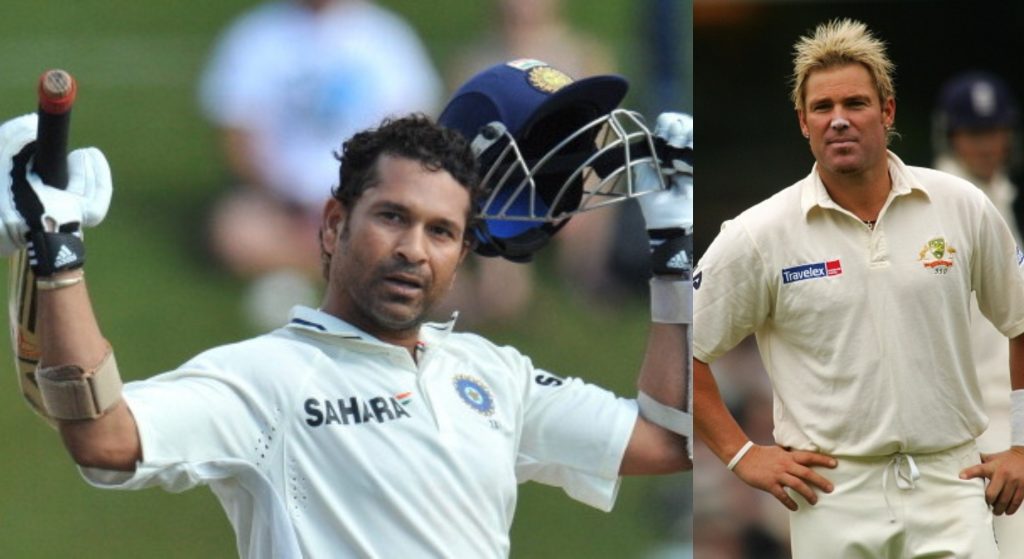 As we entered the premises of the stadium, my excitement knew no bounds. I couldn't believe I would be entering a cricket stadium for the first time ever. Same was the case with my younger brother.
It was a surreal moment when we finally reached the stands and could see the ground. I was amazed to witness the big names of Australian cricket in front of my eyes; the likes of Shane Warne, Ricky Ponting, Mark Taylor, Ian Healy, Michael Slater, Paul Reiffel, etc.
We got a display of some quality batting right at the start. Much before Tendulkar, it was Mumbai's left-handed opener Amit Pagnis who hit Warne around the ground; even hitting against the spin over mid-off. Warne's nightmare on that tour actually started on that day and it was Pagnis who inaugurated it.
This was the first time I came to know that the Indian crowd actually starts celebrating when the home team's second wicket falls because that's when Tendulkar comes out to bat. So when Pagnis got out after a well-made 50, in came the Master Blaster.
I still can't forget the heart-pumping moment when Tendulkar came out amid loud cheers and whistles and a lot of dust in the air when he took guard. I was finally seeing him in front of my eyes after watching him numerous times on TV.
He started hitting the ball right from the word go. Like everyone else, I was keen to see him bat against Warne. When the moment came, Tendulkar, showing no respect for the bowler, just started hitting him around. He hit some quality drives and cuts. But his pull short against the spin is the one shot I remember the most. After a while, it felt Tendulkar was batting in the nets.
There were few hiccups for Mumbai when Sanjay Manjrekar was runout after Tendulkar flicked Warne at square leg. It was Manjrekar's last first-class appearance as he had announced his retirement. It was sad to see him get out in this fashion after reaching 39 in his last match for Mumbai.
This was followed by Vinod Kambli's dismissal for 10 with Mumbai being 161 for 4. But Amol Muzumdar (42) and Rajesh Sutar (45) had useful partnerships with Tendulkar.
In between that phase, I got to experience the moment when Tendulkar reached his 100. It was magical to be able to witness it in my first match in a stadium. I don't remember cheering and clapping to this extent ever before. The same was the case when Tendulkar reached 150 and 200.
The double century was an important milestone as it was the first time Tendulkar reached that number in first-class cricket. His previous best was 179 against West Indies in 1994 at Nagpur. Mumbai declared its innings at 410 for 6.
While returning back, I had the most satisfactory feeling. I knew I would be able to recall this day throughout my life. I felt it can't get better than this in a Mumbai vs Australia match.
But it did. The next day, which was the third and final day, I switched on the radio to follow the match. Much to my extreme surprise, Australian wickets were falling like a pack of cards. They got all out for a paltry 135! This meant Mumbai needed to score just 31 runs to win, which they did in 5.3 overs with all wickets intact at around 1:30 pm.
I couldn't imagine Mumbai defeating Australia in two and a half days. 1998 deserves to be remembered for this match too…
Note: There is no recording of this match available as it wasn't telecast. See the full scorecard HERE.
Also read:
Only time Tendulkar was NOT selected in team India, neither injured nor rested