In all these years of test cricket, there have been some enormous number of batting records set by some terrific players. But since they are batting records, it is a given that we would associate batsmen with them.
But here's one terrific batting record achieved not by any top or even a lower-order batsman. In fact, this piece of record belongs to a player who batted right at number 11.
In the first test of the 2013 Ashes series in Nottingham, England, the left-arm spinner Ashton Agar made his test debut for Australia. But this is the story of his antics with the bat instead of the ball. Something the cricketing world seems to have forgotten over the last eight years.
England won the toss and elected to bat and were bundled out for just 215. Agar couldn't take a single wicket, although he bowled only seven overs. In reply, Australia was struggling at one stage with 53 for 4 before Steve Smith (53) rescued the ship. But wickets kept tumbling once Smith got out and the Aussies were reduced to 117 for 9.
The late Philip Hughes was batting well at the other hand but he was quickly losing partners. After the 9th wicket fell, in came the debutant Agar who was just 19. It seemed as if it's just a formality to take the last wicket. But the cricketing world was about to witness a phenomenal record.
As soon as Agar played the first few balls, I realized he is no way a typical number 11 tail-ender. Be it playing a defensive shot or going after the bowling, this guy seemed like a complete batsman. As his innings progressed, it seemed more and more that he is an accomplished batsman.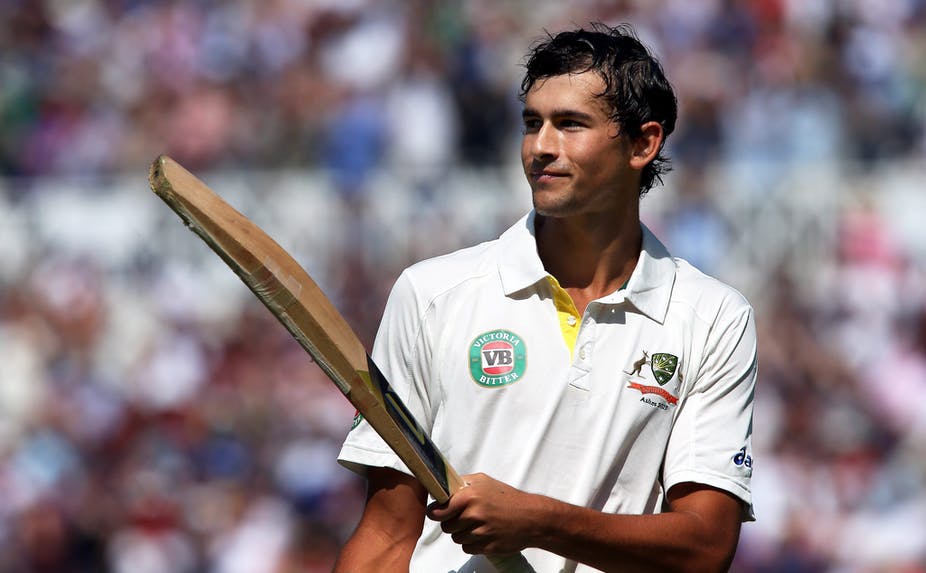 He literally took on the English bowlers and started scoring more than his partner Hughes, a more accomplished batsman. Commentators Ian Botham and Michael Holding repeatedly kept saying that Agar is no way a tail-ender and questioned the logic of sending him at number 11.
Agar reached his 50 in no time. At number 11 and that too on debut. Once he reached this milestone, there was no stopping him. He kept on playing shots fearlessly, more so in the mid-on area. And there came a time when he reached 90 all of a sudden.
Meanwhile, Australia, which was almost 100 runs behind when the 9th wicket fell, had actually got the first innings lead; something nobody would have expected.
No number 11 player in the long history of test cricket had scored a century and the people gathered in the stadium were in to witness history if that happened. Agar would have had his heart in his mouth when, on 93, he edged the ball off Graeme Swann and it went wide of the first slip.
Agar was inching closer to his century when he reached 98. He was facing Stuart Broad. Going by the flair with which he had batted all along, it seemed he will get those 2 runs easily. He played the pull shot off a short ball.
The Australian team in the pavilion got excited, like many in the stadium and those glued to the TV, only for Swann to take a diving catch at deep mid-wicket. Agar was gone for 98!
I remember giving a loud disappointing reaction to it. Going by my emotions, my family members thought an Indian player missed his century.
The 19-year-old Agar had a smile as he started walking back to the pavilion amidst a heroic reception. A 100 on debut and that too at number 11 would have been a dream moment but it wasn't to be.
But despite that, Agar broke the record for the highest score for a batsman batting at number 11. The previous record was held by Tino Best, who scored 95 also against England in 2012 at Birmingham. Agar's 100 would have been more special since it was his test debut.
Somehow, Agar's innings or his record isn't discussed or recalled in cricket discussions, although it took place just eight years ago.
There is also no official video on the highlights of Agar's innings. There's an unofficial one with not-so-good quality.
Also read:
1998: When 2 Indian teams were selected for 2 different series
Sachin's 1st first-class 200 vs Australia in 1998: Forgotten moments