The last time veteran actor Puneet Issar was seen on stage was in his mythological play Mahabharata: The Epic Tale where he played the iconic character of Duryodhan for which he is known.
He will now be seen in a completely different production titled Dhappa in the role of a foreign-returned filmmaker named Shyam.
Written and directed by Akshay Mishra, the play is produced by him and Sharon Chandra for Aum Theatre Mumbai. Chandra is also one of the actors in the play and she will also be performing an eight-minute kathak dance. She is a trained Kathak dancer from Jaipur Gharana. She is originally from Fiji Islands and has worked in numerous plays.
The play also stars Pavitra Sarkar and Anuradha Athlekar.
Dhappa is based in the film industry of Bombay in the 1950s. Kumar is a struggling actor who could never make it big. He is also infamous in the media for his rude and crass behavior. Even though acting was never his choice, he still tried to keep the flame alive only for his sister Iravati, whose ambition of dance could never be a reality.
Along comes Shyam, a foreign-returned director who is going to film his dream project. Shyam soon becomes a friend and confidant to Kumar. Kumar is overjoyed thinking that maybe he will get a chance to prove his mettle as a successful actor. But Shyam has other plans in mind.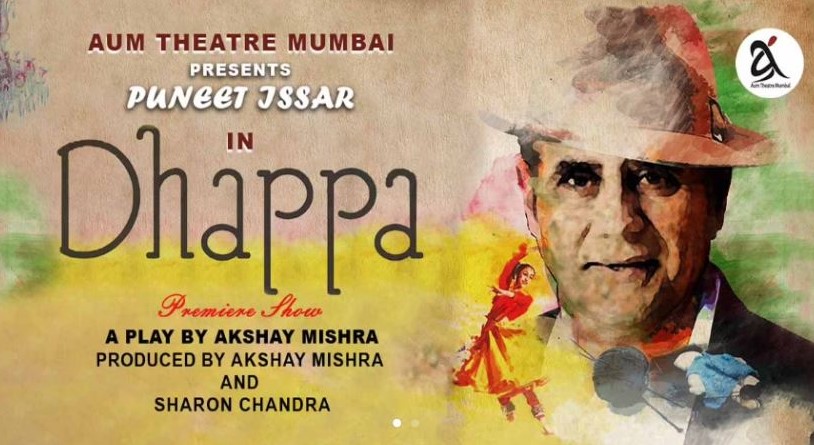 Speaking about the play and his casting, Issar said in a statement, "It is an utmost delight working with Akshay Mishra and Aum Theatre Mumbai. My role in Dhappa is something that I have never explored but have always yearned for. I remember asking Akshay why he thought of me for the role as I have always played opposite characters. I always wanted to play a soft-spoken character but never got the opportunity. This young team is very close to me and they are my people. I am excited for everyone to see Dhappa and believe me this magnificent play is here to stay!"
As part of this performance, Issar will also be seen giving a monologue titled Patthar Ke Pankh, which was written decades ago by his father Mr Suresh Issar, a noted director and producer.
On how the play came into being, Mishra said, "These two years, I resorted to re-watching some old movies and I was still mesmerized. Movies from the 1950s and 60s are never a one-time watch. The dances, music, costumes, and sets were so endearing. One always looks up to these veterans who have worked tirelessly and given us such invaluable gems. We are forever indebted to their work which gives us a glimpse of a beautiful era gone by. I wanted to recreate some of that time through a play. And Dhappa was born!"
He added, "But it was not an easy feat. I researched a lot on the types of thumris that were played during that era and endeavored to write thumris that resonated with my audience. I was inspired by the thumris sung by Shamshad Begum, Begum Akhtar, Siddheshwari Devi, and many more and tried to recreate a little sprinkle of that golden era that these maestros ruled in. I can't wait for the audience to hear these beautiful pieces of music."
Mishra has also written the lyrics for the play, including the thumris. He is famous for his experimental play Nangi Aawazein, based on a short story by Saadat Hasan Manto.
The play will feature live singing from singers, Radha Srivastava, Amit Ranjan Srivastava and Ajit Kumar Srivastava.
Dhappa will be premiered on 18 June at Bandra's St. Andrews Auditorium at 7 pm.