Rating: 0.5 out of 5
By: Keyur Seta
The motto of debutant director Divya Khosla Kumar's Yaariyan is to encourage carefree youngsters to become responsible adults. But the path taken by the makers to derive at the point is so unconvincingly silly that the film just becomes a laughing stock by the time it ends. On top of that, it also resorts to some high degree of vulgarity.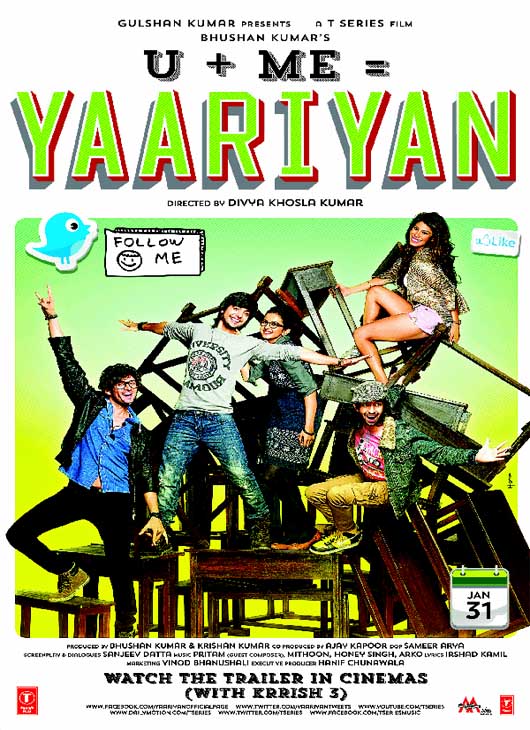 Four happy-go-lucky and naughty youngsters – Lakshya (Himanshu Kohli), Jiya (Nicole Faria), Neil (Dev Sharma) and Pardy (Shreyas Pardiwalla) – are having the time of their lives in St. Stephens College in Sikkim. Lakshya's father passed away in a war when the former was just a year old. Much to the grudge of his mother (Smita Jaykar), Lakshya has no respect for the country.
The dream lives of the youngsters come crashing down when they get to know that an Australian firm is all set to take over their college to convert it into a business avenue. But the students of St. Stephens College still have a chance of regaining their college provided they beat a set of Australian students in some sports events.
The following is a scene from the film – During a play, a girl is playing the character of Bharat Mata. Soon, her saree is stripped and she is reduced to almost bare essentials. So a stripped Bharat Mata dances on 'Sheila Ki Jawani' and those playing soldiers try to woo her with horny advances. If this isn't annoyingly vulgar, what is? And just minutes later, a character says, "It hurts the most when someone insults our country." Oh really? How cute! Sadly, there are more doses of cheapness at regular intervals, especially in the first half.
Even if one tries to ignore these antics, the film still doesn't appeal because, frankly, nothing makes sense. Try to fathom these points:-
Apart from the issue of Australians suddenly claiming to take over the college, what is more absurd is to see the principal choosing a useless bunch of five students to save their college.
When Indians visit Australia for the first round, an Indian student is mercilessly killed by an Australian. Strangely, the culprit isn't booked. He even visits India for the next round where Indians welcome him and his team! After all, Aamir Khan has advised us to believe in Atithi Devo Bhava!
In a hospital, a character is said to be so critical that he can die any moment. But he is not put to any life support whatsoever! Not just that, he is even allowed to talk freely with his friends in such a fatal condition!
The final round includes a dangerous sport where a slight mistake can even kill a participant! Whatever happened to law and order enforcements!
There is much more silliness in the narration but I haven't mentioned it to avoid spoilers. Also, in between the writers address too many issues and thereby raising a question as to what the film is exactly about! Perhaps the only positive point one can derive is that the second half provides a number of unintentionally humorous moments, mostly during the closing stages.
Songs like 'Allah Wariyan' and 'Meri Maa', are impressive and offer relief but others like 'ABCD' and 'Sunny Sunny' are not only irritating but plain cheap! Perhaps Sameer Arya's camerawork and good production values become the biggest plus points. It is sheer pleasure to see the picturesque locales of Sikkim and Shimla.
From the six debutants, Rakul Preet impresses the most. Apart from decent dialogue delivery, she scores the most while speaking through eyes. Himanshu Kohli isn't bad either. Although his act isn't up-to-the-mark, he has some acting potential. Shreyas Pardiwala, Vikas Verma and Dev Sharma play decent supporting acts. But Nicole Faria is simply irritating and unbearable! The sole purpose of her character was to offer skin show.
Serah Singh too has nothing much to do apart from planning kissing sessions with Kohli. Evelyn Sharma irritates once again. It is difficult to understand why veteran artists like Deepti Naval, Gulshan Grover and Smita Jaykar signed such a film. They don't get much scope either.
Overall, Yaariyan is not only dumb but it also continues to lower the standards of mainstream Hindi cinema where vulgarity has become a norm these days. The disgraceful Bharat Mata scene mentioned above is simply unforgivable!