Director: Abhishek Chaubey
Producer: Vishal Bhardwaj Pictures and Shemaroo Entertainment
Writers: Vishal Bhardwaj, Abhishek Chaubey and Sanjeev Datta
Cast: Naseeruddin Shah, Arshad Warsi, Madhuri Dixit, Huma Qureshi, Vijay Raaz, Manoj Pahwa
Music: Vishal Bhardwaj
Genre: Drama
Rating: * * * *
By: Keyur Seta
Story Outline: Khalu (Naseeruddin Shah) and Babban (Arshad Warsi) continue their con activities, this time in Lucknow. They get separated after their heist goes wrong. Khalu lands in Begum Para's (Madhuri Dixit) palatial palace and gets awestruck by her. Begum stays with her helper Muniya (Huma Qureshi). She has organized a swayamwar competition among nawabs.
A desperate Khalu, who is impersonating as a Nawab, takes part in the swayamwar. Soon, Babban too lands at the palace and instantly falls for Muniya. Khalu and Babban start dreaming of marrying Para and Muniya and spending the rest of their lives in the comfort of the palace. But they are oblivious to the fact that the notorious Italvi (Vijay Raaz), another fake Nawab, and some unpleasant surprises can shatter their dreams.
Review: Amidst the overdose of some silly and cheap content in the current mainstream Hindi cinema, director Abhishek Chaubey and producer Vishal Bhardwaj bring a rare gem in the form of Dedh Ishqiya, a sequel to their 2010 hit Ishqiya. It's a well-crafted dark comic thriller that just doesn't cease to impress you. The content also makes sure you don't feel the 150 plus minutes length of the film.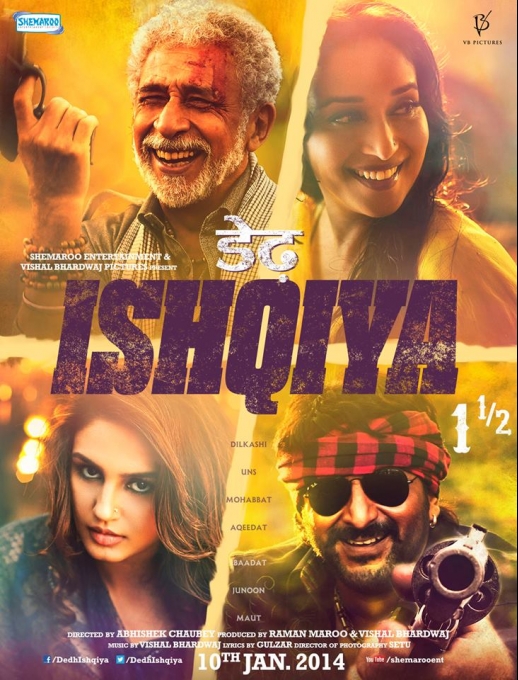 As for all quality films, this was possible due to some high degree of richness in the writing. The story in this second installment too is intriguing and interesting. The writers have rightfully revealed some amount of suspense at regular intervals thereby making the viewer more and more interested. The final twist in the pre-climax too plays a large role in providing overall satisfaction. Apart from this, one can regularly notice the artistic screenplay during a number of scenes.
But apart from the aforementioned points, what keeps you thoroughly entertained is the super impressive dialogues. The manner in which the writers have presented pleasurable Urdu words with a mixture of some witty and crazy one-liners deserves high applause. In fact, there is non-stop humor even during serious sequences. It is a good idea to include subtitles as a large majority of audience isn't well-versed with chaste Urdu. With his second handling too being impressive, Chaubey has proved he is here to stay.
The only negative aspect here is some logical flaws in the tale. It's not possible to reveal them to avoid spoilers. But you don't mind them much due to various other plus points.
Bhardwaj's music too is rich and it suits the situations perfectly. All songs score high marks but 'Dil Ka Mizaaj Ishqiya' is the best of all. It is sad that the songs haven't got the due from the audience. On the other hand, some ghastly tracks from other films are receiving applause. Setu's camerawork is outstanding! It is a pleasure to see the palace and other outdoor locations through his lens. The background score too suits the various moods of the film.
The film is also blessed with impressive performances. With a brilliant act, Naseeruddin Shah once again proves himself as one of the greatest artists from the country. It is good to see his effort going towards a good film after years. Although we have seen Arshad Warsi perform such roles quite a few times before, it is a pleasure to see him due to his wonderful comic timing. Nobody else could have essayed the role better than him.
Madhuri Dixit's fans might miss the legendary actress in full flow. But we should remember she is playing a disturbed and depressed character. She does very well while being restrained and speaking through expressions. Huma Qureshi is incredible, both in her looks and performance. She is easily the best female actor currently. Vijay Raaz too is brilliant with his comic timing. Manoj Pahwa is a surprise package with a first rate performance. The film is also well supported by Salman Shahid and Ravi Gosain.
Overall: Dedh Ishqiya is a fine work of art but at the same time highly entertaining. It is sad to see the film not doing well at the box office. It looks like our youngsters only prefer trash like Grand Masti and Yaariyan. So if you like Dedh Ishqiya, please spread the word as the film fully deserves it.