Director: Rajendra Talak
Producers: Rajendra Talak Creations, Iris Productions and M. B. Creations
Writers: Rajendra Talak and Abhiram Bhadkamkar
Cast: Subodh Bhave, Mrinal Kulkarni, Ajinkya Deo, Neha Pendse
Music: Ashok Patki
Genre: Thrilling Drama
Rating: * * *
By: Keyur Seta
Story Outline: Aniket is a successful executive in a big company. A project on which he has been working since long gets a go ahead. Not just that, he also gets promoted. Co-incidentally, he receives the news of his wife Mugdha's (Mrinal Kulkarni) pregnancy too on the same day. But Aniket's overjoyed mood suffers a jolt when he slowly realizes that Mugdha is getting to know a number of dark secrets related to his professional and personal life. Who is revealing those secrets to Mugdha? What will be its consequences?
Review: Director Rajendra Talak's A Rainy Day has a lot of things working for itself – an intriguing story, crafty narration, intense presentation, good performances and a friendly length of just 89 minutes. But in a suspense thriller, it is absolutely vital for the final twist to be convincing. Unfortunately, that doesn't happen here else the film could have been so much more satisfying. Nevertheless, the aforementioned points make sure it is surely a one-time watch.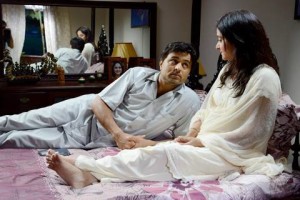 The opening credits of the film are smartly presented. Soon, you realize that was just the tip of the iceberg as a simple story is narrated in the most creative manner possible. For this a large part of the credit should be given to Sanjay Jadhav's camerawork, which is simply outstanding. In fact, his work matches international level! Well-shot rain scenes almost throughout the film is also a sheer pleasure.
Oscar winning Resul Pookotty and Amrit Pritam Dutta too deserve equal praise for creating an intense feeling through their sound designing. Ashok Patki's soulful compositions add to the effect.
Talking about the writing, the development of Mugdha getting to know Aniket's secrets is brought and handled smartly, especially the manner in which flashback is used. Due to this, one is constantly glued to the proceedings. The pace does dip a bit in the second half though. But the biggest problem is the last five minutes. The all-important climax is incomplete and confusing as the biggest and the only mystery of the story isn't solved. I didn't feel like leaving the hall after the film was over, unable to believe that it was ended this way.
Subodh Bhave displays his acting prowess while playing a character with different shades with ease. Mrinal Kulkarni puts on a very convincing act of a disturbed woman. She deserves to be seen more. The film has some decent supporting acts from Neha Pendse and Ajinkya Deo and some good cameos by Manoj Joshi, Harsh Chhaya, Kiran Karmakar, Sulabha Arya, Sanjay Mone and few others.
Overall: Despite a big issue, A Rainy Day is a thriller worth watching once. It needs some rapid word-of-mouth to make a mark at the box office.