India is all set to play England in one of its most important matches of the ongoing 2019 cricket World Cup tomorrow. India would be hoping to keep its unbeaten record intact. For England, it's a must-win match. They are in the fourth position but one winner out of the Pakistan and Afghanistan match today will move ahead of them if they lose today.
The last time India and England clashed in a World Cup match was in the league stage in 2011 at Bangalore. After winning the toss and electing to bat, India scored a big score of 338 all out in their 50 overs. They were largely helped by Sachin Tendulkar who scored 120 off 115 balls, including 5 sixes.
India did look good to reach 350 but they kept on losing wickets in the powerplay and got all out, much against the run of play. Losing wickets in the powerplay was a common norm for a lot of teams in the 2011 World Cup. But 338 was still a very good total.
But the runs didn't turn out to be enough as the match went onto become a tie. England's opener Andrew Strauss was adjudged the man of the match for his fighting 158 off 145 balls. At one stage, England was cruising to victory only to encounter an India-like collapse in the end which ensured they didn't go home with a victory.
However, not taking anything away from England's response, this is a match that India should have clearly won. I am not saying this by stating if India would have bowled well. The reason for putting it this way is because the Indian players' hearing issues in the match.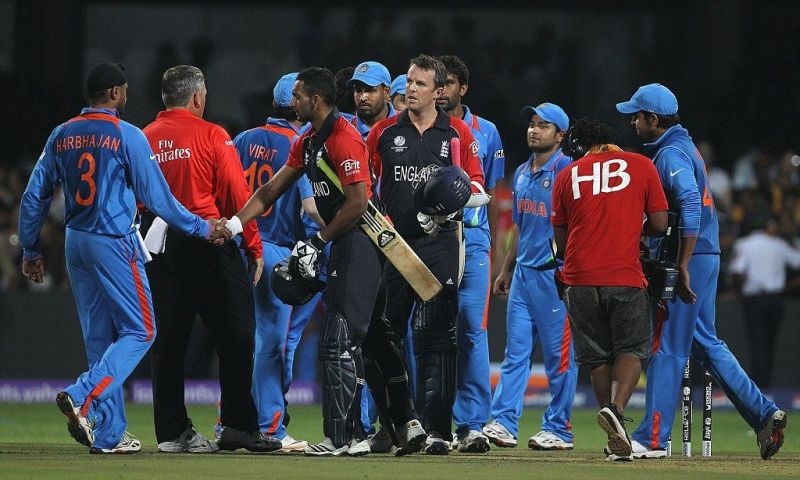 When Strauss was batting on just 13, he tried square cutting Zaheer Khan, got a nick and was caught by the keeper Mahendra Singh Dhoni. However, nobody appealed! The players couldn't hear the nick but the commentators and the viewers clearly heard it from the stump microphone. I remember hearing it repeatedly whenever the replay was played.
But that's not all. The same batsman nicked the same bowler and was again caught by Dhoni when he was on 111. And for some strange reason, none of the Indian players heard the edge and they didn't appeal!
The commentators were of the view that there was a lot of noise in the Chinnaswamy Stadium and this would have been the reason why the Indian players didn't hear the edges. They may be right as the noise was high. But it beats me even eight years later because it happened twice and Indians are used to playing amidst noise created by fans.
There is no denying that the Indian players messed up by losing their last seven wickets for just 33 runs and then their bowlers gave away too many bad balls. But if England's top scorer would have got out so early in a match that was tied, India would have been the clear winners that day.
This would have also impacted the points table after the end of league matches. England had 7 points while West Indies and Bangladesh were tied with 6 points each. WI went to the quarterfinal round because of better net run rate.
Also read: He was selected for 1983 WC, but had to wait till '99 to play for India
But if England had lost the match, they would have been tied with West Indies and Bangladesh with 6 points. Obviously, England would have still qualified because of better net run rate but it would have created an interesting situation.
We have seen bad umpiring decisions being remembered and debated for years. But something as unusual as this has hardly been discussed in these years. So much so that there is no video of the aforementioned incidents and just one article on the internet.
By: Keyur Seta
Additional Reading:
Finally, a chance to revisit Kapil Dev's 175, which hardly anybody has seen
How Pakistan was saved by rains from a difficult situation in 1992 World Cup