Winning the 1992 World Cup has been the biggest achievement for the Pakistan cricket team till date. The second best might be their triumph in the 2017 ICC Champions Trophy where they defeated India convincingly in the final.
Pakistan sprung a surprise by winning the cup in '92 as not many would have fancied their chances during the league stage. But their performances in the semi-final against New Zealand [what a chase it was!] and final against England [Wasim Akram's mystery ball to get Chris Lewis out] showed that they were the deserving winners of the cup.
Interestingly, while going through the points table and the scores of the league matches in the series, something alarming caught my eye. The points table showed Pakistan with 9 points on the fourth position while Australia and West Indies tied on the fifth position with 8 points each.
Now, let us go back to the match between Pakistan and England in the league stage played on March 1 at Adelaide. Pakistan were sent in to bat by England and they were all out for a mere 74 runs! At one stage they were reduced to 47 for 8.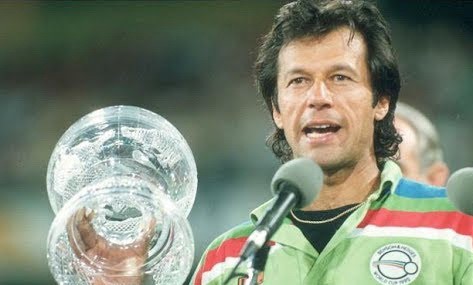 England looked like winning the match as after eight overs there were 24 for 1, needing only 51 more with plenty of overs left. Unfortunately for England, rains started pouring in and as per the weird rain rule in the series, they needed 62 off 10 overs to win the match.
Reacting on this, England's Gladstone Small, who played that match, told The Guardian, "It was ridiculous. It should have been that we needed to get 14 or something like that." But the rain kept interrupting and ultimately the match was abandoned. Both the teams got one point each from the match.
Small also admitted that the same rain rule helped them in the infamous semi-final where South Africa were reduced to getting 21 to off just 1 ball.
Going back to the points table of the '92 WC, if rains wouldn't have interrupted the match, England was on course to winning this one. If this would have happened, Pakistan, Australia and West Indies would have been tied on the fourth position with 8 points each.

As seen in the points table above, the Net Run Rate [NRR] of Pakistan, Australia and West Indies was 0.166, 0.201 and 0.076 respectively. If Pakistan had lost the match, their NRR could have been affected.
Also read: He was selected for 1983 WC, but had to wait till '99 to play for India
It would have been interesting to see the extent to which Pakistan's NRR would have been reduced and whether it would have impacted their chances of qualifying for the semi-finals.
By: Keyur Seta
With valuable inputs from Tamojit Ghosh