Biopics are in vogue not just in Hindi but also in various regional cinema of the country. Marathi cinema too has seen its share of biopics in recent years on revered personalities from Maharashtra in films like Lokmanya: Ek Yugpurush, Ani… Dr Kashinath Ghanekar, Bhaai: Vyakti Kee Valli? Thackeray, etc. So, it doesn't come as a surprise to see a biopic on Krushnarao Sable aka Shaheer Sable in the film Maharashtra Shaheer.
Krushnarao Sable (Ankush Chaudhari after growing up) was a folk singer, playwright, folk theatre artiste and actor born in a small village named Pasarni in 1923. He was obsessed with singing right from his childhood. But his mother never approved of his passion as she wanted him to concentrate on academics. She took steps to ensure that he is away from singing.
However, Krushna's calling was too deep and hence he succeeded in pursuing his art. He was greatly encouraged by the legendary teacher, social activist and freedom fighter Sane Guruji (Amit Dolawat) to use his vocal skills in spreading revolutionary messages to ensure India gets independence from the British. Hence, Krushna's life gets meaning.
Once when Krushna is on a tour, he comes across a young girl Bhanumati (Sana Kedar Shinde), who is a buddying poet. She falls in love with Krushna and vice versa and they get married. The rest of the film focusses on Krushna's life and events after he migrates to Mumbai.
The life of Krushnarao Sable is interesting and motivating. But at the same time, it's not easy to narrate it in a cinematic form since it has too many aspects. Maharashtra Shaheer does a good job of bringing the iconic personality's life story on screen, especially for those who are unaware of his contribution to the land.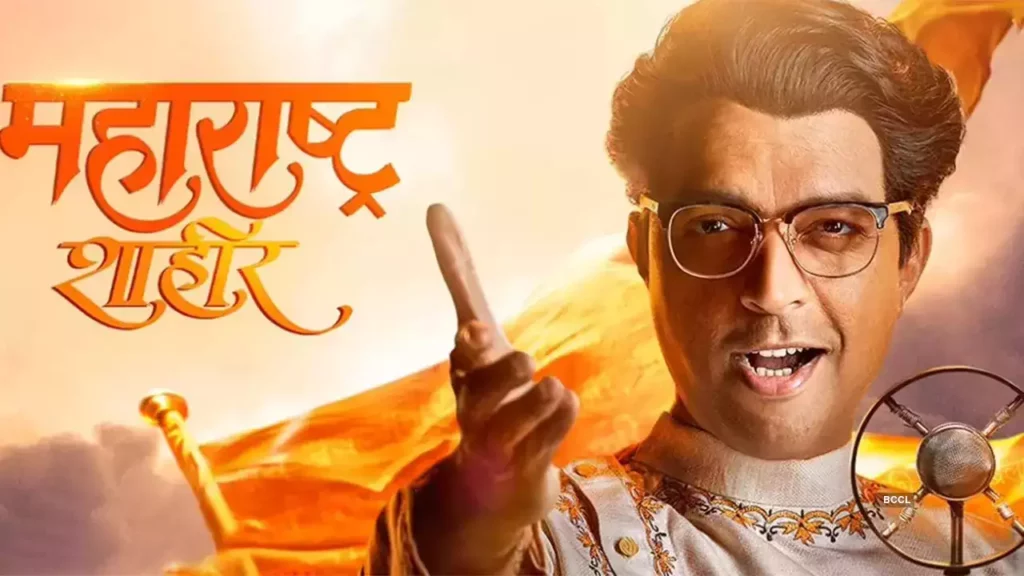 The biggest plus point here are a number of moving moments that overtake the minuses. The initial portions finely prove Krushna's immense love for singing when he was a child. His scenes with Sane Guruji, the love angle with Bhanumati and his role as a folk theatre person are examples of the same. Shinde has even kept whitewashing at bay by openly showcasing an important character's jealousy and insecurity of Krushnarao's success.
As far as the minuses are concerned, the starting moments are bereft of a smooth narrative. For example, the film starts with Krushnarao representing India in a foreign country in an arts festival. We are then shown an incident in the All India Radio studio. The narrative again shifts to the foreign land where the protagonist narrates his life story and then enters the child actor playing Krushna. The sequence of events appears haphazard. Thankfully, the aforementioned sequences of Krushna when he was a child turn out to be a rescue.
Once Krushnarao becomes an established name, his life is filled with a number of interesting moments. But some important events are presented in a hurried way. The biggest example is Krushnarao's encounter with Balasaheb Thackeray, which triggers a serious incident but we don't see much of this episode. Thackeray's vital speech during Dasra Melava at Shivaji Park is a major reason for the incident. He is shown all set to give a speech with some fine color grading used. However, the audience is not even shown a short glimpse of his talk.
The subject is such that music had to play an important role. Composer duo Ajay-Atul score brownie points in every song. The total number of songs could have been reduced though. Production designer Eknath Kadam has succeeded in recreating the bygone era. Vasudeo Arun Rane's camerawork is also one of the plusses.
Ankush Chaudhari doesn't look similar to Shaheer Sable at all but we somehow ignore this bit while being in the flow of the film. But there are moments where he is likable but not natural. He still manages to carry the film on his shoulders and scores in some important sequences. Sana Kedar Shinde is natural and does a fine job as Bhanumati.
Also read: Ved (Marathi movie) review – Riteish Deshmukh's film is a family masala entertainer
Amit Dolawat has the kind of peaceful expression that would instantly remind one of Sane Guruji. The same is achieved through his manner of speaking. Shubhangi Sadavarte and Ashwini Mahangade are effective as Krushnarao's mother and Malati respectively. Dushyant Wagh has performed decently as Thackeray.
Overall: As stated earlier, the plusses score over the minuses which ensures that Maharashtra Shaheer turns out to be a nice watch. The ending song 'Jay Jay Maharashtra Majha' followed by the end credits also play a major part.
Rating: 3 out of 5
Director: Kedar Shinde
Producers: Everest Entertainment and Kedaar Shinde Productions
Writers: Vasundhara Sable and Pratima Kulkarni
Cast: Ankush Chaudhari, Sana Kedar Shinde, Shubhangi Sadavarte, Ashwini Mahangade
Music: Ajay-Atul