Director: Anu Menon
Producers: Ishka Films and Drishyam Films
Writers: Anu Menon, James Ruzicka and Atika Chohan
Cast: Naseeruddin Shah, Kalki Koechlin, Rajat Kapoor, Suhasini Maniratnam, Ratnabali Bhattacharjee
Genre: Drama
Release date: May 27, 2016
Rating: * * * *
Review By: Keyur Seta
Director Anu Menon's Waiting brings back memories of Ananth Narayan Mahadevan's Staying Alive. While the latter showcases friendship between two patients on either side of the law, the former is about an unusual bond between two starkly opposite characters whose dear ones are battling for their lives in the ICU.
Thankfully, both films are poles apart in terms of storyline and treatment. Perhaps, the one similarity that Waiting shares with Mahadevan's film is that it succeeds in moving you with its honest approach, skilled storytelling and dedicated performances. It's an example of how a new-age content oriented film should be.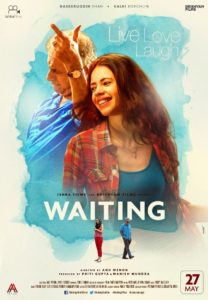 Coming to the storyline, Shiv (Naseeruddin Shah) and Tara (Kalki Koechlin) are waiting anxiously and nervously in the waiting room of a hospital in Cochin. The former's wife and latter's husband are battling for their lives in the ICU; both in a state of coma. The common tragedy creates an unusual bond between Shiv and Tara, two starkly opposite personalities.
Waiting is not story driven. It's more of a situational based film, which gets its crucial areas right. The unusual bond between Shiv and Tara is delightful and heartwarming. Their situations and dilemmas are realistic but that doesn't take the film on a depressing path even a bit. In fact, there is humour galore. What works further is the unconventional climax that goes so well with the genre.
The only negative area here is the behavior of the two characters on few occasions. It is not possible to elaborate on this point further to avoid spoilers.
The technical aspects perfectly gel with the theme and genre. The camerawork is real as well as creative. There is minimal use of background score, which was a smart idea. The editing too deserves similar praise.
Despite such high amounts of plus points, it is vital for such films to score very high on performances and that is exactly what the actors deliver. As expected from a stalwart like him, Naseeruddin Shah is thoroughly brilliant. He once again succeeds in portraying various emotions and various shades of his character with remarkable ease.
Kalki Koechlin isn't far behind though. She pulls off a difficult and complex character of Tara with sincerity. It is inspiring to see her display varied emotions like sadness, excitement and anxiety so effortlessly. She matches up to Shah and that is certainly not easy to achieve. The film has fine supporting acts from Rajat Kapoor, Ratnabali Bhattacharjee, Suhasini Maniratnam and Arjun Mathur.
Overall: Waiting is a well-crafted slice-of-life saga that surely deserves a watch if you prefer films with strong content. It relies heavily on strong word-of-mouth to create any impact at the box-office.