Director: Ananth Mahadevan
Producers: Bindiya Khanolkar and Sachin Khanolkar
Writers: Surendran
Cast: Vinay Pathak, Konkana Sen Sharma, Ranvir Shorey, Tannishtha Chatterjee, Vikram Gokhale
Music: Dr L Subramaniam
Genre: Drama
Release Date: August 14, 2015
Rating: * * * *
Review By: Keyur Seta
Ananth Mahadevan is a seriously underrated filmmaker. A person having made some content-oriented gems like Red Alert – The War Within, Mee Sindhutai Sakpal, and Staying Alive in last few years deserves more recognition.
With Gaur Hari Dastan, he further asserts that he is a name to reckon with when it comes to sensible, realistic subjects. The film is an honest and dedicated effort that asks you a lot of uncomfortable questions, but at the same time provides a heartwarming feeling.
It is a biopic on a person named Gaur Hari Das, who is a freedom fighter. His character is played by Vinay Pathak. The film portrays his struggle from pillar to post to prove that he did take part in India's freedom struggle, since nobody believes his claims.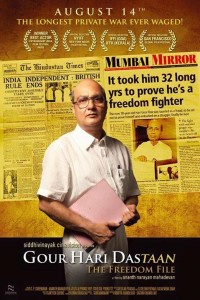 His wife (Konkana Sen Sharma) is his support system, but his son doesn't think much about his father and his achievement. Two journalists (Ranvir Shorey and Tannishtha Chatterjee) slowly get involved in Das' journey.
There are two methods of narrating such biopics. One is to keep the basic story intact and add a lot of dramatizations to make it massy. The other is the difficult way of keeping it as realistic as possible without giving a damn about being mass-friendly.
Mahadevan takes the more difficult route. The film a smooth-flowing journey of the octogenarian freedom fighter filled with moments that stay etched in your memory. There isn't any conventional or fast-paced story development. The idea is to uncompromisingly present the irony of Das and get the audience involved in his bitter experiences, which the film does successfully.
As unusual as it may sound, Mahadevan, with some amazing work from DoP Alphonse Roy, has made such a subject appear as a visual treat. In fact, even a shoddy government office with millions of piles of age old papers appears beautiful. Add to this, some brilliant sound design by Resul Pookutty. It is a pleasure to even hear the sound of the strums of the cotton weaver once.
Some memorable moments include:-
– The climax scene followed by visuals of the real Gaur Hari Das, who is still alive and stays in Mumbai.
– Scenes of the reflection of the Indian flag in water.
– A dialogue from the protagonist – "The British were better. We at least knew who our enemies are."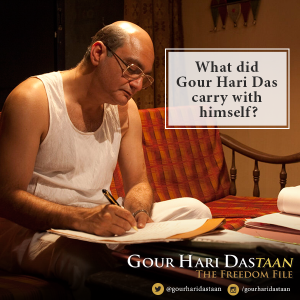 – The protagonist's conversation with the security guard of an MLA. His incident with the same guard later on.
– The protagonist's scene with Siddharth Jadhav.
The pace does drop on few occasions in the second half. But the real problem is with the make-up department. Pathak doesn't look old when he should have. This should have been taken care of.
The casting of includes a chunk of quality artists. Vinay Pathak lives the character of Das while displaying his ample versatile talent. Ranvir Shorey, Tannishtha Chatterjee and Konkana Sen Sharma too play their respective characters with finesse.
The film has a series of dedicated supporting acts and cameos from Rajit Kapur, Vikram Gokhale, Siddharth Jadhav, Vipin Sharma, Saurabh Shukla, Murli Sharma, the late Vinay Apte, Viju Khote, Mohan Kapoor, Neena Kulkarni, Neha Pendse, and few others.
Overall: Gaur Hari Dastaan is a story worth experiencing and knowing for every Indian. The film needs some massive word-of-mouth to create some impact at the box office, which it truly deserves.