By: Keyur Seta
Rating: * * ½
There is no point comparing a remake with the original if the new movie is made in a different time zone and era with fresh characters. Since Abhishek Sharma's The Shaukeens is also one such film, it would be unfair to compare it with the Hrishikesh Mukherjee's original Shaukeen (1982).
But even if we debar the comparison, The Shaukeens turns out to be just an above-average effort that is helped largely by Akshay Kumar. The plusses don't succeed in overtaking the minuses. But more about it later.
The story takes place in Delhi and it focuses on three best friends into their 60s – footwear store owner Lali (Anupam Kher), spices business tycoon Pinky (Piyush Mishra) and the rich social worker KD (Annu Kapoor). The three of them have everything in life except one thing – sex.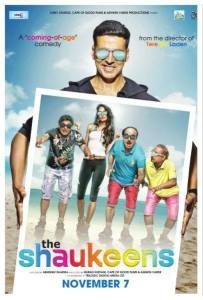 Their sexual frustration takes them to Mauritius, where they meet the young and attractive Ahana (Lisa Haydon). This starts a competition between the three friends to impress and woo her. Somehow, actor Akshay Kumar also becomes an important part of the game.
What works largely for The Shaukeens is the light-hearted feel during its entire duration, including the parts where the tale becomes a bit serious. The terrific acting skills of the three veteran actors (Kher, Mishra and Kapoor) and their tuning is a treat at times. However, the script starts doing downhill in the second half.
This is where Akshay comes in more than handy as he saves the film from falling apart. His scenes with a Bengali art film director and his act in the climax win your heart. It was also good to see him making fun of himself and his filmography.
But, as stated earlier, the film only rises till an above-average level. This has largely to do with the immature and dumb character of Ahana, who doesn't realize the obvious lustful advances of the three men and the way they hog on to every opportunity to touch and embrace her. Of course, this gives rise to a lot of cheapness and objectification of women. Ahana's obsession with Facebook 'likes' makes things worse.
Unfortunately, there are more questionable aspects in songs 'Alcoholic' and 'Manali Trance', where alcoholism and, worse, smoking is freely endorsed.
Coming to the performances, Anupam Kher, Piyush Mishra and Annu Kapoor prove once again that they are the masters of the art of acting. Lisa Haydon is hampered by her characterization. Not just that, she also plays the same character she played in Queen.
Overall: The Shaukeens is a one-time watch entertainer that could have been better. Its chances appear bleak at the box office.
Director: Abhishek Sharma
Producers: Akshay Kumar, Ashvin Varde and Murad Khetani
Writers: Tigmanshu Dhulia and Sai Kabir
Cast: Anupam Kher, Annu Kapoor, Piyush Mishra, Lisa Haydon, Akshay Kumar
Music: Yo Yo Honey Singh, Hard Kaur, Vikram Nagi and Arko Mukherjee
Genre: Comedy/ Drama