Badrinath Ki Dulhania is a light-hearted romantic comedy. Films of this genre generally follow the same pattern all over the world. A boy and a girl meet, fall in love, get separated in due to some issue and reunite in the climax. But the Shashank Khaitan written and directed film goes further ahead by tackling a hard-hitting issue successfully while keeping the film thoroughly entertaining.
Story: Badrinath aka Badri (Dhawan) is a happy-go-lucky youngster from Jhansi, Uttar Pradesh. He has studied only till 10th standard and looks after his family business. He stays with his father (Rituraj), mother (Prabhu), elder brother (Sinha) and his wife (Prasad). His father is an epitome of patriarchy and regressive practices. So, he doesn't let women in his family to work and dowry is utmost important for him.
Badri also follows his father's mindset. He comes across Vaidehi (Bhatt) at a wedding and instantly falls for her. But Vaidehi is a progressive thinker who is wholeheartedly against regressive mindsets. Despite that, Badri and Vaidehi fall in love. But how long can two people with such opposite set of beliefs stay together?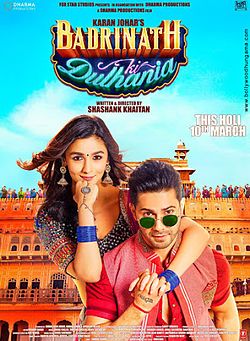 Plus points:
Badrinath Ki Dulhania is loaded with situational humour throughout its duration. It doesn't generate giggles or extended giggles but proper laughter. There are various little moments or antics by the characters that play a large role in tickling your funny bone.
The most positive point of the film is the way it tackles the social issue of dowry, patriarchy and gender inequality. The film is more of a satire on these issues. It doesn't speak against them but still manages to ridicule them through the presentation. It scores high mostly because of the hard-hitting and liberating climax. But even here, the lightheartedness is kept intact.
Varun Dhawan and Alia Bhatt have come of age as actors. The not only share a positive chemistry but complement each other in terms of the performance too. Varun gets every aspect of Badri right. The little nuances that he has brought do a lot in adding humour. Alia is fantastic as the righteous feminist. There is no doubt that she is a matured artist now.
The supporting actors play a large role in generating the effect. Sahil Vaid shines as Badri's best friend. He is all set to get known after this act. Rituraj Singh is thoroughly realistic. You just love to hate him. Yash Sinha, brings the right temperament as Singh's fearful son. Sukmani Lamba, as Vaidehi's elder sister, Swanand Kirkire, Shweta Basu Prasad and Aparshakti Khurrana too chip in with impressive acts.
The film has three impressive songs – 'Tamma Tamma,' title  track and 'Aashiq Surrender Hua.'
Minus points:
The sudden act before interval by one of the two main leads, which is the biggest turning point, isn't convincing. The rest of the plus points manage to overshadow this somewhat though.
An incident of attempted rape on a male is shown in a funny way, which is absolutely hypocritical. Will you ever dare show an attempted rape on a female in a humorous manner?
The film should have been much tighter in the second half.
A couple of songs aren't impressive, which make them as obstacles in the narrative.
A kidnapping scene might not go well with some if it is not seen in the right context (it went off well with me).
Overall: Badrinath Ki Dulhania succeeds in rubbishing off regressive beliefs and provides lots of entertainment too at the same time. It shows the mirror to the section of the society that practices evil practices in the name of 'tradition.' The film has had a good opening at the box office. The content and the hype will make sure it enters the Rs 100 crore club.
Rating: 3.5/5
Review by: Keyur Seta
Director: Shashank Khaitan
Producers: Dharma Productions and Fox Star Studios
Writer: Shashank Khaitan
Cast: Varun Dhawan, Alia Bhatt, Sahil Vaid, Rituraj Singh, Yash Sinha, Shweta Basu Prasad