A small town character wanting to be famous through an art he or she is passionate. Sounds familiar? Of course, it does.But debutant filmmaker Advait Chandan's Secret Superstar ensues that you won't even think of films with similar themes due to quite a few reasons. This also includes the special touch of Aamir Khan. The actor-cum-producer has delivered another winner!
The story revolves around Insia aka Insu (Zaira Wasim) who stays in Baroda with her parents, younger brother and granny. She dreams of becoming a singer. However, she knows that her super conservative and patriarchal father won't allow that. In fact, her father is so ruthless that he beats up his wife at the drop of her hat. Later on, the eccentric music composer, Shakti Kumar (Aamir Khan) enters her life. But will her dream ever be fulfilled?
Secret Superstar includes a superstar as part of the cast. But it's primarily a content oriented film. Every such film needs top notch writing if it needs to appeal and this is exactly what is seen here. Chandan has provided a well-structured screenplay that has the right balance of funny and emotional moments. He has brought in the various turns at the right time and in a matured way.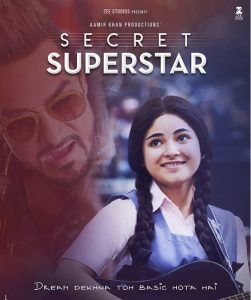 Secret Superstar isn't all about a teenage girl's dream. The film actually makes a powerful social statement on the lives women silently go through even in 2017. It does make you sad at the ruthless patriarchy, which was the intention. Another good thing is that it does that without saying anything about the issue. This is a major reason why the film manages to stand apart from other films of similar themes. Secondly, you gradually realize that the phrase 'Secret Superstar' can also be used for the character of the mother.
Films of this genre tend to go downhill post-interval. But in the case of Secret Superstar, it's the opposite. The film, which was already appealing in the first half, goes onto the top gear in the second when Aamir's character gets more screenspace. Later on, the all-important climax becomes the trump card. The main point of the finale is delightfully appealing despite the absence of melodrama.
The film has a flaw at one point related to the humongous views received on YouTube. Another act of rebellion in the second half is also a bit far-fetched. These are not big issues though.
A film about music has to have impressive songs. The ones over here might not appear like hit materials but they certainly serve the purpose and enhance the narrative. Singer Meghna Mishra, who is Zaira's voice, is another secret superstar here. She plays a large role in bringing in the effect.
Secret Superstar is laced with brilliant performances. If Zaira Wasim was impressive in Dangal (2016), she is incredible here. You just can't stop being impressed as she brings in various shades of her character with finesse. Meher Vij, as the mother, deserves equal praise. She too succeeds in moving you no ends. Needless to say, she should be seen more.
As the ruthless and psychotic husband and father, Raj Arjun generates fear every time he appears. His single expression is enough to frighten you. Aamir Khan brings in his talent on display once again. He scores high in the transformation from an energetic cassanova to a caring individual, as is expected from him. During one sequence in the car, he tries a bit hard though.
Kabir Sajid, as Insu's brother, is adorable. Farrokh Jaffer, as the old lady, and Mona Ambegaonkar, as the lawyer, also create impact.
Overall: Secret Superstar is a delightfully moving saga about fulfilling one's dream. But the film is not limited to that. As far as box office is concerned, it relies heavily on word-of-mouth since it is pitted against the commercial caper Golmaal Again.
Rating: 4/5
Review by: Keyur Seta
Director: Advait Chandan
Producers: Aamir Khan Productions
Cast: Zaira Wasim, Meher Vij, Aamir Khan, Raj Arjun, Kabir Sajid
Music: Amit Trivedi
Genre: Drama
Release date: October 19, 2017