When a film has an unusual title like Ghar Banduk Biryani, the first thing one eagerly awaits to know is its meaning in the context of the film. During the movie's first half itself, we get some clarity on the title. This is not the only plus point of the film though.
Directed by Hemant Jangal Awtade and written by him and Nagraj Manjule, the Marathi movie takes place in the interiors of Maharashtra infested by dacoits. They are led by the dangerous yet quirky Pallam (Sayaji Shinde). The fearless police inspector Raya Patil (Manjule) is transferred to the same area after he beats up some influential goons in his previous posting. Getting transferred is a regular feature for him and this is exactly why his wife (Deepti Devi) is fed up of his profession.
Meanwhile, the story also features the young and handsome Raju (Akash Thosar), who is an orphan. His uncle visits a prospective bride's family for his marriage. Raju and the girl Laxmi (Sayli Patil) start liking each other. But as Raju doesn't have any other skill apart from making delicious food, especially Biryani, Laxmi's father isn't keen to let his daughter marry him.
Raju, one day, without his will, gets involved in Pallam's gang because of his qualities as a chef. On the other hand, Raya is hell bent in putting a full-stop to the activities of the dacoits. Will Raju's be caught in the crossfire for no fault of his?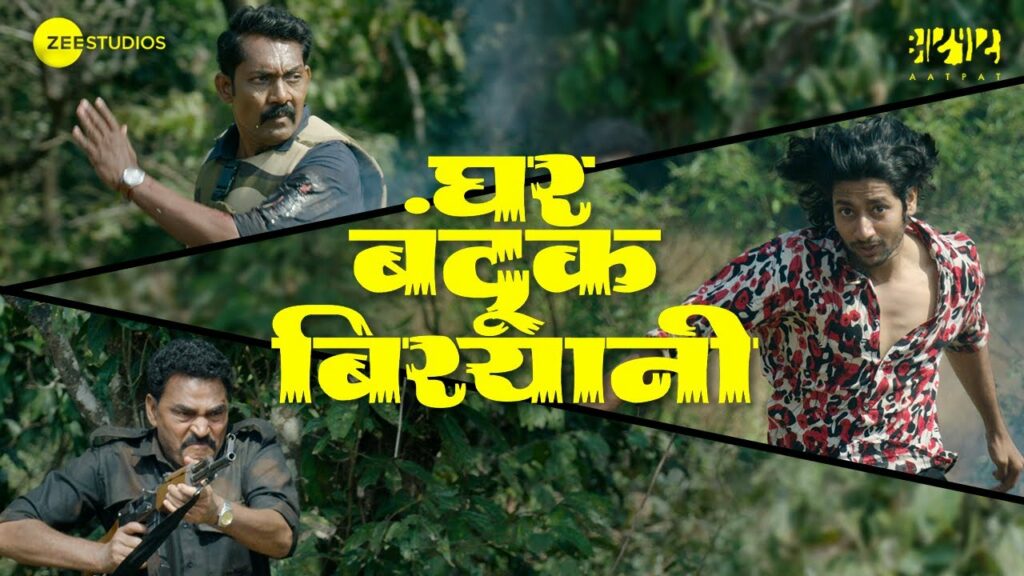 Ghar Banduk Biryani basically has a tried-and-tested tale of cops versus dacoits. But the film doesn't appear outdated due to quite a few reasons. The presentation is fresh and so is the narrative, especially for a Marathi film. Manjule's character is shown as a heroic officer, akin Dabangg and Singham. However, he never goes over-the-top and gives a performance that is believable.
Just like his act, the film too has its share of funny moments but they nowhere tread into the mindless zone. Similarly, the narrative includes some whistle-worthy moments but they too are subtle in nature. For example, the scene where Chhatrapati Shivaji Maharaj's statue is given focus suddenly in a scene.
A good part of the film is shot in the jungle. Cinematographer Vikram Amladi steers clear from the temptation of going overboard in creatively capturing the location. His portrayal is simple but creative enough.
Coming to the rest of the actors, Sayaji Shinde has played a baddie with a touch of humour numerous times before, both in Marathi and Hindi films. But the fact that he is here playing a dacoit who loves being trigger-happy brings in some difference. Akash Thosar stays out of his Sairat image despite him playing a rural character. He appears confident.
Sayli Patil and Deepti Devi chip in with decent supporting acts. Tanaji Galgunde (a favorite of Manjule) is memorable but doesn't get much scope.
Also Read: Vaalvi (Marathi movie) review – Swapnil Joshi, Subodh Bhave-starrer is a finely crafted dark comic thriller
Despite these many positives, Ghar Banduk Biryani isn't hunky dory all the way. The second half isn't as entertaining and convincing as the first half. The post-interval portion also has a risky heroic act by one of the main characters but he doesn't face any consequences for that. The background of the dacoits is also surprisingly missing. We are never told why have they gone onto the dangerous path and what exactly are their demands from the authorities. Hence, they only come across as negative characters and it also becomes difficult to take them seriously.
The film also needed to be crisper than 161 minutes. A few scenes and a couple of songs didn't deserve to be so lengthy.
The very last scene, however, gains some interest as the makers give a clear indication of a sequel or a part 2.
Overall: Ghar Banduk Biryani is a one-time watch saga.
Rating: 3 out of 5
Director: Hemant Jangal Awtade
Production: Aatpat Production and Zee Studios
Writers: Hemant Jangal Awtade and Nagraj Manjule
Cast: Nagraj Manjule, Sayaji Shinde, Akash Thosar, Sayli Patil and Deepti Devi