When I saw director Makaran Mane's Ringan: The Quest, which released earlier this year, I felt it would be almost impossible for any Marathi movie to match up to this film in 2017, considering the kind of Marathi films made this year.
But I am too glad to have been proved wrong by Sumitra Bhave and Sunil Sukthankar's Kaasav. Although the subject deals with psychological disorders, the film provides a thoroughly beautiful feeling through various deep meanings.
Kaasav revolves around a depressed and disturbed youngster (Alok Rajwade), who is literally loitering on the streets of Mumbai. He attempts ending his life but is saved by concerned people. He then aimlessly boards a tempo that is going to Konkan. Janaki (Iravati Harshe), a social worker and a kind soul, finds him in a semi-conscious and ill state at a shop on the highway.
She decides to look after him at her sea facing apartment despite him being a complete stranger. Janaki works for the welfare of sea turtles. Despite her constant efforts, the young guy doesn't co-operate and throws tantrums. In fact, he doesn't even reveal his name. Who is he and what is him aim in life? Janaki calls him Niche.
The director duo succeeded in narrating a heartwarming tale out of a story based on a mental condition in their last film Astu: So Be It (2016). They raise their bar even higher through Kaasav.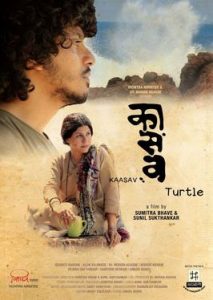 The film starts off as a serious or somewhat disturbing tale of a person's psychotic behavior. But the narrative gradually brings in newer layers about various human aspects without making it sound preachy. To put it simply, it says a lot without saying much.
The film's portrayal of loneliness is completely relatable to people from today's era. For example, a character states that, these days, despite having hundreds of contacts in their phones, some people are still lonely.
What makes the film reach bigger heights is the deep meaning behind the title. The character of Niche resembles land and sea turtle on different occasions. The manner in which the sea turtle analogy is established makes you applaud the creativity and its execution.
In addition to the top-notch content, the icing on the cake is the beautiful location of Konkan, which is artistically captured by DoP Dhananjay Kulkarni, and the two soulful songs.
A slight drawback here is that the back story of Janaki is hardly narrated. This would have helped in knowing her more and having sympathy for her. But, as mentioned before, it is only a slight drawback.
Kaasav is blessed with utterly realistic performances. Alok Rajwade plays the suicidal and disturbed character of Niche with flawlessness. His slow transformation also displays his raw talent.
Iravati Harshe makes terrific use of the opportunity to play a deeply caring individual who is battling her own demons. It is difficult to find people in Janaki in today's era. But her act provides hope that it is certainly not impossible.
Kishor Kadam, as Harshe's servant, once again displays his dedication. In the role of Harshe's mentor, Mohan Agashe does what was required. Devika Daftardar, who is a favourite of these filmmakers, leaves a mark despite playing a cameo. The boy who played Rajwade's friend and the one who donned the role of the helper at Harshe's place are also praiseworthy.
Overall: Kaasav is a deeply moving saga that leaves you super impressed. This one is easily one of the best Marathi films of the last few years. Director duo of Sumitra Bhave and Sunil Sukthankar has once again given a winner.
Special note: It is shocking that a film of this caliber has got just ONE show in the entire city of Mumbai. More so since it has won the National Award for Best Film. The makers have assured that the shows would be increased in the coming days. Fingers crossed!
Rating: 4.5/5
Review by: Keyur Seta
Directors: Sumitra Bhave and Sunil Sukthankar
Producers: Mohan Agashe, Sumitra Bhave and Sunil Sukthankar
Writers: Sumitra Bhave
Cast: Alok Rajwade, Iravati Harshe, Kishor Kadam, Mohan Agashe, Devika Daftardar
Music: Saket Kanetkar
Genre: Drama
Runtime: 104 minutes