By: Keyur Seta
Three weeks back, I finally got a chance to visit Goa for the first time in my life. Since I had never seen the place before in real, all my knowledge about the place came from Hindi films. As almost all Bollywood films have portrayed the place in the same manner (except few films like Dum Maaro Dum), not since years but decades, I kind of developed an image of the place from what I have been seeing on celluloid.
This is how Hindi films have portrayed Goa:-
Goa is all about beaches. In fact, beaches are the only things worth seeing in the place.
The place is thronged by hardcore party lovers who consume as much beer or some liquor as we consume water. Of course, some of the males have to be topless and the females, skimpily clothed.
Every now and then you will come across a person humming a song in English or their local language while playing a guitar. It is mandatory for the person to wear a typical Goa shirt (with pictures of coconut trees), shorts and of course a big hat made out of cane.
Locals add the word 'man' after every sentence while speaking Hindi. Examples – 1) Hi man! 2) Kaisa hai man? 3) Kya baat kar raha hai man? 4) God tumhara prayer zaroor sunega man.
Due to such portrayal of Goa, I wasn't too keen on visiting the place, more so because I am not fond of beaches and I simply can't stand these so-called parties with liquor. But since I badly needed a change, I went ahead with the trip. And today as I look back, I think it was one of the best decisions of my life. The reason I am saying this is because Goa is much, much more than what Hindi films have shown us. Of course, the above mentioned scenarios are experienced over there but, from what I saw, not often.
As surprising as it may sound, I found Goa very serene and peaceful. I experienced this not only in the locality where we stayed (Calangute) but also in the places we visited – the peaceful Thivim Railway station, Avenida Dom Jao Castro Road in Panaji, Sinquerim Beach, Fort Aguada, Vagator Beach, Dona Paula, Basilica of Bom Jesus, Shantadurga Temple and lastly Margao (Maybe you can feel the same in the pictures posted here). A lot of calmness is also felt while travelling from one destination to the other as one could see the beautiful small houses or huts, local shops, a group of locals chit chatting under a tree in villages, lakes, forests, picturesque mountains, small roads of small towns, etc.
I firmly believe that the beauty of a particular place multiplies if the locals are warm hearted and sweet. After my experiences and interactions with the locals in Goa, I can surely say the same for Goa. This definitely adds on to the peace. The big example of this was our guide Ramakant. Although he was hamming his way while explaining the places, it was his sweet and friendly nature that stood out.
But another thing that hugely impressed me is the cleanliness practiced by the people (even on the beaches) and the civic maintenance in every part of Goa. I hardly saw any litter or waste lying on the roads. I don't even recollect anyone spitting on the streets. Although this increased my respect for the place, it also made me feel bad thinking about the state of my hometown Mumbai where people consider the whole city as a dustbin, toilet and what not.
And talking about the civic body of Goa, I feel the BMC (Brihanmumbai Municipal Corporation) is a big joke in comparison to it. The former not only makes sure the place is clean and tidy but also puts in lots of effort and money to add beauty to the place. So henceforth, I would laugh at anyone who would label Mumbai as the most developed city. Insanely building more and more skyscrapers, letting miscreants destroy the city and unnecessarily buying cars thereby adding on to the traffic is certainly not development.
So regardless of what Hindi films show, the real Goa is seen only after visiting it. From the points mentioned above, it is needless for me to say that I will visit the place again.
Some more pictures: -
Like every year, this year too there is hardly any uproar about Martyrdom Day, i.e March 23, the day when Bhagat Singh, Sukhdev and Rajguru happily accepted death at the hands of the British 81 years ago (1931). Terrible is a small way of describing this situation where the biggest sacrifice for the independence of India hasn't received the notice it deserves. Over the years our government and even media has failed in honoring the greatest of revolutionaries.
This, however, isn't going to lower the spirits of all of us who heartily admire the trio for their unmatchable service for India. We will continue to worship them!
Talking of the trio, I would like to point out something about Bhagat Singh which is not known to everyone, especially those who don't admire him. By doing this, I am also trying to rubbish-off a myth related to Singh and his comrades who have been a part of Hindustan Socialist Republican Association (HSRA).
There has been a wrong widespread belief that the members of HSRA were violent. Time and again, they have been accused of endorsing violence. However, all those who have done an in depth study on their life would highly disagree with it. These revolutionaries had always believed in achieving their mission in a non-violent manner.
There have been instances where they have used violence but it's only as a means of self defense or when there isn't any hope of achieving the goal through non-violent methods.
To prove their non-violent nature, I would like to point out few instances from their revolutionary life:-
* On April 8, 1929, when Bhagat Singh and Batukeshwar Dutt exploded bombs in the Central Assembly in Dehli to oppose Public Safety Bill and Trade Disputes Bill, they purposely used bombs which don't hurt anyone even a bit. Plus, they exploded the bombs in vacant areas. Their only motto was to create sound.
* Of course, they did avenge the death of Lala Lajpat Rai by killing British officer Saunders but they did that as there was no hope of getting justice from the British government. They had to take the step as a last resort. A pamphlet distributed by HSRA said, "We regret to have had to kill a person but he was part and parcel of that inhuman and unjust order that has to be destroyed."
* Instead of fleeing from the spot, Singh and Dutt court arrested themselves. They could have escaped as the HSRA had weapons at their disposal but they didn't even think of doing such a thing.
* After being sentenced, Bhagat Singh, along with other members of HSRA, started a hunger strike as the Indian prisoners were debarred of basic amenities unlike the British prisoners. This was akin to Gandhi's mode of Satyagraha.
If the members of HSRA really believed in violence, the above mentioned incidents wouldn't have taken place.
Coming back to the first point, I would like to offer the highest tribute to the trio of Bhagat Singh, Sukhdev and Rajguru. We will never be able to repay the biggest sacrifice ever to the nation.
Have a look at some of the original photos of Bhagat Singh and his comrades: -
The magic of the city of Mumbai is such that even the simplest of every day scenes stay etched in your memory. Celebrating that magic of Aamchi Mumbai, I present some of the simplest yet memorable pictures from the great city. Have a look!
Like every year, even this year's Kala Ghoda Arts Festival is a treat to your senses and the creative genius inside you. Have a look at the photos of the 2012 Kala Ghoda Festival.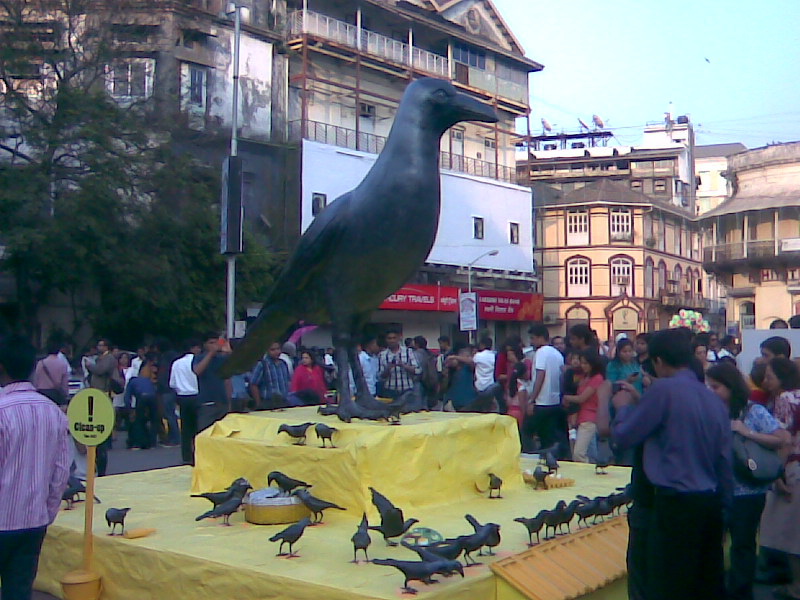 We always look forward to meet our friends or near and dear ones. But on October 15, 2011, I was super excited to meet… a big group of strangers. It was the yearly Indiblogger meet at Mumbai's R K Studios where bloggers from all over the city had assembled. The meet was organized by the food television show MasterChef India 2, which goes on air from October 22.
I use the word strangers since before the meet; I hadn't interacted with a single blogger from Indiblogger, although many of them regularly vote for my posts and vice versa.
As I entered the venue, I felt similar to what a child feels when he visits an amusement park for the first time. Although I was seated alone, I still felt entertained due to the occasion. I was in awe of the magnificent interiors of the sets.
One of the organizers then asked me to join a group of bloggers as he was disheartened to see me sitting alone. Few minutes of interaction with fellow bloggers was enough for me to realize that people around me aren't strangers at all!
(Article continued after the picture)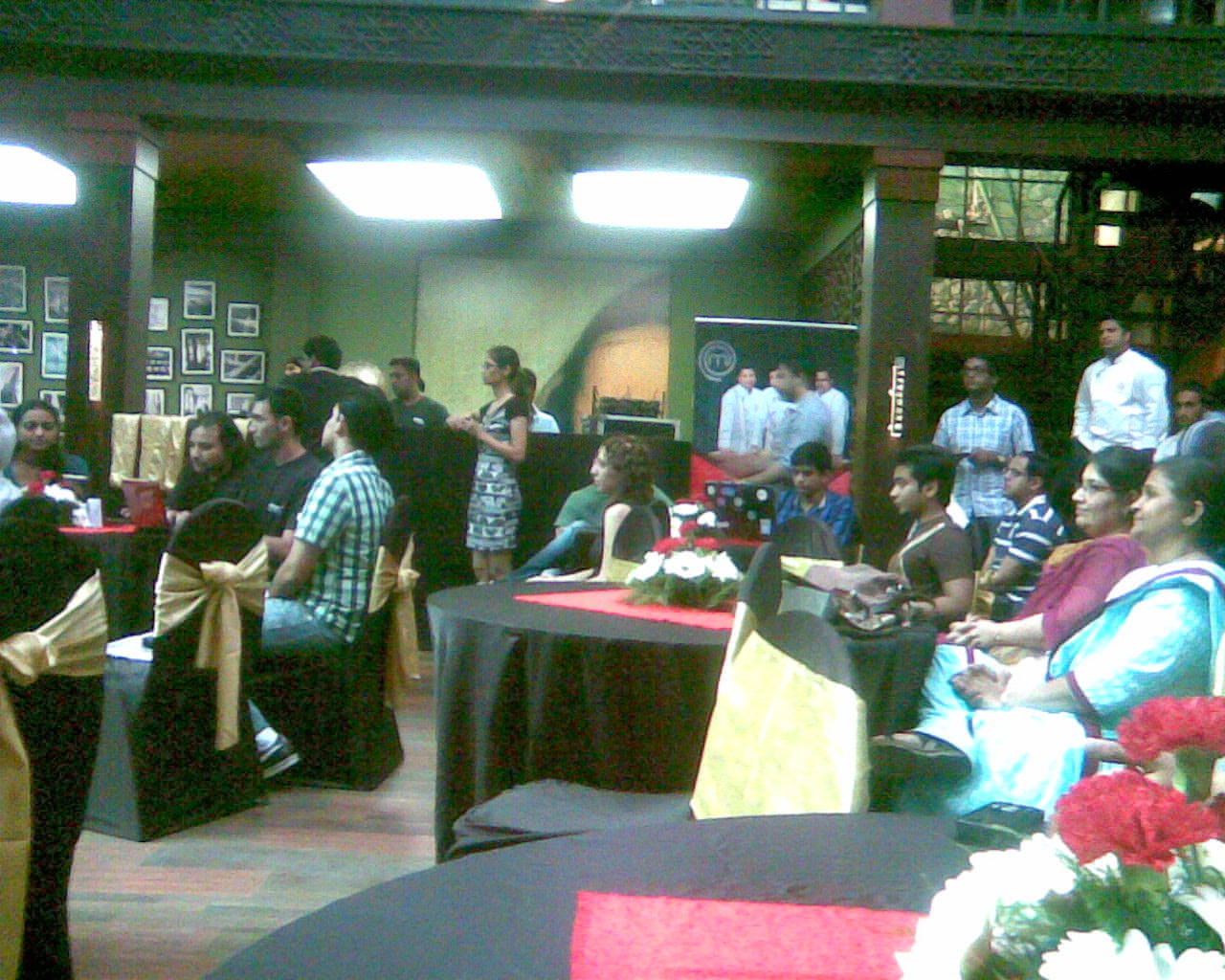 Soon, the event got under way. The host started distributing prizes (aprons) as wholeheartedly as throwing grams to pigeons (pun intended). This was followed by the introductory round where each one of us had to speak about themselves and their blog. This produced plenty of butterflies in my stomach as I am pathetic in public speaking. I just lack the confidence.
It was heartwarming to hear people speak about their blog and their reason for blogging. I suddenly started feeling bloggers are some special species which also includes me! Finally, my turn came and I somehow managed to speak. I tried to sound like a revolutionary when I stressed on the concept and the power of the Common Man (not sure whether it worked).
The three chefs and judges of MasterChef India 2 Kunal Kapoor, Ajay Chopra and Vikas Khanna took over to promote their show. It wasn't like those over- desperate attempts used like our filmstars to promote their movies. It was more like an interesting interaction about food which was appreciated by the audience as it touched their emotional chord. The cooking-related games added the perfect icing on the cake.
In the end, we were given a large banner where other bloggers can mention their names and blog URL and we can do the same on their banners. I was pleasantly surprised when two bloggers came to me asking for my blog link saying they were impressed by the concept of the Common Man. Wow! So my under-confident speech did work! Later on, few others asked me the same!
Judging by the memorable time people had at the occasion, I appeal to Indiblogger to organize at least three meets in the city every year. After all, as Indiblogger's tagline says - We Blog, Therefore we Are!
More pictures from the event: -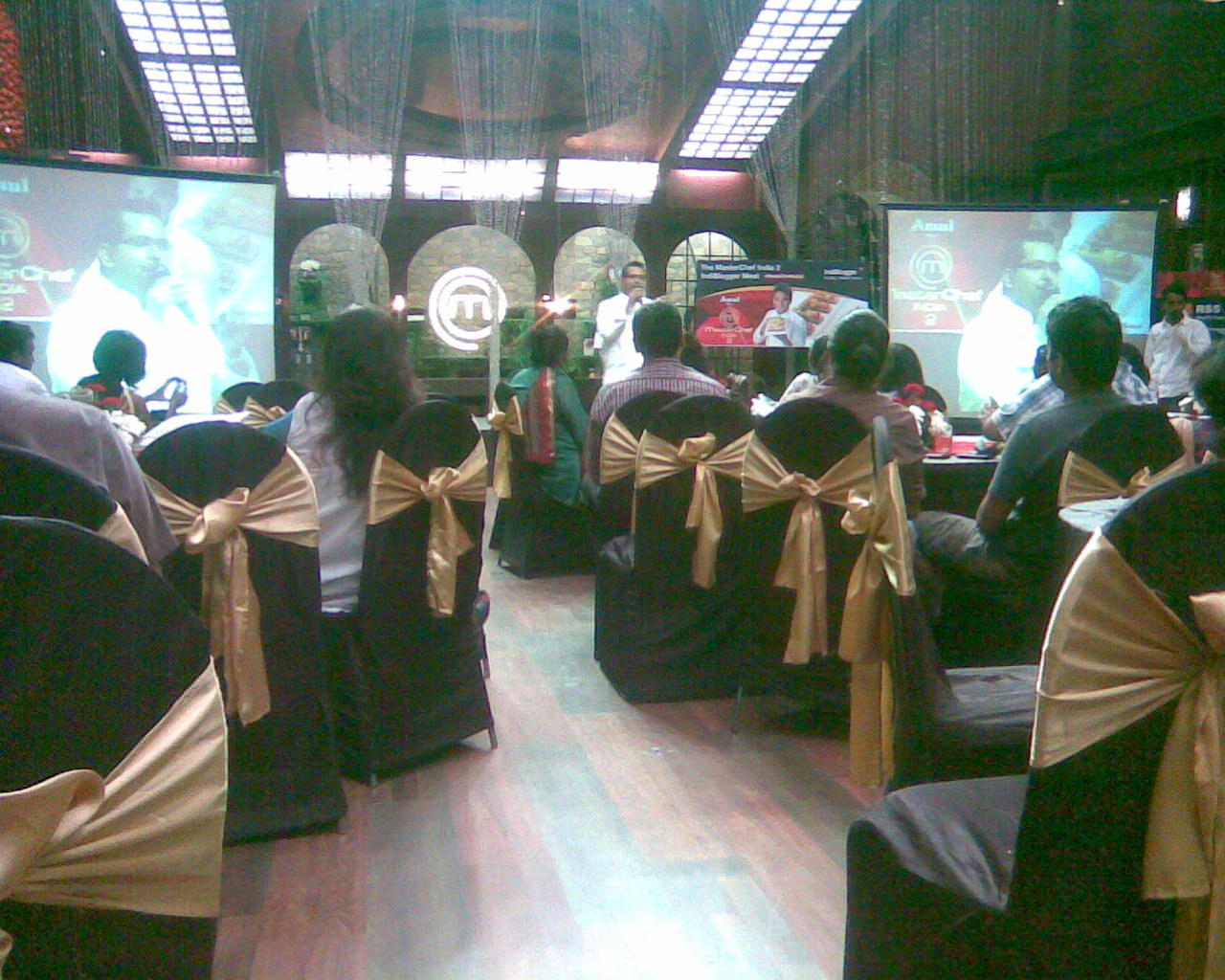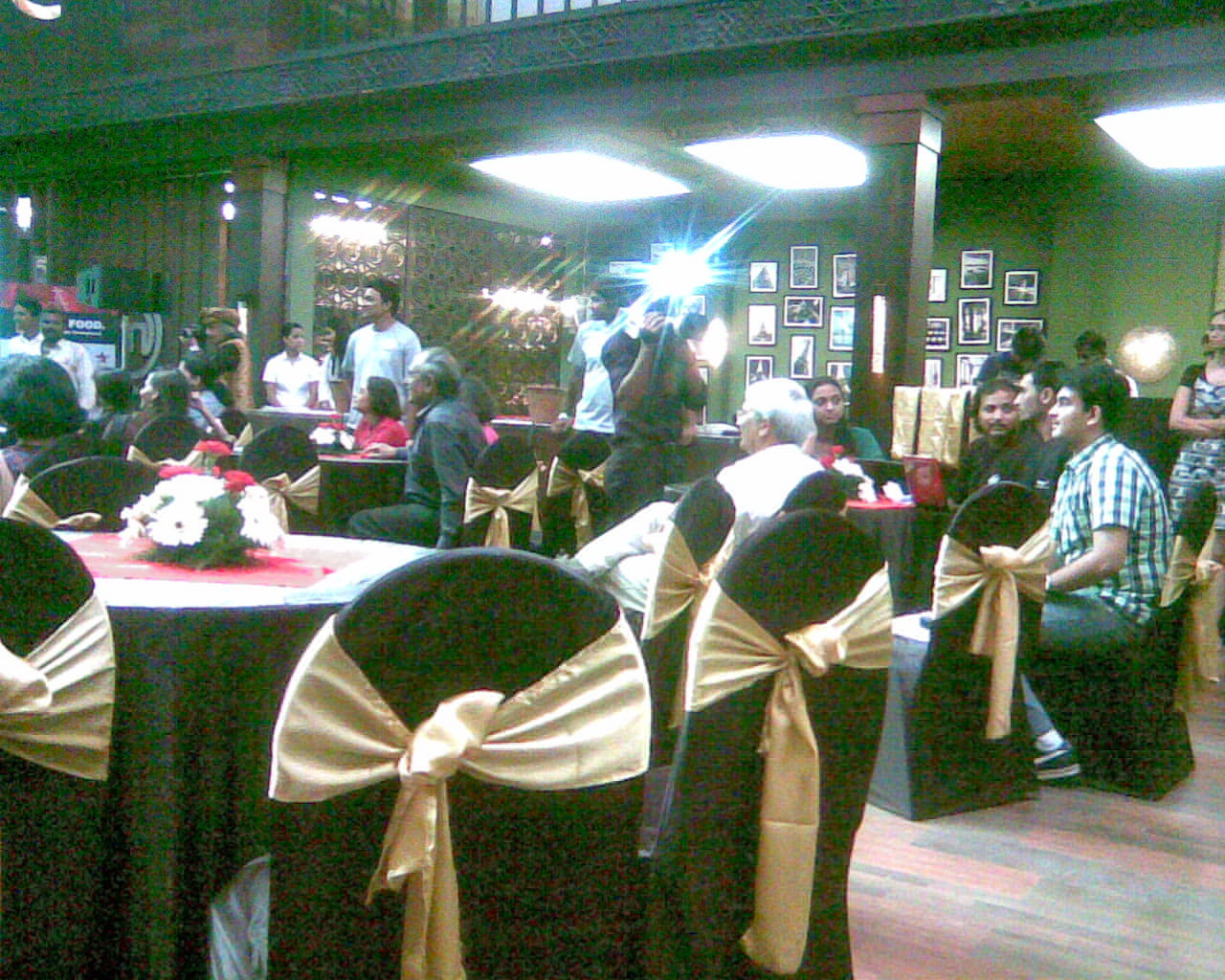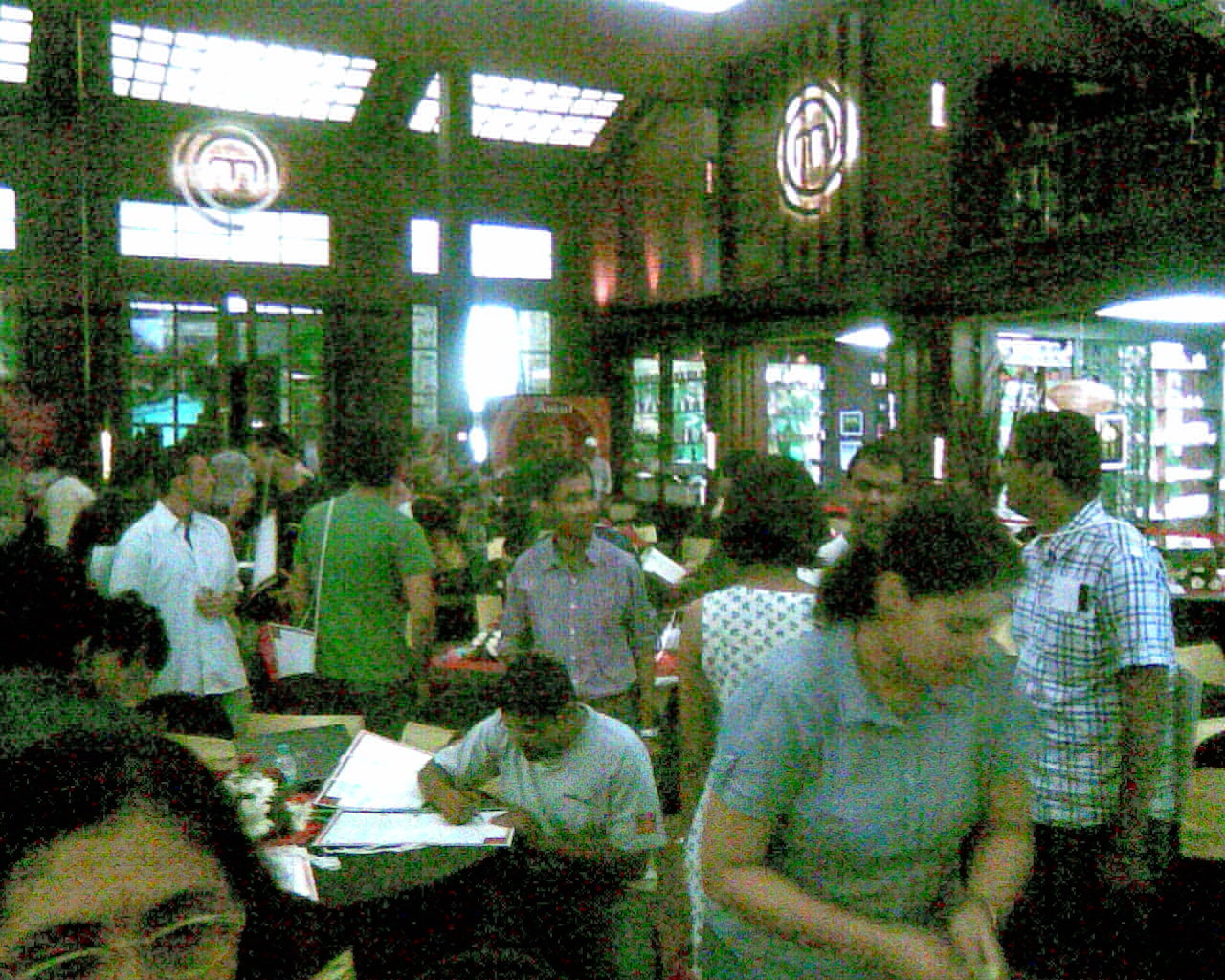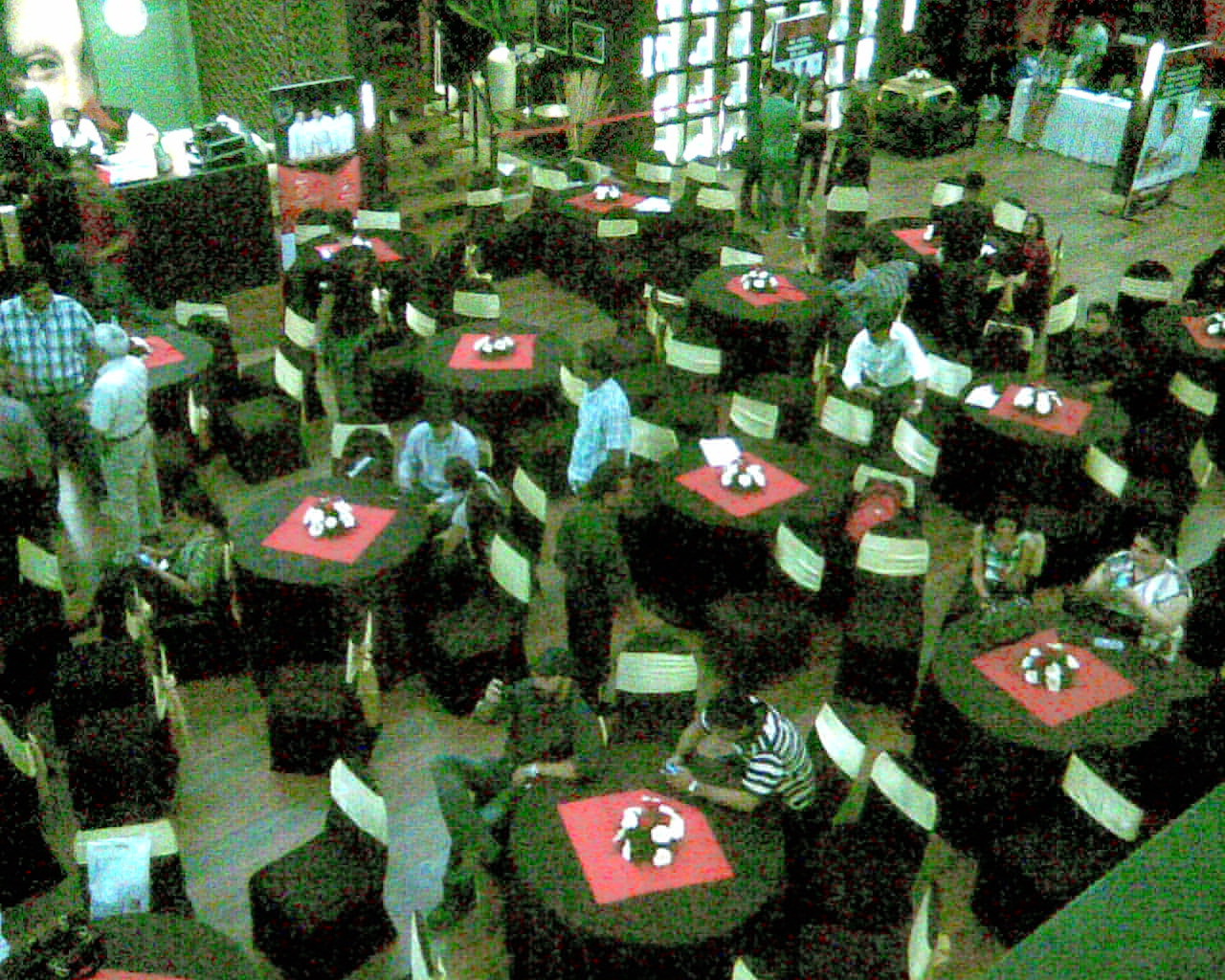 With the arrival of the Independence Day, the demand or craze for the Indian flag or tricolor suddenly increases. Schools, colleges, homes, office, vehicles, clothes, etc are thronged by our flag of different sizes and materials. But hardly few of us know about the evolution of our flag and also the fact that it went through five different makeovers before getting its final look. So let's have a look at the evolution of our national flag during the pre-independence era.
I don't claim the below information to be my own. The information is compiled from the website of Government Of India – www.india.gov.in.
On the occasion of our Independence, let us remember and salute those who sacrificed their lives and also those who borne innumerable pain to make India a free country. Vande Mataram!

Rs 100 Per Exposure - This phrase gives an impression that these C - Grade film producers have become so professional that they pay according to the number of exposing scenes an actress/actor gives in a movie!
(Clicked near my home at Dadar West)
This poor chap wanted to become a doctor but ended-up in a wrong profession! But that won't stop him from presenting himself a self-designation!
(Clicked at Sion Circle)