1998 had Sachin Tendulkar written all over it. The legendary Indian batsman literally had a dream run that year. His most memorable outing came in the Sharjah cup played between India, Australia and New Zealand. But Ajay Jadeja also had the time of his life in 1998.
Just before going to Sharjah, India hosted a triangular series with Australia and Zimbabwe. This ODI [one-day international] tournament happened just after the India beat Australia in the test series by 2-1.
It was a series where Jadeja averaged a mammoth 354.
He showed his class in the first match itself at Kochi when India was in trouble at 80 for 3 against Australia. He got going right from the start and scored 105 not out off 109 balls with 12 fours. India scored an impressive 309 for 5 and won the match by 41 runs. This was the famous match where Tendulkar picked up 5 wickets for just 32 runs.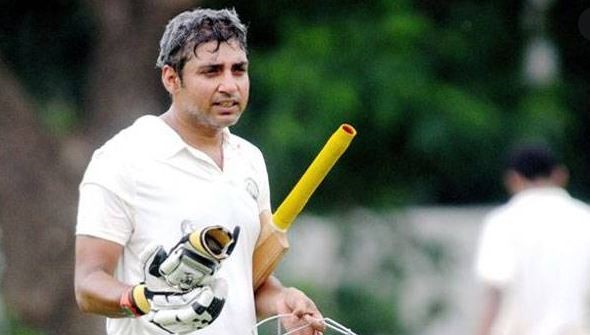 In India's next match against Zimbabwe at Baroda, Jadeja again came into bat when his side was in a spot of bother at 95 for 3. He had a good partnership with Sourav Ganguly (82) and later with Hrishikesh Kanitkar (35) and remained unbeaten at 79 off 77 balls. Zimbabwe gave a scare, which they did so often to India in the '90s, but fell short by 13 runs.
Jadeja didn't get much chance to bat during India's match against Australia at Kanpur. Tendulkar was in a hurry to chase down a modest target of 223 by scoring 100 off just 89 balls with 5 fours and as many as 7 sixes, which was rare for that era. But Jadeja did face 31 balls and remained unbeaten on 6.
In the next match at Cuttack, Zimbabwe once again gave a scare to India and it was Jadeja again to the rescue. He walked in when India were reduced to 26 for 3 with Ganguly, Tendulkar and VVS Laxman gone.
Surprisingly, India didn't lose any further wicket in the innings as Jadeja and Mohammad Azaharuddin had an unbeaten record 4th wicket partnership of 275. Jadeja remained unbeaten on 116 and Azhar on 153. The team won by 32 runs.
India then met Australia in the final at Delhi. Batting first, they could only muster a score of 227 all out. But Jadeja remained the top-scorer with 48 off just 49 balls with 5 fours. After being unbeaten in the whole series, India lost the final by 4 wickets after a good fight with the ball.
Interestingly, Jadeja got out for the only time in the series in the final when he was caught and bowled by Michael Kasprowicz. I remember Ian Chappell pointing out that if he hadn't got out in the final, he would have had no average in the series, which would have been a rarest of the rare case.
Jadeja scored a brilliant 354 runs in the series. He was hitting the ball effortlessly as if playing in the nets. Out of his six ODI 100s, two came in this tournament itself. As he got out just once, his average stood at a towering 354. He was rightly adjudged the Man of the Series. (See the scorecard of each match of the series HERE)
On a less serious note, the series was played in the scorching heat of April. During almost every innings, Jadeja and Azharuddin batted with a handkerchief around their necks. It was later found that they used to wet the hanky, refrigerate it and later tie it around their necks to beat the heat.
I was impressed with the hack and tried it a few times as a kid. It's not a bad time to repeat it all over again after 23 years. This October heat is getting unbearable!
Also read:
Sachin's 1st first-class 200 vs Australia in 1998: Forgotten moments