Taking a hattrick is one of the most jubilant days for any bowler in any format against any team at any level. It also brings the bowler instant fame. That's what happened recently with South Africa's Keshav Maharaj taking a hattrick against the West Indies in a test match.
But there are some very few exceptions. A case in question is that of Australia's Anthony Stuart. He just vanished from the scene after taking a hattrick.
Born in 1970 Newcastle, New South Wales, Stuart made his ODI debut against the West Indies in the ending stages of the Carlton & United triangular series on 5 January 1997. It was a high-scoring match that Australia lost but Stuart took 2 wickets on debut, including the one of the great Brian Lara.
His third match, which was against Pakistan at the Melbourne Cricket Ground (MCG), turned out to be a dream-come-true. With Australia bowling first, Stuart picked up Aamer Sohail and Zahoor Elahi at the start. But the best was yet to come.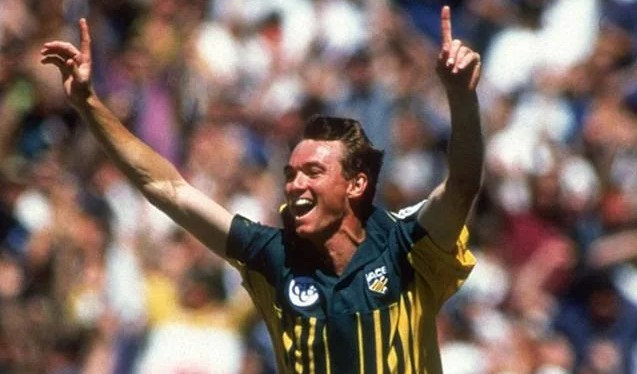 In the same spell, he got Ijaz Ahmed caught behind by wicket-keeper Ian Healy for 1. On the very next ball, he got Mohammad Wasim out in the same fashion. He bowled a classic outswinger that got rid of the courageous Moin Khan caught at first slip.
Stuart took a hattrick in just a third ODI of his career. As you can see from the video below, the young man was jubilant and unable to believe what just happened.
It was just the 12th hattrick in ODIs. Interestingly, less than 15 days prior to that, Zimbabwe's Eddo Brandes had taken a hattrick against England. [See the list of all ODI hattricks by clicking HERE]
On a side note, although Pakistan finished at a low score of just 181 for 9, it turned out to be a close encounter with some fine bowling from Wasim Akram (4 for 25). Australia were reduced to 148 for 7 at one stage but Michael Bevan (79*), as per his old habit, got them home in the last over.
This was the last league match and Australia's last in the tri series. They were already knocked out of the tournament with Pakistan and West Indies reaching the finals.
This meant that Australia played next in the test series on their tour to South Africa in March that year. However, Stuart got a blow as he wasn't even included in the squad of 14 players.
One can understand his exclusion from the test side since he hadn't played any tests. But he wasn't even considered for the ODIs. On the other hand, Andy Bichel, who debuted with Stuart and played all the three matches he played, was taken in the squad.
Unfortunately for Stuart, he was never again selected even in the Australian squad, leave alone being part of the playing 11.
The hattrick match where he had glorious figures of 5 for 26 turned out to be the last match of his international career. His 12-day career saw him take a hattrick and a 5-wicket haul.
As per some articles online, Stuart went through a loss of form in the period after the triangular series. After not being called back again to play for the Aussies, he also lost a place in the domestic New South Wales team as well.
Also read:
Sachin's 1st first-class 200 vs Australia in 1998: Forgotten moments
This number 11 'tail-ender' created a batting record that is forgotten