I had unusual feelings while entering the Wankhede Stadium today on the second day of the second test between India vs New Zealand. I was happy to have got a chance to witness test cricket after 9 years. But it also reminded me that this was the first time I would be watching a test live after Sachin Tendulkar's retirement. The last I went to see a test was in 2012 when England crushed India.
India was to resume after ending the rain-interrupted first day on 221 for 4 with Mayank Agarwal not out on a century overnight. I was hoping to see India put on at least a respectable score and then get few New Zealand wickets.
But I had never imagined that I would be witnessing something historical and this would then be followed by something completely unexpected.
I reached around half an hour late because of some massive confusion over which gate to enter from. They changed the gates after ages. So by the time I reached, India were 6 down but Mayank Agarwal was still not out. I wanted India to bat at least some more time and reach 300. I wasn't disappointed as Mayank reached 150 and Axar Patel made a gutsy half century.
But after Mayank got out at the score of 291 for 7, we realized we might see something special here as all 7 wickets were taken by Ajaz Patel. I developed mixed feelings at this stage. I wanted India to score well but at the same time I also wondered what if Ajaz Patel creates history today?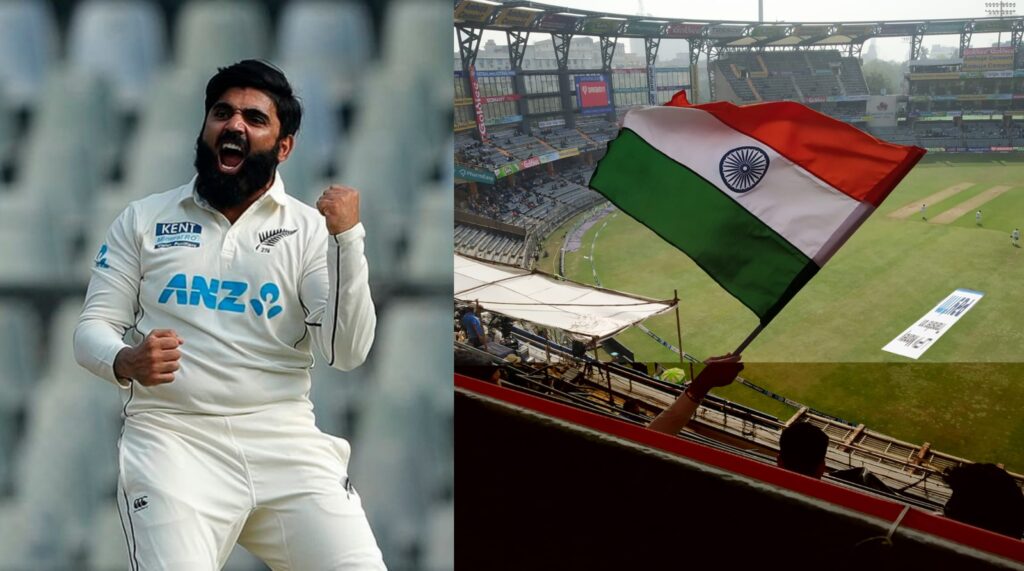 But an aggressive and short-tempered boy sitting ahead of me was angry and he kept saying that Patel shouldn't be the next after Anil Kumble to pick up all 10 wickets.
When Ajaz Patel picked up 9 wickets, I dearly wanted to see him pick the 10th as well, so that I get to witness history. The aggressive boy would have labeled me "anti-national" if I told him my wish.
Then came the moment when Mohammed Siraj lofted Patel in a miscued shot. When Rachin Ravindra was getting under the ball, it was the first time in my life that I badly wanted an Indian batter to get out. When he finally caught the ball, I rose up with jubilation. And to my pleasant surprise, the entire stadium did.
I wasn't the only "anti-national" over there. The stadium was full of them, except that aggressive boy who had gone quite by now.
On a serious note, we were delighted to witness something that has happened just for the third time in the 144 years old test cricket history! This day shall remain one of the most memorable ones.
This was even special because Patel achieved the historic feat in the city he was born and brought up (in Jogeshwari locality) till he was eight years old.
As Indian fans would know, Anil Kumble was the second bowler in history to take all 10 wickets against Pakistan in the second innings of the Delhi test in 1999.
The first one was the England's off-spinner Jim Laker who picked up 10 wickets against Australia in the second innings of the 1956 test at Manchester. More astonishingly, he had picked up 9 wickets in the first innings of the same match! It will take some doing to even equal Laker's record of 19 wickets in a match.
But just when we thought we had seen it all, the dialogue, "Picture abhi baaki hai mere dost" played out. I wanted India to pick wickets regularly to stay in the game but what we saw looked like a highlights package. Who would have expected New Zealand to be bundled out for just 62? There was more surprise in store when Indian captain Virat Kohli didn't enforce the follow on.
Looking back, from a neutral point of view, it also feels bad for Ajaz Patel. He achieved rare history but on the same day his side got all out for 62 and is staring at a massive defeat, unless a miracle happens.
So how exactly should he look back at the day?
Also read:
15 years later: From Tendulkar's comeback to Aleem Dar's batting, this match saw it all
Only time Tendulkar was NOT selected in team India, neither injured nor rested