Circa March 2020. The trailer of Rohit Shetty's Sooryavanshi promised an out-and-out cop entertainer. The film was set to release later that month. In the following month, Kabir Khan's keenly-awaited 83 was due for release. The makers were getting ready with its teaser and trailer. Hindi film fans felt they are in for a treat.
However, a villain in the form of COVID-19 attacked India and theatres were shut for an indefinite period. Both Sooryavanshi and 83 were forced to abandon their releases and wait for the menace to end in India.
Today, after one and a half years, there is still no clarity on the release of both films.
Theatres did re-open at the end of last year which saw the release of few new Hindi films like Suraj Pe Mangal Bhari, Indoo Ki Jawani, Madam Chief Minister, etc. Although only 50% occupancy was allowed, it was still good news to see cinemas back. There was hope for the occupancy to increase in the coming months.
In January and February this year, few other films released and it felt the occupancy would increase soon. However, the second COVID-19 wave hit the nation and it turned out to be deadlier than the first one. Needless to say, theatres were shut again from April onwards and there was lockdown once again in the country.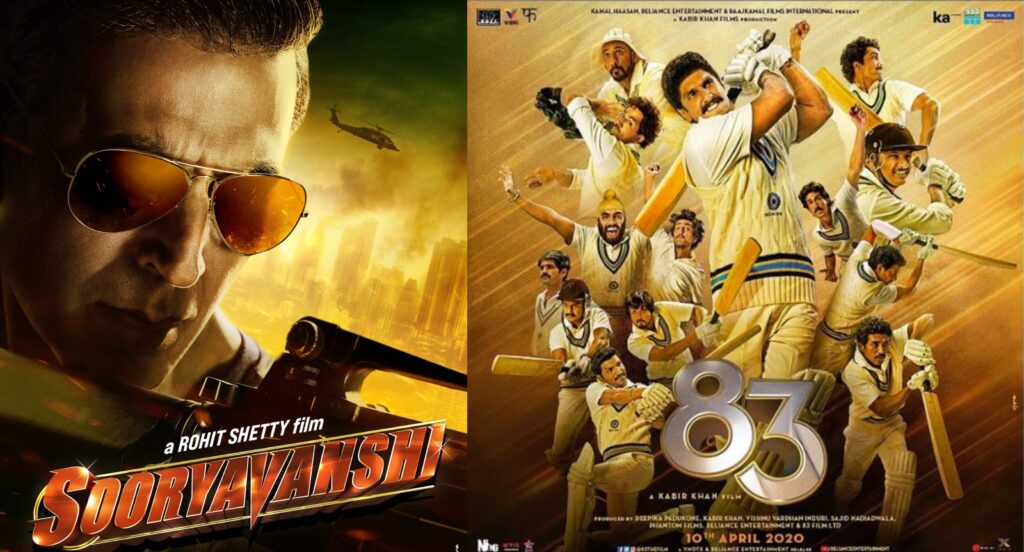 Just when it felt Sooryavanshi and 83 would finally see the light of day, things became worse again. For those not in the know, both the films are produced by Reliance Entertainment. The former stars Akshay Kumar in the lead while the latter has Ranveer Singh.
Theatres have been re-opened in various major states in India recently. But Maharashtra, the biggest hub of Hindi cinema, still has its cinemas shut. So, you can't expect too many big films to release in such situation. Of course, mainstream movies like Bell Bottom and Chehre did release recently. But their business hasn't been encouraging.
In fact, even if they had released in Maharashtra, it still wouldn't have made any difference to their box office performance. Somehow, not many people from the Hindi film audience are turning up for these films. Right now, only 50% occupancy is allowed in theatres. But both new films have not attracted even that much audience per show.
It won't be right to say that people are scared to visit theatres due to the COVID-19 due to various reasons. The biggest being that new Punjabi movies Puaada and Chal Mera Putt 2 have been doing impressive business. The same happened with the Tamil movie Master earlier this year, not just in south but also in places like Mumbai. Plus, people are happy to gather in large numbers at markets and devotional places.
Hence, going by the current Hindi film performance at the box office, it doesn't look the producers of Sooryavanshi and 83 would be willing to release their films now, even if theatres open up in Mumbai.
One important point here is that both the films are big budgeted and would need to earn huge at the box office in order to become successful. And to achieve that, they would need shows to go full even at 100% capacity.
We should also realize that both films have been in the waiting since a year and a half. This also increases the film's cost because it increases the interest rate they would need to repay the banks. Naturally, in one and a half years, the rates would have gone significantly high.
Unfortunately, the threat of the third COVID-19 wave is also looming large as various experts have predicted its arrival later this year. So this raises a question whether it would be right for both films to wait for few months from now on.
In other words, neither they can wait nor they can release the films right now.
Also read:
Rann keeps getting more relevant and that's not a good sign
SRK & Ashok SARAF's pair in Yes Boss deserves more appreciation