Cricket is like a religion in India. Along with watching matches involving their country, the Indian fans are also interested in following neutral matches. In fact, following other countries' domestic matches is also an area of interest in India nowadays.
Over the last 20 years or so, the number of cricket series have increased manifolds. But at the same time, lives of not just working professionals but also of students have become more hectic. We have too many things to do in a single day. Hence, it's not possible to dedicate a long duration of a day solely to watch a cricket match.
So, the only way we can keep himself or herself updated about every match around the world is by watching the highlights of those games. With the habit of watching videos on mobile phones spreading far and wide, it has become easy to watch highlights of the match you missed anytime and anywhere.
However, today many a times what we get in the name of highlights is disappointing to say the least. At a time when we have access to watch highlights as many times as we want, the worst we could expect is the people behind the highlights messing it up.
Somehow, the editors or channels showing us the highlights of a match believe that it should only contain wickets, fours and sixes. This thought process is the major problem with highlights today.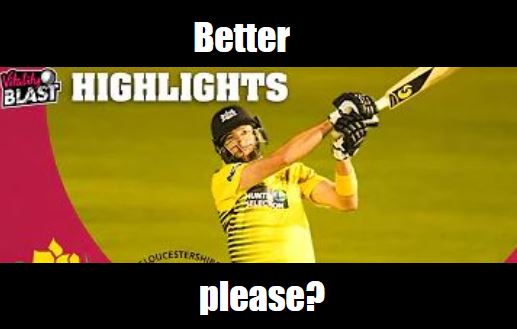 If you feel highlights should only cover these three aspects, I am sorry to say you are not aware of the most important function of highlights. Which is to know when a particular game turned on its head or what the biggest turning point of the match was.
And many a times, these match-turning moments are dot balls, as far as the highlight of limited over matches is concerned. If you feel a match can tilt from one side to another only during fours, sixes and wickets, I am sorry to say you are wrong. In white ball cricket, dot balls, especially in the end, are as precious and game-turning as wickets.
For example, I remember watching the highlights of T20 match where a team needed 7 runs of 6 balls. But we were directly shown the last ball where it needed 5 off 1 ball. What happened in the previous few balls was the turning point of the match, which, astonishingly, doesn't get featured in the highlights.
Just imagine, a person takes out time excitedly to watch the highlights of a close game only to realize that it doesn't feature the most important part of the match!
I completely understand that highlights need to be crisp. But this is where the person responsible for the highlights should know what to retain and what not to. And if that person believes retaining replays of a crowd catch is more important than the dot balls that changed the match, it really won't help.
Also read: Forgotten spells: When Srinath rattled South Africans singlehandedly
I personally feel it's okay to skip one or two boundaries to show the biggest turning point of a match. It is understandable somehow in TV highlights where it's necessary to complete the package in a stipulated time. But online highlights are not of any stipulated duration. So, adding just another 30-40 seconds that actually changed the match shouldn't hurt.
Earlier in the year, the veteran cricket commentator Harsha Bhogle also pointed out in a Facebook post that today you won't find the game-changing moments in the highlights [Unable to find the post. If someone is able to, do share].
Additional reading:
One of Wasim Akram's greatest achievements is forgotten