Sachin Tendulkar is considered the legend of the game and the best batsman to have played the game. But those who have grown up alongside his career would know that he was an underrated and underused bowler.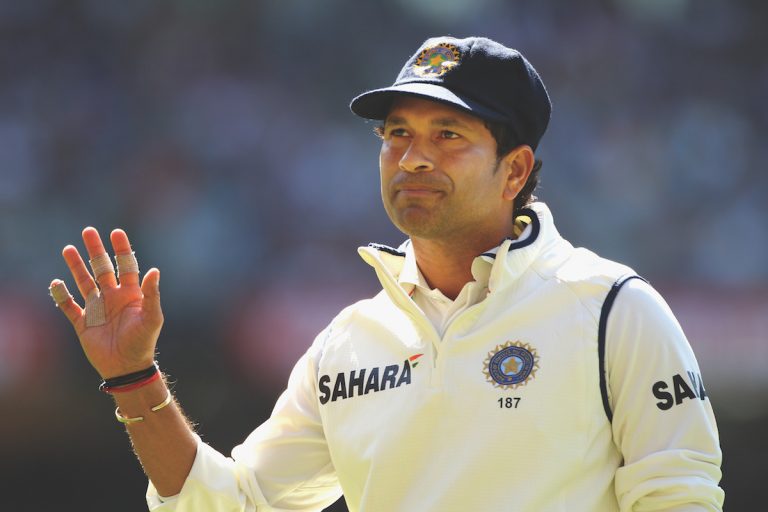 Tendulkar has had a number of successes with the ball, including two 5-wicket and 4-wicket hauls. He picked up 154 ODI wickets and 46 test wickets in his long career. But apart from being the highest wicket-taker in these matches, he also rolled his arm over for just an over or even a ball in situations that were purely nail-biting in few ODIs; where the match could have gone anywhere but for his calm and calculative bowling.
These are those moments:
Hero Cup: India vs South Africa (1993):
This was a must-win match for both teams as it was the semi-final. The winner was set to play either West Indies or Sri Lanka in the final. The match, as Ravi Shastri would say, went right down to the wire. India batted first and were all out exactly at 50 overs for just 195. South Africa never got going and struggled during the chase.
In the end, South Africa needed 6 off 6 balls with 8 wickets down. During this time, skipper Mohammad Azharuddin gave the ball to Tendulkar. After getting Fanie de Villiers runout of the first ball, he literally made Allan Donald dance on his tunes by not allowing him to take any run on the next three balls. McMillain, the set batsmen, stood frustrated at the other end.
Donald finally got a single on the fifth ball and McMillain needed to score a boundary off the last ball. He was unable to connect well and just managed to take a single. India won by two wickets.
Titan Cup: India vs Australia (1996):
Tendulkar had a phenomenal record against Australia with the bat. But he has also made life tough for the Aussies with the ball. He had a 5-wicket and 4-wicket hall each against them in 1998. But he also had a small but major achievement with the ball against Australia in the unofficial semi-final of the Titan Cup in 1996 in Chandigarh. The winner of this match was to play South Africa in the final.
This situation was similar to the one in the Hero Cup semi-final. India scored 289 for 6 batting first with skipper Azharuddin again top-scoring with 89. This match also turned out to be a thriller with Australia needing 6 runs of the final over. Sachin was the captain on this occasion. He decided to bowl the last over himself. Again, he hadn't bowled in the entire innings.
Tendulkar bowled a length ball to Brad Hogg who looked good in that innings. He tried to play the sweep but got hit on the pads and there was an appeal for LBW. McGrath, at the other end, took the run but Hogg was busy watching the ball. Hence, it was too late for him to reach the other end as keeper Nayan Mongia succeeded in a direct hit. India won by 5 runs.
Benson & Hedges World Series: India vs West Indies (1991)
This is one of the most underrated heroics of Tendulkar with the ball. It was the first match of the Benson & Hedges World Series between India and West Indies and it ended in a tie. Tendulkar had a major role to play in it.
In this low-scoring match at Perth, India were bundled out for just 126. In reply, West Indies kept losing wickets at regular intervals, which ensured that India was always in the game. This was the match where Javagal Srinath got Keith Arthurton bowled in the famous way after squaring him up.
When West Indies were reduced to 113 for 9, it looked like India would win from there on. But a gutsy last wicket stand between Anderson Cummins and Patrick Patterson got them on par with India's score of 126.
This was the first time that captain Azharuddin threw the ball to Tendulkar in such a tense situation. And like the two aforementioned incidents, he hadn't bowled in the entire inning. He gave away five runs in the first five balls of the over. But on the last ball, he got Cummins caught at second slip by Azharuddin in a spectacular manner.
We all know how Tendulkar kept a calm head despite crores of people scrutinizing him while having high hopes from him when he is batting. But the aforementioned incidents show that he also had the nerve as a bowler in situations where even the best of bowlers would feel the pressure.
Also read: