There have been very few occasions in my life where I have pinched myself in disbelief! One such occasion was few minutes back when Sachin Tendulkar finally (I feel like repeating the word 5 times) scored his 100th international century against Bangladesh in Mirpur in the ongoing Asia Cup 2012. Finally!!!
The feat for which the whole of cricketing world and not just India was waiting since more than a year has just happened! During all these months, every time Sachin went into bat, almost every cricket fan from around the world expected to see his 100th century. However, it just refused to come. There is a saying in Hindi – Intezar Ka Phal Meetha Hota Hai. Well, this was proved today in Mirpur.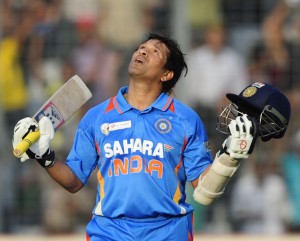 The Master Blaster did come terribly close to achieving the mega milestone on December 2011 when he dismissed for 94 in the third test match against West Indies in Mumbai. Never had I seen the crowd so stunned in disbelief before when the great man was dismissed in that innings by Ravi Rampaul. People from Sachin's hometown had spent an abnormal amount to the blackers for the ticket of the fifth days play after Sachin was not out on 70 odd at stumps on day 4.
I was one among thousands who faced disappointment at not getting a ticket (at original price) for the fifth day. However, I plainly refused to buy the ticket in black and returned home khaali haath! How fortunate I felt later on to have such principles!
After that innings of 94, Sachin failed to achieve the feat in the whole of the tour of Australia. As he also started going through a bad phase, the expectations for the biggest achievement ever also fizzled out!
I guess it was the pressure of the expectations that got the better of Sachin. Now, that there were no expectations, he easily achieved the feat and how! I wish the people and media had controlled their excitement all these months! Anyways, it's better late than never.
Hearty CONGRATULATIONS to the greatest cricketer for the greatest achievement any batsman can imagine. I repeat this – We have been fortunate to have got a chance to grow up along with Sachin's career!
Have a look at the moment when Sachin achieved the feat and the world went in a frenzy. (Video of Sachin scoring his 100th run) : –