Master Blaster Sachin Tendulkar currently has a tally of 99 hundreds in international cricket. Obviously, cricket fans, not just from India but from all over the world desperately want the legend to reach 100 centuries soon.
You can't blame the fans as 100 tons is a humongous feat which nobody has achieved till date. However, I have started getting a feeling that we the audience and the media are putting huge amounts of pressure on the little man to reach the mega milestone.
Every time Sachin goes out to bat these days, there's only one question going on in everyone's head, "Will he or won't he?" This is equivalent to parents desperately wanting their child to top the exams! Although he has borne pressure all his life but the whole nation expecting you to score a hundred every time you go out to bat is a bit too much to handle.
When India won the first test match against the West Indies, almost every headline mentioned the fact that Sachin failed to reach the milestone. Even news reports gave too much importance to it rather than India's praiseworthy fight back to win the test.
(Article continued after picture.)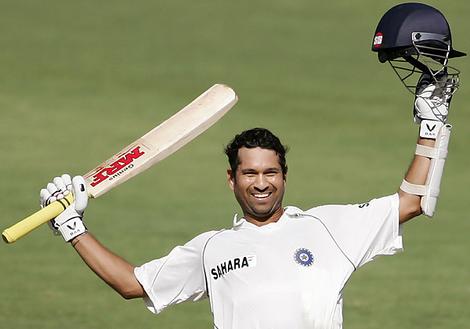 Now, according to latest reports, The Cricket Association of Bengal (CAB) has decided to present Sachin with 100 gold coins if he gets his 100th ton in the second test at Kolkata! Phew!
By giving crazy importance to his 100th hundred, we are forgetting the basic fact that cricket (or any other sport) is a team game where the end result matters the most. Hence, we should be more concerned about the result of the ongoing test series rather than concentrating on one individual score.
Sachin's greatness is as huge as the universe. So, it's just a matter of time when he reaches the 100 centuries mark.
The second test match between India and West Indies has just started in Eden Gardens at Kolkata. India are batting. Sachin has come out to bat but I hope our focus remains on India's performance. Just let the Master Blaster be!