Indian cricket can't boast of many fast bowlers who bowled really quick and played for a long duration. Javagal Srinath was an undisputed leader of India's pace bowling for years. Cricket fans who started following the game in the 1990s have fond memories of him.
But somehow his best spell in test cricket hasn't been discussed much and it seems as if it has been forgotten.
Srinath started his career in the early 1990s and made a mark in India's tours to Australia and New Zealand during that period. He changed his bowling action a bit early in his career, making it not as high arm as it was earlier. But that didn't affect his quality of bowling. He soon became India's strike bowler.
One of Srinath's impressive bowling spells during his initial years
Srinath was someone who enjoyed hitting the deck and using the bounce to full effect. Most of his deliveries came inside the right-handers which weren't easy to handle. At times he used to fox the batsmen with balls that left the right-handers.
This particular feat of his came in the 1996-97 season. India was all set to play a three test series against South Africa. This was right after the Titan Cup which India won by defeating SA in the final. The first test was at Ahmedabad.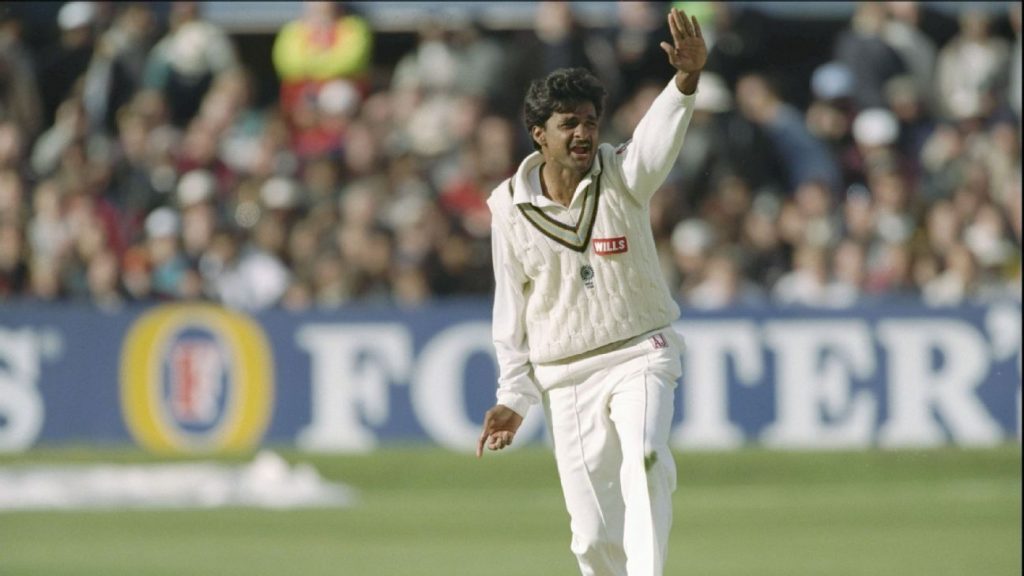 It was a low scoring match where batsmen had to work hard. India batted first and scored only 223 with not a single batsman reaching 50. It looked as if SA would be bundled out on a score much lower but Fanie de Villiers had other plans as he scored a fighting 67 to take South Africa to 244.
India fared worse in the second innings and were 124 for 7 at one stage. But the debutant VVS Laxman and Anil Kumble showed some fight and helped the team reach 190.
This was the first proper test series I followed as a child. I wasn't pleased with this 'new player' Laxman in the first innings. In that age I was quick to judge and said he has no future. But he made me eat my words in the second innings when he scored 51 in extreme pressure and I was glad.
South Africa were given a target of 170. As the Indian players went on to the field, not many would have thought that Srinath was all set to deliver the most defining moment of his career. Being a fourth-day pitch in India, it seemed the spinners will take the bulk of the wickets if India has to win.
But Srinath delivered from the word go. In the first over itself, he reduced SA to 0 for 2 when he got Andrew Hudson and Daryll Cullinan off successive balls. I remember going mad with excitement as those were my initial days in test cricket and I had never seen a side being 0 for 2. [As I write this, I remember England were 0 for 2 this week against Australia]
Srinath returned for his second spell when the opposition was 96 for 4. He reduced them to 96 for 6 as he again got two wickets [Dave Richardson and Jonty Rhodes] off two balls.
There was more to come though. In his third spell, he bowled Allan Donald and Paul Adams off successive deliveries to finish with tremendous figures of 6 wickets for just 21 runs. [See the whole scorecard HERE]
It is too rare to see a bowler being on a hattrick thrice in one innings. In other words, whenever Srinath got a wicket in this innings, he got another one in the next ball itself.
Forgotten innings: Nayan Mongia's historic feat vs Australia
The rare feat coupled by the fact that he singlehandedly won the match for India makes me wonder why this effort isn't spoken about much. In fact, I have never read posts about this spell in any of the cricket groups on Facebook and I wonder why.
Luckily, there is this little video below which has captured all his wickets in the innings.
Srinath's career too has fared an almost similar fate in terms of remembrance. He hardly gets a mention in a discussion on the best Indian players. When he played his last test match in 2002, he was the second highest wicket taking fast bowler with Kapil Dev being the first.
Additional reading:
When Australia played against Australia in this World Series
Dhoni could have scored more 100s but…
Yuvraj Singh's 3 heroic TEST innings that have been forgotten: See videos