Since last year or so, there have been numerous examples which state that our current Government is no different than the British rulers. This is not the first time I am saying this on my blog. The way they have been trying to crush anyone who raises a voice against corruption has left me with no other comparison. And now, a large section of Indian citizens are making the same comparison after cartoonist Aseem Trivedi was recently charged with sedition for just drawing a cartoon!
Anybody who is fed up with the rampant corruption in the country would relate with Aseem's creation. His cartoon is just a satirical portrayal of the current situation where scams worth thousands of crores have taken place but nothing is been done about it! But still if our authorities are offended by his cartoon, charging him with sedition is plain ridiculous!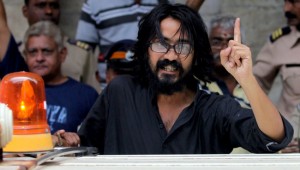 It is quite shocking to see Aseem's case developing at such a fast pace! Obviously, such fast action cannot be taken due a single complaint. It is clear that the Government has put in pressure. In fact, Aseem has been facing a lot of wrath ever since he joined Anna Hazare's anti-corruption movement.
On the other hand, no action is been taken despite the highly humiliating coalgate scam amounting to an unthinkable amount of Rs 1.86 lakh crore! Forget action, the government is not even going ahead with any probe by just rubbishing off the CAG report. So what wrong did Aseem do by depicting the true scenario of today's India?
So is Aseem more harmful to the nation than the ones who have been looting the common man in lakhs of crores? Are his cartoons hurting the sentiments of the country more than the actions of those who physically fight in the parliament and worse, openly watch porn in assemblies?
Our Government's answers to these questions are loud and clear! India is facing another emergency which needs to be nullified with emergency protests!