Whenever a group of people sit on a protest in India, people start showering plenty of comments like –  Is desh ka kuchh nahin ho sakta, Voice of common man is never heard, All protests are a waste in front of power, etc. But time and again, such comments are proved wrong. It happened recently when the Jal Satyagraha movement in Khandwa succeeded after 51 villagers did the utterly painful task of protesting deep in water for 17 long days!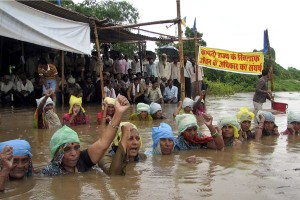 The Madhya Pradesh government finally agreed to their demands of lowering the water level of Omkareshwar dam to 189 meters and compensating land for land. Of course, it is a shameful situation that the common man has to go through such ordeal to achieve his rights. Nevertheless, the incident has helped in keeping hopes alive and thrashing the above mentioned negative comments.
Protest against cartoonist Aseem Trivedi's sedition charges and arrest seems to be the next in line to attain success. It is heartening to see the way people are wholeheartedly condemning the false charges against Trivedi by massive protests by IAC supporters and other social workers. But what is most striking is how people have kept Trivedi's so-called controversial cartoon as their display pictures on Facebook and Twitter. Hence, the message is loud and clear by the junta!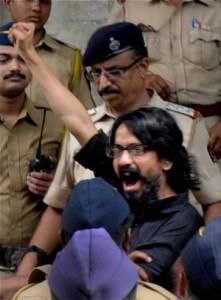 It is due to such widespread agitation that Home Minister R R Patil has suggested to the police to drop sedition charges against Trivedi. However, one shouldn't take his word. Even the people of Khandwa should be alert as such promises have proved a fake in the past.
Just last year Prime Minister Manmohan Singh wrote a letter to Team Anna promising to pass the Jan Lokpal Bill with the inclusion of the three demands. But the whole country saw how the promise turned out to be a mockery. You can't trust anything in a country where even the written word of the Prime Minister has zero value.
Due to this, we need to ensure the promises are fulfilled. The Khandwa villagers should continue to be alert. In the case of Trivedi, Arvind Kejriwal has rightly warned of a massive protest from Saturday (September 15) onwards if all charges against the cartoonist aren't dropped off. We are ready!