The debate around nepotism in Hindi film industry has been going on since last few years, ever since Kangana Ranaut accused Karan Johar on his show for favoring star kids.
The incident triggered never-ending debates on social media on whether star kids are plain lucky to get an easy entry into the film world and more chances than someone who isn't from a film background.
Despite the controversial nature of the subject, the star kids debate was still under control. But Sushant Singh Rajput's sad demise a couple of months ago has made things go completely out of control. In fact, that's a mild way of putting it.
Sushant didn't come from a film family. In today's times, he is known as an 'outsider,' who made it big in the Hindi film world, where there's cut-throat competition. Slowly after his death, theories started cropping up that he was depressed because a number of big producers from the industry had boycotted him. Strangely, there is no such proof of this except those What's App forwards and unverified 'news' reports.
This thought has become so deep-rooted in the minds of a large number of people that they have started hating any artiste who comes from a film family. Negative comments are being posted against them almost every second, just because someone from their family had made it big in the industry.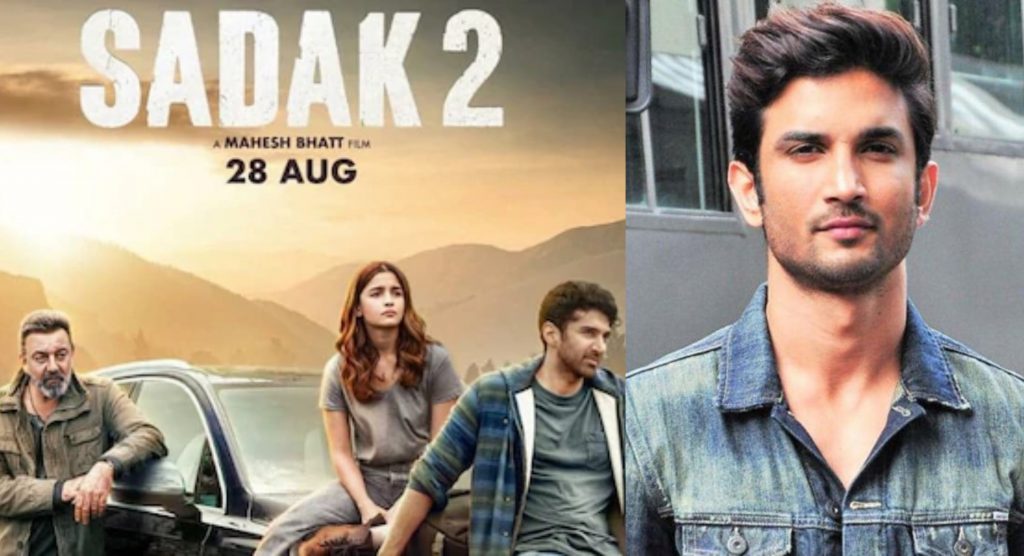 This didn't start immediately after Sushant passed away. It has gradually increased since last one month and has now reached an unimaginable level. These trollers are making it look as if it is a crime to be born in a film family.
So now films are categorized as those starring 'nepo kids' and those with a cast which doesn't come from a film family. Leave alone general public, I can see such divisions even made by few journalists, who are expected to be neutral and unbiased.
And if you don't like a film starring an 'outsider,' you get judged for being a supporter of the 'nepo gang' and an enemy of self-made actors. For example, recently a reviewer didn't like Khuda Haafiz and the person was judged for the same, not just by Twitterati but also the film's lead actor Vidyut Jammwal.
It looks like it has also become a crime to judge a film objectively instead of being heavily biased by taking into account whether it has any star kids.
Also read: You might be triggering DEPRESSION in someone without even knowing it
The dangerous levels to which this anti-nepotism feeling has reached became clearer last week when the trailer of Mahesh Bhatt's Sadak 2 released. This anti-nepotism gang pounced on that trailer like a hungry wild animal pounces on its prey. In just few days, the trailer has got over 60,000 likes and 1 crore 10 lakh [or 11 million] dislikes!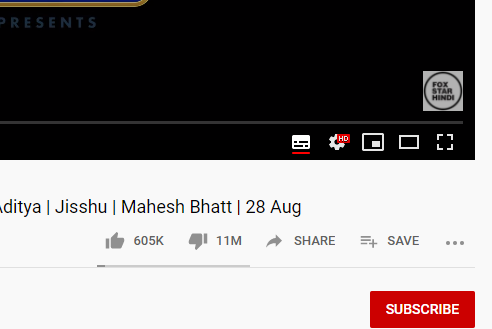 But there's more. Sadak 2 has a Google rating of just 1.1 after as many as close to 20,000 votes.
You don't even need to be a regular internet user to know this is a powerful campaign against the film because it has the likes of Alia Bhatt, Pooja Bhatt and Sanjay Dutt, who are now addressed as 'nepo kids.'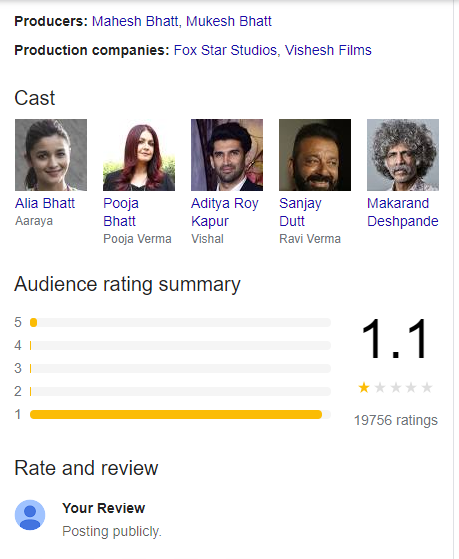 Although the trailer hasn't been lauded by large section of the audience, having so many dislikes and low rating is not normal by any means. Race 3 (2018) and Joker (2012), two of the most hated trailers in recent years, didn't receive an iota of such negative ratings.
Also read: Fact check: Was Deepika Padukone paid Rs 5 crore to attend JNU protests?
This is clearly a planned strategy which has spread like wildfire. I hate to say this but this is exactly how political trolls and their IT cells operate. They target a film and start spreading negativity through dislikes, down votes and toxic personal attacks on people related to the film.
Believe me, your 'dislikes' isn't going to give justice to Sushant Singh Rajput but I guess common sense is not very common, especially when the minds are brainwashed so deeply. Also their rude comments and intolerance for a different opinion instantly remind me of these political trolls.
Then there are people like KRK who are making full use of the controversy to gain popularity by trending topics like #JusticeForSSR and #CBIInquiryForSSR. He is the same person who used to personally attack Sushant in his 'movie reviews.' On more than one occasion, he also went onto say that Sushant is just a TV actor, he shouldn't consider himself a film actor.
Just like these political trolls this anti-nepo gang too believes in the false notion that they are warriors fighting against injustice. But instead they are making things go chaotic and toxic online.
And the world is watching us.
(Additional reading)
An open letter to Arvind Kejriwal