Exactly 24 years ago in the winter of 1996, I was horrified to see India getting all-out for just 66 at Durban against South Africa in the second innings of the Boxing Day test match. It was India's first overseas tour that I followed and it couldn't have been worse.
It was also the first time I saw any side getting all out well before reaching 100. As it happened with the Indian team, it shook me more. I was sure it can't get worse than this and I won't see a lower score than this from India in my lifetime.
But I was proved horribly wrong 24 years later by the current Indian side which was bowled out for just 36 against Australia at Adelaide in the first test; their lowest total ever! It still appears unreal.
As the only time I saw India get all-out under 100 [in a test match] was in 1996, my mind keeps going back to that Durban test and the rest of the series.
That team's morale was down in the dumps after that match. The mental baggage of that game was carried forward in the second test at Cape Town that started in the new year on 2 January 1997.
South Africa batted first and put behind a mammoth total of 529 for 7 declared. India displayed déjà vu of the first test after being 58 for 5 at one stage. It seemed India was set to repeat what happened in Durban.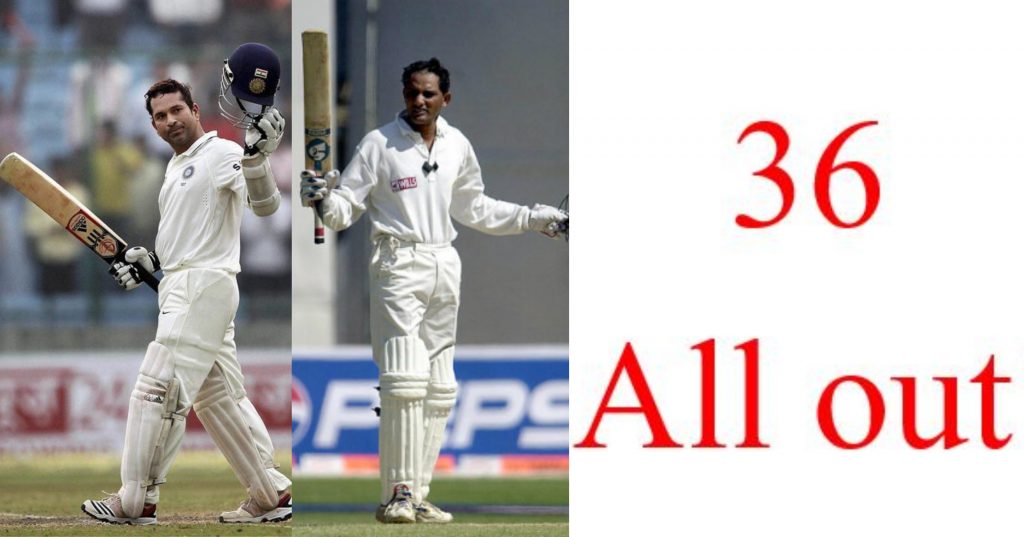 But then came a partnership that brought a turnout not just on the scorecard but also in the Indian camp. From that score onwards, Sachin Tendulkar and Mohammed Azharuddin started counter-attacking in ways that we didn't see in test matches then.
The two experienced blokes started hammering every bowler of the opposition and built a huge partnership of 222 runs. Azhar scored 115 off just 100 balls with 19 fours and a six. Tendulkar, on the other hand, made 169 with 26 fours.
He was the last man to get out when Adam Bacher pulled off one of the most spectacular catches of all time at deep square leg. The batsman was visibly stunned and stood his ground for some time, unable to believe his eyes.
India eventually lost that match. However, that partnership between Tendulkar and Azhar brought about a psychological change in the side. It put across a message that we can bat freely and fearlessly even against South Africa in South Africa, which was tough in those days.
The effect of this was seen in the third test at Johannesburg when the team looked much more determined. India batted first and posted a good score of 410, helped by Rahul Dravid's impressive 148.
In reply, South Africa were all out for 321. After getting a healthy lead, India batted decently in the second innings and set South Africa a target of 356 runs. India looked like winning the match after reducing the Proteas to 228 for 8. Unfortunately, rain and bad light ensured that the match turned out to be a draw; a match India should have won.
Also see: When Javagal Srinath was on a hat-trick thrice against South Africa
The major difference between the Durban test and the recent first test against Australia is that in the former we were never in position to dominate. In fact, we were 100 all out in the first innings and that had almost sealed the match for South Africa.
However, despite India being in a dominating position on day two in the recent test, the current blow is a bigger one. Getting all out on a score as low as 36 can be detrimental to the morale of any team.
Twenty-four years ago, Sachin and Azhar removed that barrier for India.
Who will do that this time around?
Also read:
When Swami Vivekananda took 7 wickets against the British club