Director Jagan Shetty's Mission Mangal revolves around the launch of India's Mars Orbiter Mission (MOM), also known as Mangalyaan, which was launched in November 2013. India thus became the first nation in the world to successfully send a spacecraft to Mars in the first attempt itself.
The mission involved some painstaking efforts by a group of ISRO's scientists led by Rakesh Dhawan (Akshay Kumar) and Tara (Vidya Balan) and their team consisting of Kritika (Taapsee Pannu), Neha (Kirti Kulhari), Varsha (Nithya Menen), Eka (Sonakshi Sinha), Parmeshwar (Sharman Joshi) and H G Dattatreya (Ananth Iyer).
The team had to battle various odds in the form of a senior ISRO member (Dalip Tahil) and lack of funds and confidence from the government. They had their various personal battles to counter as well.
Mission Mangal gives a proper explanation of the relevance of MOM, the process of launching it and its last stage. All this might sound very technical for a layman. But the film is nowhere near technical.
It is, in fact, a joyride. The narrative is filled with moments that get you in splits regularly. This is done through situations and character habits and traits. Many a times a funny moment arrives when you least expect it. The surprise inclusion of 'Ankhiyaan Milaaun Kabhi Ankhiyaan Churaun' by Sanjay Kapoor's character himself is a masterstroke!
However, despite the humorous moments, Mission Mangal ensures that the seriousness of the topic is never lost whatsoever. Throughout the film, special care has been taken to explain space related scientific workings in a manner that even a person with poor scientific knowledge like me can easily understand. I had laughed at the puri scene in the trailer but realized that it perfectly fits the situation in the film to provide an easy explanation for a layman.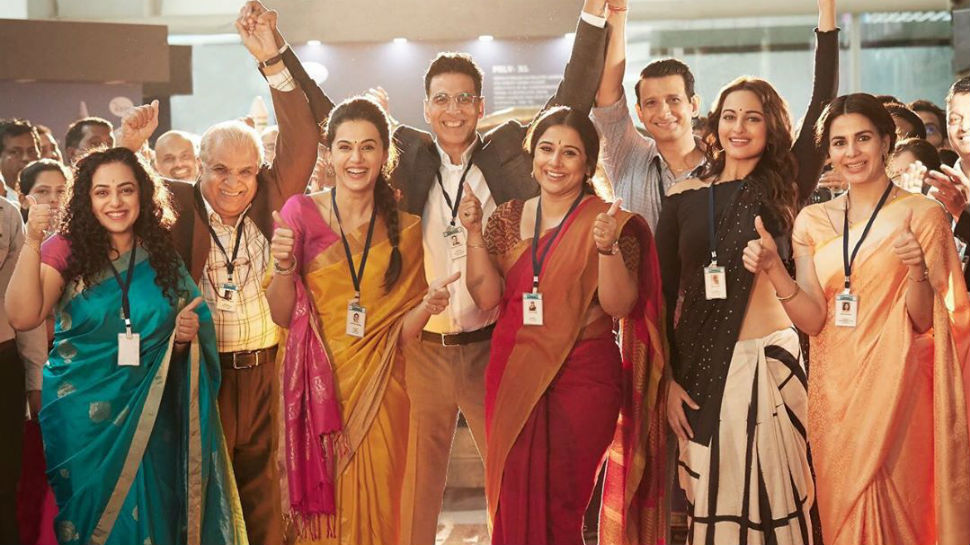 The combination of easy information and humour is enough to keep you glued for its duration of 133 minutes, which passes in a jiffy. And the moments in the finale keep you at the edge despite the fact that you are well aware that the mission will eventually become successful.
Having said this, there are few factors that bother you. The biggest one is that we haven't been given any background about Akshay's character. Considering he is the main lead, it was necessary. Few conversations from the subplot of few characters could also have been avoided. Thankfully, none of these fall in the major negative point zone.
Mission Mangal has an ensemble cast and not every character has got proper space, which is not surprising. But each character is given an interesting story and arc of its own (except Akshay, as mentioned above).
Every actor has risen to the occasion. Despite no character background, Akshay Kumar provides a fine mixture of seriousness and humour. This is easily one of his most noteworthy acts. Vidya Balan once again proves why she is the best of the current lot of actresses. She is adorable once again. Dalip Tahil makes his presence felt as an unusual antagonist.
It's good to see Sharman Joshi in a mainstream film after long. He displays an undercurrent of humour and never overdoes it. The rest of the team members provide perfect support, especially the senior most Ananth Iyer.
Overall: Mission Mangal is a joyride that celebrates India's space achievement. It will be argued that the makers have made it into a filmi affair. But as it is a feature film and, more importantly, succeeds in doing justice to the achievement of ISRO at the same time, it doesn't turn out to be a problem.
Also read: How to donate for Maharashtra flood victims?
The film has had a good opening and it seems Mission Mangal will be a success at the box office. Akshay has never had a Rs 200 crore film. This is his good chance.
Rating: 4 out of 5
Review by: Keyur Seta