Romania's Marian Gherasim has become the youngest player ever to play an international T20 game at the age of 14 years and 16 days on 16 October. He made the record when he played the second T20 of their bilateral series against Bulgaria at the Ilfov County ground.
Gherasim broke the record of Kuwait's Meet Bhavsar who had made his T20 debut against Maldvives at the age of 14 years and 211 days in January last year. [See the list of youngest players to debut in T20 internationals HERE]
Gherasim is a medium fast bowler who also bows off spin. He didn't bowl on his debut match. But he did bowl 3 overs in his second match the next day and picked up 1 wicket by giving only 22 runs. [See the scorecard HERE]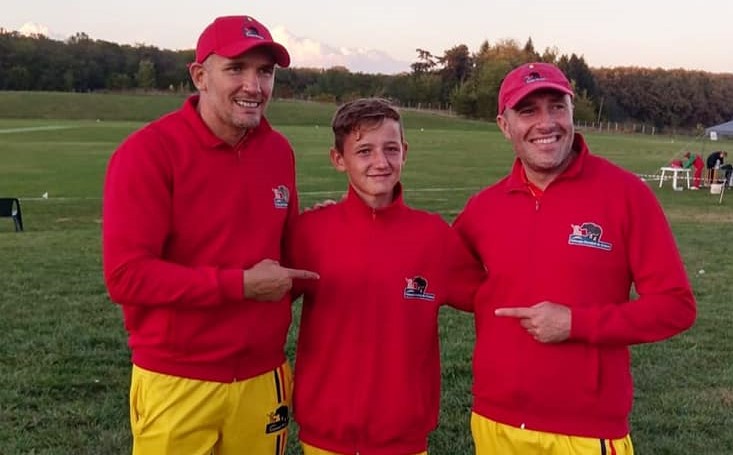 Ramesh Satheesan, the captain of Romania, spoke about him during a discussion in the Facebook group 'Die Hard Cricket Fans.' He said, "He's been with us ever since he was 10, developing his cricket under the watchful eyes of our national coach. Multi talented guy, bowls perfect off spin nowadays with loop and spin. [He] mixes leg spinners in between."
About the wicket he took, Satheesan added, "He's also the youngest to have taken an international wicket I believe that too that of the opponent captain; with a perfect loop and beating the batsman in flight."
Astonishingly, Gherasim was also a part of the Romanian team when he was 12 years old but those matches didn't qualify as international matches.
Gherasim is the youngest of the three brothers. His eldest brother Laurentiu made his T20 debut with the team at the age of 16 last year.
Sharing how the Gherasim brothers started playing cricket for them, Satheesan added, "Their house is very close to our cricket ground in this village called Moaravlasie and every time there's a game happening in the ground, these lads used to visit us and started played casually. That's how the fascination started."
Also read: One of Wasim Akram's biggest achievements is forgotten